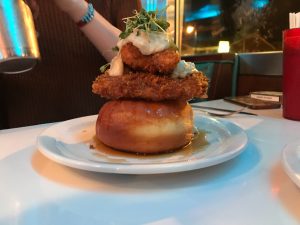 There is nothing quite like a diner. The familiar smell of well oiled griddles, the soft backing on a booth and the comfort of pancakes at 7 p.m. Every American city has its own favorite set of diners, each with unique recipes and ambiance that invites customers in with the promise of their favorite American comfort food.
The Hi-Lo diner is no exception to this standard of American fare. The Hi-Lo's 1957 Fodero diner car purveys an unmistakable diner experience. After sliding into our booth, my friends and I deemed it necessary to partake in the diner tradition of the all-day breakfast. Given this, I decided to go for a diner classic, something that lends itself to creative differentiation without being too far fetched to compare to other diners. I chose the corned beef hash or as the folks at Hi-Lo call it, the "Hash Stuffed Hash." In addition to my hearty entree I decided to complete my diner experience with a strawberry milkshake.
Upon receiving my dinner I was a bit surprised to see the corned beef hash covered in hollandaise sauce. For those who have not had corned beef hash, it is a generally heavy dish made up of corned beef, potatoes, onions and peppers, typically with a fried egg on top. The addition of hollandaise sauce seemed like a misled effort at putting a unique spin on a diner classic. Initially, I was disappointed to see such a gluttonous attempt at modifying such a reliable dish.
Nevertheless, making my way through the sizable portion of food on my plate, I realized that this corned beef hash was delicious. All the ingredients were cooked to perfection. The potatoes were substantial and crispy. The onions and peppers were sauteed to the point where their flavor spread through every bite and were complimented by the subtle flavor of garlic. The corned beef was cubed into just the right bite sizes and was not chewy or too crispy. Each bite was flavorful and presented a variety of textures. While I can't say that the hollandaise made any notable contribution to dish overall, it certainly did not detract from its quality.
One of the other differentiating dishes that the Hi-Lo offers are their "Hi Tops." A Hi Top is described as a "sweet and savory combination adorning the top of our signature fried pastry dough." Think sweet and savory toppings on top of a big donut. One of my friends ordered the Gary Cooper Hi Top, which featured fried chicken, maple bourbon syrup, country gravy and micro arugula on top of the fried pastry. The dish looked impressive. Perhaps it was seeing the fried chicken sitting actual inches above the plate on top of the donut or the fact that such a fried food and heavy dish was garnished with arugula. Regardless, I was excited to take a bite. Each layer of the Gary Cooper held its own. The donut was just light enough to make the Hi Top reminiscent of a sandwich but still provided the satisfaction of delicious fried dough coated in syrup. The fried chicken was crispy, salty and still moist throughout. The Gary Cooper seemed to be the perfect dish to satiate a desire for fried food without being downright overwhelming.
I was very satisfied with the food at Hi-Lo diner. The food was tasty and fulfilled all my cravings for American comfort food even with unconventional preparations. But this eccentric take on diner food did not come without cost. Every entree that my friends and I ordered was over ten dollars. Even my milkshake was nearly ten dollars which I found surprising given the low cost so often associated with diner fare. While the price of the meal did not severely detract from our experience or the quality of the food, I felt that the price was the distinguishing factor between the Hi-Lo being a diner that I enjoyed and a diner that I might frequent. The Hi-Lo diner distinguishes itself from other diners through both the remarkable preparation and price. But if you are looking for an upscale, creative take on your favorite diner classics, the Hi-Lo diner is the place to go.
Hi-Lo Diner is located at 4020 E Lake St in Minneapolis.