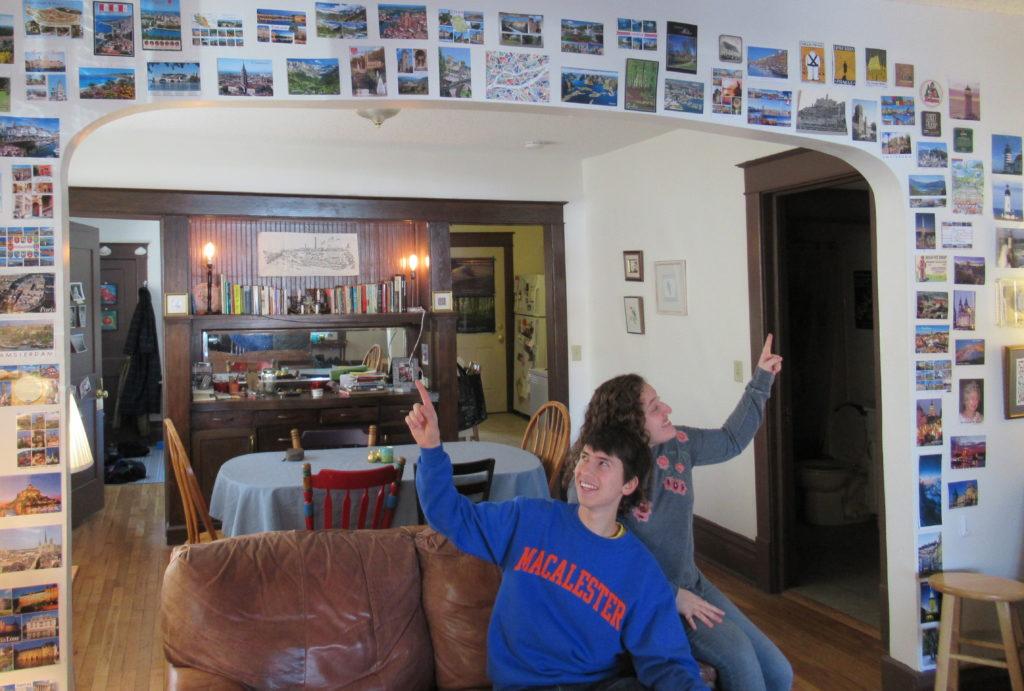 This week The Mac Weekly spoke with housemates Emily Nadel '18 and Isaac Gamoran '18. The duo are leaders of Macalester Jewish Organization, but their relationship has been solidified through a shared love of musical theater and a passion for exploring the world.
The Mac Weekly: So, you said you first met through MJO?
Emily Nadel: We met at, well, I don't have a clear memory of when we actually met but I do have a very clear memory of when we became friends. I think when we became actual friends was when we were decorating the sukkah.
Isaac Gamoran: Can I talk about when we met?
EN: You can talk about when we met.
IG: So we met at the first MJO Shabbat of the year. Emily was hanging out with Jordan Whitman ['17]. I thought she was a sophomore because she was hanging out with all these sophomores. I didn't really know who she was and I think we met but I didn't really talk to her. I was mostly friends with Maxine [Freedman '18] and Wensday [Berman '18] and people that I knew from my FYC or from my floor. But then we met in a more genuine way during Sukkot building the sukkah together.
EN: The sukkah's like a hut. It has a lot of ritual. Whatever. It's for the holiday of Sukkot which is the harvest ritual. We built the sukkah with the MJO people but no one really decorated it and both of us were kind of like "Ummm… We've gotta decorate this sukkah, we've gotta make these paper chains." We're really all about the paper chains.
IG: Every sukkah I've made has millions of paper chains on it.
EN: We like sat for a while and made a lot of paper chains and then we decorated the sukkah and I remember we were listening to "Anything Goes," because Isaac's FYC was "Making the Musical" and I love musical theater.
IG: It's funny because Emily didn't really know anyone in it except me, but then she met, like, everyone in it.
EN: And now I have really, really dear friends who were in that FYC. But I think that we really connected over the musical stuff, because you were really learning about it and you, like, love "Les Mis" and "Wicked".
IG: And I like musical theater but it's very niche what I like.
EN: I just have an encyclopedic knowledge of theater.
IG: I was like, "Why aren't you in this class?" And Emily was like, "I don't know, where am I gonna do theater on campus?" And I was like, "Everywhere?" And then she slowly but surely figured it out and then she directed a show.
EN: Two shows.
IG: Two shows.
EN: It was a funny thing that when we met I was like, "I'm not gonna do this. This was a hobby."
IG: I was like, "You need to take theater classes. She was like, "O.K., maybe." But back to our relationship, it really started when we realized that we both had that real passion in musical theater and also the way that we practice our Judaism is really complementary. That was a big part of it.
EN: And I think that we've always enabled each other to embrace the elements of our Jewish identities that are the most important.
IG: And personalities.
EN: And we talk about that a lot.
TMW: Can you speak a bit about how your practices [of Judaism] are complementary to one another's?
EN: Here's a story from a couple weeks ago: so the URJ, which is the Union for Reform Judaism was doing a web series on Facebook.
IG: It's called "Harmony and Unison."
EN: And it was kind of, like, Reform Jewish music through the decades. So we were watching one that was, like, from the '80s, which is when my mom went to Kutz Camp. I grew up going to Jewish day school; I went to Jewish day school K-12 and went to summer camp.
IG: So I didn't go to Jewish day school at all, but I grew up very traditional Reform. My grandpa was a rabbi, and I went to camp for 10 summers. I was really into a Reform Jewish sleepaway in Oconomowoc, Wisconsin. My family would do Shabbat every Friday night.
EN: Same.
IG: We would always have so much Judaism surrounding us.
EN: I think that mine was similar. There was a lot of learning. My uncle was a rabbi.
IG: Like our Seders take two hours.
EN: My Seders take, like, six hours. Because it's just talking, talking, talking, talking.
IG: Ours take a long time but the Seder itself is like two hours.
EN: I think that we both come from very rich, Jewish lives. I think living here (in our house) was a really important shift because we started being able to do things like light Shabbat candles. We try to be really intentional about taking 10 minutes out of our Friday night to just light candles.
IG: I think being Jewish on campus is hard when you don't have a space to do it outside of the Jewish community space. And we actually talked about living together starting sophomore year in the interfaith house, because we were like, "Oh, we could actually do this, we could live together and not have to…"
EN: Explain ourselves.
IG: Explain ourselves or have to run to the CRSL just to do something Jewish. But we didn't end up living together for a multitude of reasons.
EN: I think we just kinda fell into it. And then we found out we were both going abroad the same semester and then things really fell into place pretty fast.
IG: I think Emily really wanted to live together and I wasn't really sure.
EN: But I knew that it would be a good thing and I wanted to do it. I felt like it's not a home if it's not a Jewish home. And Isaac was really the only person on campus that… Well, so back to that night. We were watching this video and we're singing along, stuff like that. And then after we're just like, in a mood to sing the songs of our childhood and we listened to a whole Debbie Friedman album.
IG: She's like the most famous Reform Jewish songwriter.
EN: Yeah. She's wonderful.
IG: Complicated personality.
EN: Yeah, but aren't we all? We're not gonna trash talk Debbie Friedman in the interview, are you kidding me?
IG: I'm not trash talking her! I'm sorry, she's wonderful.
EN: But there are moments like that. And I think that that's not just us singing to Debbie Friedman. I think that that's also… This morning, I was playing "In The Heights." We were listening to "Wicked" a couple days ago; that was fun.
IG: It's funny because our music tastes can really span everything. I can listen to whatever song. There's no unaccepted song in our house.
EN: I think that all the songs that Isaac plays are fun.
IG: I make good playlists.
EN: I only listen to showtunes. So that's that.
TMW: You brought up Jewish summer camps. I'm not sure if they're something people from the Midwest would be as familiar with, so can you kind of explain that experience?
IG: I think in Jewish circles, people in the Midwest are pretty familiar. But if you're not in a Jewish circle then for sure you've probably never heard of them. The URJ has a series of camps that are all this model of doing a lot of different activities and having a really fun and exciting camp experience in a sleepaway setting. Then you have services in the morning and night and Shabbat every Friday. And then Saturday you'll take a day of rest and have a very different schedule. I think half of my existence is Jewish summer camp.
EM: Isaac is definitely more of a Jewish summer camp kid than I was. I loved being at camp because it's just a space where it's fun because it's camp. I think something that's challenging about synagogue life is that people don't really participate. But at camp that wasn't true. We would pray in the morning and we would pray at night and we would say blessings before we ate, every time we ate. We lived that kind of life that I really enjoyed living because that's the type of Jewish that I am. But it was just fun and normal. I think that I was never like a real "camp kid" because I went to Jewish day school. For some people, their camps are the moment in their lives where they're surrounded by Jews and that's so exciting and so warm. For me, that was a little bit of what camp gave me, but 100% of the people I knew growing up were Jewish. So that aspect wasn't so much a part of it.
IG: For me, it was a little bit of that. Just to be surrounded by people that I could connect with in that way. My family created a unit at the huge summer camp that I went to. My last name means that am part of a whole line of people who are super involved with the camp I went to. It was like 800 campers? So pretty massive. I went there for eight summers as a camper and then one summer as a trainee and then a summer as a counselor. And then I stopped. And this past summer I went to work at a French-Jewish summer camp in southern France that's modeled after Reform camps in the U.S., so that was cool and a way for me to re-enter that space, but it was a little different.
TMW: Do you still keep in touch with any of your camp friends?
IG: I do.
EN: No.
IG: I don't really know what Eisner is. Like I've heard of it.
EN: Isaac is so freakin' elitist about OSRUI it's obnoxious.
IG: It's the best.
EN: So all URJ camps have different flavors. I love Eisner. I think it's a wonderful camp, I loved being there. I would say that Isaac is an elitist about it. Isaac is like "OSRUI is the only one that's good and if you went to any other URJ camp, glad you went to a URJ camp but also your camp sucks and your songs are wrong."
TMW: How do you see yourselves passing off MJO?
EN: So maybe to think about that question differently because I don't know if I'm comfortable speaking about the future of MJO because we're not, by any means, the whole. Jewish life on campus is incredibly vibrant and great people are active and excited about it.
IG: And it's always changing.
EN: We have no worries about whether or not it's going to be wonderful next year. I think for me the question is meaningful in a "What does it mean to leave here, to leave Macalester and to leave this apartment" and I think MJO is a big part of that but also not the whole. I don't think I have an answer for that.
IG: I've been trying to figure out how to pass on what it is to be a service leader and also a leader in general for the religious side of MJO. Also, I know so many Jewish songs, in a real way. I'm kind of like a songbook.
EN: We are very warm people. You are impacted by the people you meet. In the same that we were really impacted by [former MJO leaders], I would hope that people in three years would look at us in the same way that we look at them.
IG: It's really hard to imagine what the future's gonna be, because in the same way that I'm sure Ronit and Jacob had no clue what the future would bring and we got to see that future and it was the ups, the downs, the twists, the turns and now we're here.
EN: Messy throws but clean skates.
IG: Yeah, that's her new line. I don't get it.
EN: It's from the Olympics.
IG: But yeah, you don't know what the future's gonna bring until it happens. I'm trying to reckon with what it means to not even get to see it.
EN: I love the theater. And part of loving the theater is that it's transient. You're in the theater and you're having a moment and then it's gone.
IG: By the way, the building's gone.
EN: It's gonna end, at some point. But why shouldn't the next thing be just as exciting and just as meaningful? To really end this interview, I think it is comforting in both of our lives that there's not a question in my mind that Isaac and I are going to still be friends for…
IG: Forever.
EN: Forever. (He's) been a constant in my college experience. How was that?
IG: That was good.
EN: A messy throw but a clean skate!