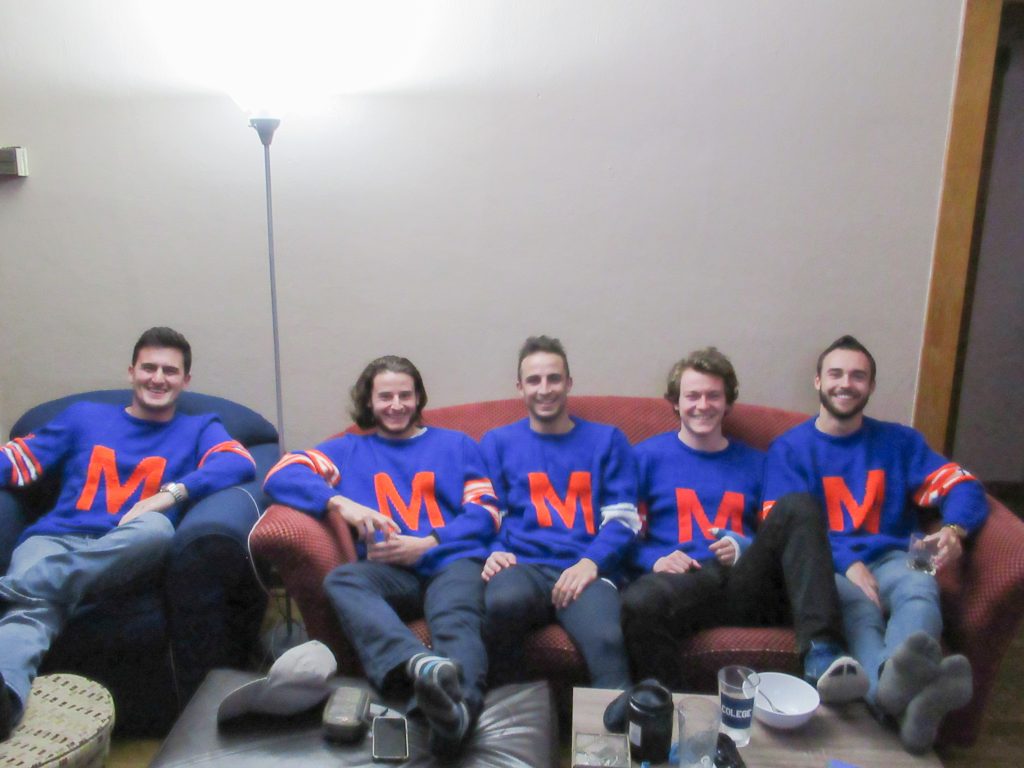 This week, The Mac Weekly sat down with seniors Brett Graham '18, Matthew "Bono" Bonnazzoli '18, Sam Bordo '18, Emmet Hollingshead '18, Jack "Taj" Schultenover '18. Together they, along with Manya Jacobson '18 live at 1582 Berkeley. The group talks about the revolving door of people who stay at the house and their matching sweaters.
The Mac Weekly: You guys have all been living in this house since junior year, right?
Sam Bordo: Correct.
Brett Graham: This is the core five.
Emmet Hollingshead: Yeah. That's why we don't need Manya.
TMW: But I feel like there's always been a rotating cast of characters living here.
Matthew Bonnazzoli: Yeah. Because three of us spent the [spring] semester abroad last year.
TMW: Who else has lived here?
BG: Maya [Rait '18], Carmen [Bustamante '18] and Manya.
Jack Schultenover: And Mike [Gutierrez '19]. Mike Gutierrez was here for a while.
SB: Mike Gutierrez was here this summer. So yeah, [nine] people overall. In the last two years.
BG: If you include Cash [McGregor '18] and [Elliot Tanin '18] sophomore year.
SB: Yeah, Cash and Elliot lived with us for a couple weeks at one point. Wait, was that this year?
JS: During camp, yeah.
BG: Was that this year?
SB: Yeah, we had eight people in the house this year during [summer football] camp.
TMW: Why did they stay here during camp?
SB: Because they sublet their house for all of August because they're dumb.
EH: Are you counting Manya's friends too?
BG: Count every person that's ever lived here.
SB: We've had at most, like, 12 people in this house at once before, like sleeping here.
BG: We've had 12 people in a week.
SB: Yeah, we're gonna have 12 people next week.
TMW: What is everyon's post grad plans?
SB: [Pointing at Emmet] Not sure yet, [pointing at Jack] not sure yet, [pointing at himself] not sure yet, [pointing at Brett] submarines, and Bono's got a job here.
TMW: What are you doing Bono?
MB: Tech consulting.
TMW: And submarines?
BG: Yeah.
TMW: Elaborate.
BG: I go to boot camp in Rhode Island and then a year of engineering school in Charleston and then find some base, wherever they need me, and I'll be on and off a sub for a couple year.
SB: And Manya's going to be doing a Macalester art fellowship with Summer [Hills-Bonczyk], the ceramics professor.
TMW: Does anyone here drive to campus?
SB: Every day.
EH: We live one block from campus.
JS: Two blocks!
SB: I get up in the morning around nine-ish for my 9:40, write my blog post for Modern Islam, hop in the car at 9:25-9:30, drive to the LC, get out of my car and walk to the ceramics studio.
BG: I drive to the campus if it's after-hours. So, like you're going there to the library at nighttime? Always drive.
TMW: What's the deal with the sweaters?
JS: So my mom started knitting them our freshman year for the seniors. And then she made them for a bunch of the family members of the team and then she just kept doing it. She made one for everybody in our grade and is going to continue doing it for a high school team. She just has people donate to the football program. It's pretty cool. It's a good way for her to contribute to the team in some way.
BG: What's pretty cool is that they're all unique. If you notice, everyone's stripes are different designs and different colors.
JS: Everyone's is different.