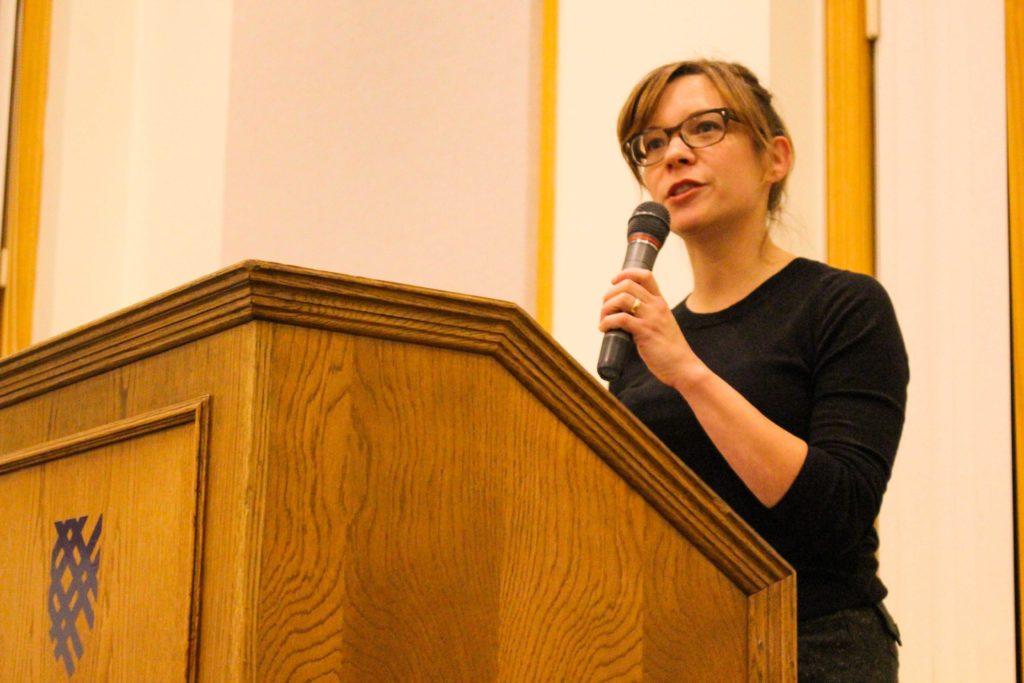 During her time at Macalester, Amy Thielen '97 always felt like there was something missing. Late at night, you were more likely to find her pureeing soup in her living room than writing papers. She visited the specialty grocery stores on University Ave on a weekly basis, making multi-course meals for her friends. She was an English major, but writing never held her focus the way that cooking did.
Having built an extensive cooking career, appeared as a host on Heartland Table (Food Network) and won a James Beard Award for her book The New Midwestern Table: 200 Heartland Recipes, Thielen has already earned a memoir of quite some length. This year, she decided to publish that memoir, called Give a Girl a Knife. On Thursday, Nov. 8, she presented the book in Macalester's Weyerhaeuser Ballroom.
English Department Chair and Professor Andrew Kaston Tange introduced Thielen before her talk, naming the cook's numerous accomplishments. Tange also voiced her own views about the memoir. Her review was nothing less than glowing. "As you read," Tange said, "you'll find yourself writing your own food memoirs in your head."
Thielen beamed in response to this introduction. Clutching her memoir in hand, she took the podium. For an audience of a few dozen students, members of the community and faculty in the audience, Thielen began describing the winding path her life has taken, from rural Minnesota to New York City and back again.
Give a Girl a Knife traces the path of Thielen's wanderlust lifestyle, following from the butter-infused casserole dishes of Park Rapids, MN, to the brightly colored sauces that trademarked fine dining at New York City's Danube restaurant. Perhaps more importantly, the memoir shows the long path of her migration back to Midwestern cooking.
Before she could return to life in Minnesota, she first wanted to explore the outside world. After her college days spent in the kitchen, and a few years spent living off garden vegetables with her boyfriend in their rural Minnesota cabin, she was fully obsessed with food. Cooking granted her a satisfaction unlike any she'd experienced in academics, and she wanted to build her life around that feeling.
"I had this fearlessness of youth," she said. She packed up her knives and flew to New York City. There, she walked into Danube, one of the most celebrated restaurants in the city, and simply asked for a job. Her friends from Macalester had some doubts about her plan, but she was determined. She waltzed into the kitchen and got the job.
While the contrast between Park Rapids and New York was striking, Thielen recognized elements of Eastern European cooking from her upbringing in the Danube kitchen. "The flavors were the same," she said.
"The poppy seeds my grandmother would make, [they were] rolling them out of this grinder, right in the restaurant, and it had that same smell: kind of fruity and dank," she said. The flavors made her feel at home and ache for home all at once.
"I was a painfully nostalgic kid," Thielen said. While practiced in the art of many culinary traditions, Thielen had always gravitated to the pickles, bacon and butter of childhood. She missed the pot roasts her mother used to make, the sauerkraut and homemade fries.
Her childhood memories of these foods, so closely tied to the women in her family and the long culinary history of Midwestern housewives, were rich material for a story. "I followed a long line of fearless Midwestern women cooks who were possessed of sharp knives, sprawling cut-flower gardens and big opinions about food," Thielen writes in Give a Girl a Knife.
In cooking, she found the crux between two worlds: the fast-paced, high end cooking in New York, and the calm, thrifty cooking of the Midwest. She writes: "I knew I'd found my people. Crossing the lines, jumping the boundaries between rural and urban, high flung and low down, garbage juice and black truffle juice, felt right to me."
Give a Girl a Knife grew organically out of these experiences, and from her continuing intimate connection with the Midwest despite her time in the Big Apple. "This book was really about going home," she said.
At the end of her talk, Thielen answered a few questions from the audience. She stayed behind to speak to members of the audience one-on-one and sign copies of Give a Girl a Knife (for sale at the event). The memoir is available on Amazon, and in bookstores around the country.