Alvvays and Jay Som perform at 7th St. Entry
The lapse in snowfall last Thursday brought something new to the Twin Cities: Alvvays, a band of five based out of Toronto and touring the country after the September release of their second album, Antisocialites. They performed with Jay Som, a band from Oakland, CA, who returned to Minneapolis after a concert last March.
Prior to the show, the general admission crowd at First Avenue & 7th Avenue Entry was already electric with excitement. After talking to the venue's photographer, I learned that Jay Som's last visit to the Twin Cities was incredibly well-received, and having her return on top of Alvvays coming out of musical hiatus was enough to generate buzz around town.
The predecessor to Antisocialites, a self-titled album released in 2014, put Alvvays on the map globally. After being named the best Canadian album of 2014 by CBC Music, both Rolling Stone and Paste called it one of the 50 best albums of the year in the United States. After this success and a bit of touring, Alvvays suddenly disappeared. Rumors of a new album started in mid 2016, but nothing more came from it until the release of the first single from the album, called In Undertow, on June 6 of 2017. Antisocialites was released in full on Sept. 8, building hype for their upcoming tour across Canada, the United States and the United Kingdom.
Jay Som's self-described "headphone music" put the crowd in a good mood., They performed a 45-minute set; the song "I Love Minneapolis" was particularly well-received. As she left the stage, lead singer Melina Duterte was hailed with cheers by the crowd below her.
Half an hour later, Alvvays took the stage to a louder, incredibly energetic crowd of fans. They started with the song "Hey," singing to a crowd full of Minnesotans singing back. As lead singer Molly Rankin hit the song's climactic high note, she was met with hundreds of people cheering in praise. After concluding the number, she promised to sing songs from both of her albums. "We'll sing some of everything for you all," she said.
And that they did — even through a technical setback, the energy was never lost. As Rankin concluded singing "Not My Baby," she laughed nervously against the audience's cheers, looking back to bass player Brian Murphy before telling him, and her fans, that her guitar had stopped working midway through. She and Brian quickly got to work on it, switching various settings on a few different soundboards. To fill the time, keyboardist Kerri MacLellan entertained the audience with snippets of songs from "The Star-Spangled Banner" to Canadian folk music, which Rankin insisted she play for the Americans listening. The break took about five minutes. After another two songs, including the popular "Atop a Cake," she abandoned her guitar to sing "Forget About Life," a soft number she called an "escapist's ballad." This did the trick: after the brief rest, her guitar was back to full functionality. The crowd remained unfazed.
Four songs later, Alvvays concluded with the most popular song from their first album, "Party Police." The crowd stayed still as the band left the stage, their cheers unwavering in hopes of an encore. Given the enthusiasm, it took only a minute for the five of them to return to the stage, singing "Next of Kin" and a cover of the Motorcycle Boy song "Trying to Be Kind" before bidding the crowd farewell. The storm of people leaving 7th Avenue Entry, most of them wearing Alvvays t-shirts and carrying copies of their albums on vinyl, left knowing they'd be hit with the chilly Minnesotan air that promised snow was on its way. But, more importantly, they left happily discussing Rankin's beautiful falsetto, MacLellan's intricate accompaniment and the band's original lyrics with one another — stranger to stranger, brought together by one fantastic concert.
About the Writer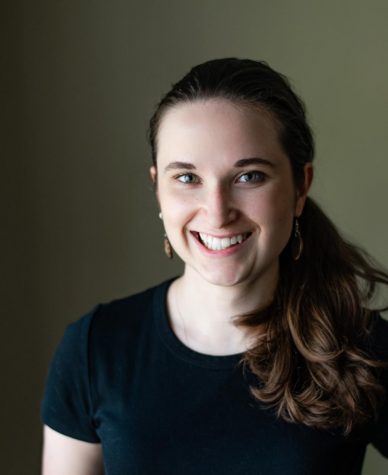 Betsy Barthelemy, Arts Editor
Betsy '21 (she/her) is an Arts editor originally from Evanston, IL. She is a senior English literature major and anthropology minor. She's still waiting...