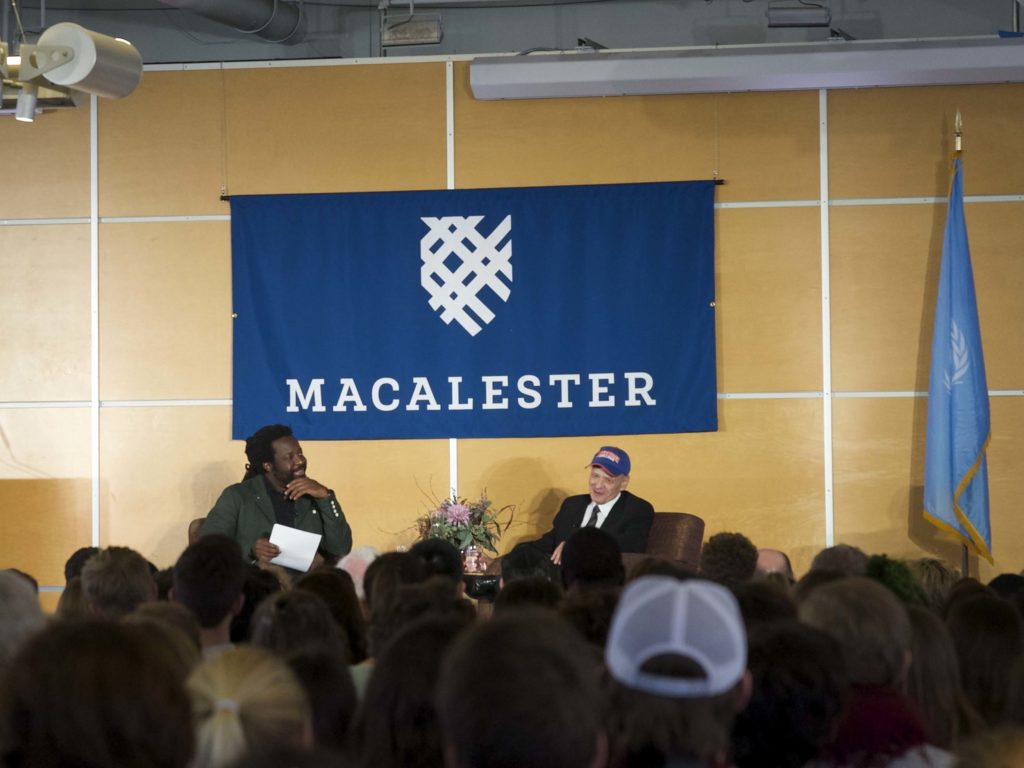 Tim O'Brien, celebrated author of The Things They Carried, once lived in Dupre Hall as a Macalester senior. This was how President Brian Rosenberg introduced O'Brien last Thursday, Oct. 19, to a full house in the Alexander G. Hill Ballroom. Students, alums, faculty and staff members all came to see "Tim O'Brien and Marlon James in Conversation."
The audience chuckled at the thought of the great O'Brien being stuck in what many claim is the worst dormitory on campus. The atmosphere became more serious when Rosenberg recounted the years after O'Brien's time at Macalester. Following his graduation in 1968, O'Brien served two years in Vietnam. O'Brien has long been a critic of the Vietnam War, and is heralded as a "peace writer."
The room erupted with applause when O'Brien and Marlon James walked on stage. James, whose novel A Brief History of Seven Killings won the 2015 Man Booker Prize, is a creative writing professor and Writer-in-Residence at Macalester.
O'Brien wore a Macalester baseball cap in the pre-rebranding blue and orange, and James wore a tailored green sport coat. The two had been talking about O'Brien's two young children before coming on stage. O'Brien, now 71 years old, said he thinks about what his novels will teach his two sons.
He has the same wish for them as he does for all young people: to never forget those affected by the war. While he would so much rather "stay home in [his] underwear," he feels a responsibility to remind people of the war through his writing and public speaking.
Having appeared in the Ken Burns documentary The Vietnam War, released this past September, O'Brien took on this responsibility. He described the terror of walking through land mines, the urgency to write everything down on scraps of paper and the fear that his parents would only have these scraps to remember him by. Through the vivid, painful details of his own experience, O'Brien helped the audience remember America's violent history. He urged the group to listen to that history, to "get at the scab of emotion, and rip at it."
It is important to O'Brien that people remember the Vietnam War and others conflicts in history. But he also warned against celebrating war. O'Brien said that when Americans set off July 4th fireworks, they aren't thinking about the realities of battle. They gloss over the horrifying, emotionally traumatizing aspects of war and instead make it a party. "Killing three million people," the number of people who died during the war, "isn't something we should celebrate," O'Brien said.
Matt Burgess, another member of the English creative writing faculty, said that the documentary reminded him that society cannot forget the wars of America's past. "I was struck by… how limited our historical memory is, how it seems that we're doing these things again and again," he said.
He said he hopes that writers like O'Brien continue to show people that war is a cycle of violence that should not be glorified, but counteracted. David Randheim '64 echoed this sentiment. "Hopefully [the documentary] will generate even more discussion about the past," he said.
For many veterans, war does not remain in the past, but continues on in their thoughts and dreams when they return home. Many struggle to express the trauma they went through. "Most veterans of war fundamentally stay silent," O'Brien said. In his novel-writing, O'Brien said he tries to give veterans the language to discuss and heal from their experiences.
O'Brien himself was a changed man after the war. "The truth of Tim O'Brien, the guy I thought I'd been, had vanished in Vietnam … I became a different human being, with a different truth," O'Brien said.
At Macalester, he participated in a peace vigil protesting the Vietnam War. He went to war reluctantly, making a drastic transition from life at Macalester to life in battle. In his novels, he expresses how that transition transformed him forever.
O'Brien's novels have resonated with many veterans and their loved ones. Laura Linder-Scholer, Macalester's Sexual Violence Prevention Coordinator, said she attended O'Brien's talk because his novels were important to her and her father, a Vietnam vet. He was a "powerful model" for her father to process his experiences, she said. Their first open conversation about the war drew from The Things They Carried, which helped her father discuss what he'd been through. "For my father," Linder-Scholer said, "it was really powerful to have this body of literature by Tim O'Brien, to have that solidarity and that recognition."
Linder-Scholer helps students deal with trauma, and she said she sees storytelling as a tool for students to share their experiences and heal from them. O'Brien spoke of how fiction-writing allows him to approach his memories of the war through a fictional character's perspective, which helps him to reimagine and take agency over his story.
Over the course of the conversation, O'Brien addressed veterans, their loved ones and those trying to learn about the Vietnam War. Pleased that O'Brien spoke so openly about his experiences, Randheim said: "I'm just glad that Macalester still brings back people like this, to educate the community."