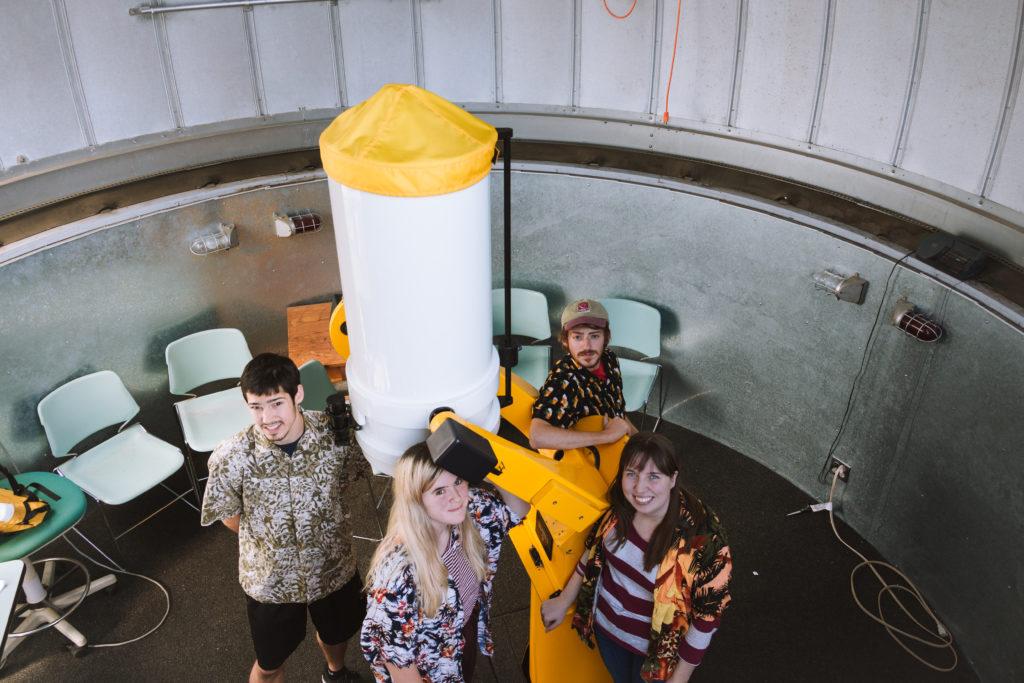 This week The Mac Weekly sat down with the four senior leaders of the Physics and Astronomy club. Catie Ball, Alex Gordon, Liz Ruvolo and Brian Eisner are physics and astronomy majors, and help run Macalester's public observing nights in the observatory.
The Mac Weekly: How obsessed are you with the cosmos in general?
AG: Like on a scale of one to 10?
TMW: Sure.
AG: 10, 11 probably?
BE: About a 10 maybe, something like that.
LR: 10 to the power one. laughs
AG: Nice!
LR: I was trying to find the perfect magnitude.
BE: 9.999 plus or minus a 0.02.
TMW: So, arguably, the Physics and Astronomy Club has one of the best emails on campus. Do you guys know who started that? Do you guys ever get confused with animal rights groups or something?
AG: Oh because it's panda@macalester.
LR: Well it's physics and astronomy.
AG: Yeah but like who? Like what person?
LR: They've called it that all my four years.
CB: The history of this club is long and dates far beyond our memory.
AG: It was once called the Flat Earth Club, right? laughs
LR: And it will be again soon.
AG: It will be again soon.
BE: Remember our sophomore year when it was basically dead?
AG: Uh, well I don't remember it being alive, so I guess. But I don't want to slander any previous administrations who might be reading.
TMW: Do people from the community ever come to the public nights?
AG: Oh yeah.
BE: Last night we actually had a lot.
BE: And then there was one, I think a community college, their instructor assigned them to come the public observing night and take notes on what they saw, which is really cool.
TMW: Any good stories from those nights?
AG: Well, we put fliers all over the place, all over the neighborhood. And Catie and I were putting up these fliers, to call out Catie specifically. Dairy Queen recently closed down, so I said, 'Let's put a flyer on Dairy Queen because no one's going to take it down because no one's working there.' And Catie said, 'I don't know that we can do that. It's illegal to put fliers on closed down businesses.' And guess what happened! Last night a man brought his entire family to public observatory and I asked how he heard about it and he said he saw a flier on the Dairy Queen.
TMW: (directed at Catie) Thoughts?
CB: I'm just saying if we can do it on the Dairy Queen…. I mean, I don't know….
LR: …We can do it anywhere.
BE: What about an idea about covering up a stop sign and putting it on a stop sign? Cause then everyone will see it.
CB: That actually might…
BE: That would actually suck, yeah.
LR: People dying. If people die they can't come to public observatory night.
AG: We had a little girl come yesterday who was five years old. And she was carrying a little stuffed owl and we showed her the Owl cluster through the telescope and she was very, very… she was smiling and very cute. It was a fun little moment for us.
CB: And she's big into space. I think those are my favorite people, the people who will sometimes come up weeks in a row and ask really good questions.
BE: I remember last year that we had one PF who seemed to know more about astronomy than most of us.
LR: One of the Mac security guards, he found out I was an astronomy person, and he was like 'oh, would you mind showing my family the telescope sometime? My kids are really into astronomy.' And they came up, all like seven of them, and looked through the telescope and one of like his little boys was so excited.
BE: Also two summers ago, we had Jim Hoppe's entire family up here.
AG: We're still trying to get PBR to come to public observatory.
TMW: Has he not?
AG: He hasn't done it.
LR: Can you print that.
TMW: This is your moment. He reads us…
AG: And so this is our moment. President Brian Rosenberg…
LR:… Come to public observing!
AG: …I invite you to come to our telescope and see what it's all about. We'll show you whatever you want to see in the sky, it will be a fun time. We can discuss our parallel rebranding efforts.
TMW: So let's talk about the Facebook page. Who's behind the Facebook page?
AG: It's my proudest social media endeavor yet, I think. We're trying to get to 300 likes. We're at 192. Six new this week, last time I checked.
BE: I heard a rumor that Alex also wants to launch a Twitter account after we get enough followers.
AG: Yeah, I'm working on Facebook first, but I guess some people don't think that's the right approach.
TMW: How long does it take you to craft the memes?
AG: Oh the memes!
BE: The one with Jabari, and stuff? …You should post some tonight!
AG: Yeah, we got Mac Memes to share that one meme that I made and it got us a lot of good publicity.
BE: There is a Facebook page that's called Dank Meta Astrophysics Memes, which has some of the best astrophysics memes on the planet.
AG: We get a lot of our ideas from that.
TMW: If you got a scholarship, or a large sum of money, for the department, how would you spend it?
BE: You mean, besides getting more storage space? Because we're running low already.
AG: You mean like digital storage space? (laughs)
LR: I, I don't think I'd do that. AG: So just like a bunch of hard drives? … Brian's dream is to just get a bunch of hard drives.
BE: Well, yeah. I've got 2 terabytes of data I'm transferring over right now…
AG: Maybe, make the dome animated?
LR: I think we should get more little telescopes for people to use. Because on big nights like, like last night, where we have a ton of people waiting [to use the telescope], it'd be cool if we could have tiny ones on the roof so that people could look and find their own stuff.
BE: Honestly, if I got money to my name I would probably expand Olin -Rice, because the space problems are ridiculous.
AG: So, digital storage and physical storage? #BuildANewBuilding.
CB/LR: They are!
CB: I think, for public observing nights, one of our favorite parts is outreach. And, so, there used to be a planetarium here. The University of Minnesota has one, but they're pretty expensive. So if we had that kind of money, I think that'd be fun.
AG: Especially for cloudy nights.
CB: Yeah, that's true.
AG: [On cloudy days] we still write on the Facebook page that we'll still be up here to chat.
CB: People can come up here.
LR: We're really fun.
AG: We are really fun.
TMW: Any favorite stars, clusters…things that shine in the sky?
BE: Objects in the sky?
TMW: Sure, objects…
BE: I'm pretty partial towards the ones I'm doing research on.
CB: I love the Crab nebula.
BE: I'm not sure I'm allowed to say the exact object because the paper isn't published yet, but…(laughs)
LR: I think you're allowed, Brian. No one is gonna read The Mac Weekly and swoop in on your research.
AG: I love globular clusters.
LR: The word globular is fun.
AG: Yeah, the word globular is fun. Talking about clusters is fun, and smudges. They're all smudges. They're all beautiful smudges. And making people think that a smudge is beautiful is cool.
LR: Saturn and Jupiter are my favorite ones to look at with our telescope.
BE: What about the moon?
LR: The moon's pretty cool.
CB: The Owl cluster is amazing, with your eye and with the camera, the Whirlpool nebula is–
AG: the Whirlpool galaxy, you mean? (boos)
BE: Oh no!
AG: It's in print!
LR: It's too late Catie…
TMW: Do you guys want to add anything else?
AG: Make sure you like our Facebook page. We already talked about the Facebook page, but the URL for that page is www.facebook.com/macobserving.
LR: I also think we should add: No observing nights next semester.
BE: Oh yeah.
AG: Yeah, so get it while it's hot.
CB: Listen to our radio show! (Catie and Alex run a WMCN show).
AG: Yes, a plug!
BE: They do have some cool guests.
AG: It's called Radio Astronomy, Macalester's very own grassroots astro talk show. You can catch it every Sunday from 4-5 p.m. or archived after the fact at mixcloud.com/radioatronomy917. Does that sound right?
LR: Yeah, something like that. Just look on the Facebook page.
AG: No previous knowledge is necessary. We are trying to surpass Neil deGrasse Tyson in listeners by the end of the year.