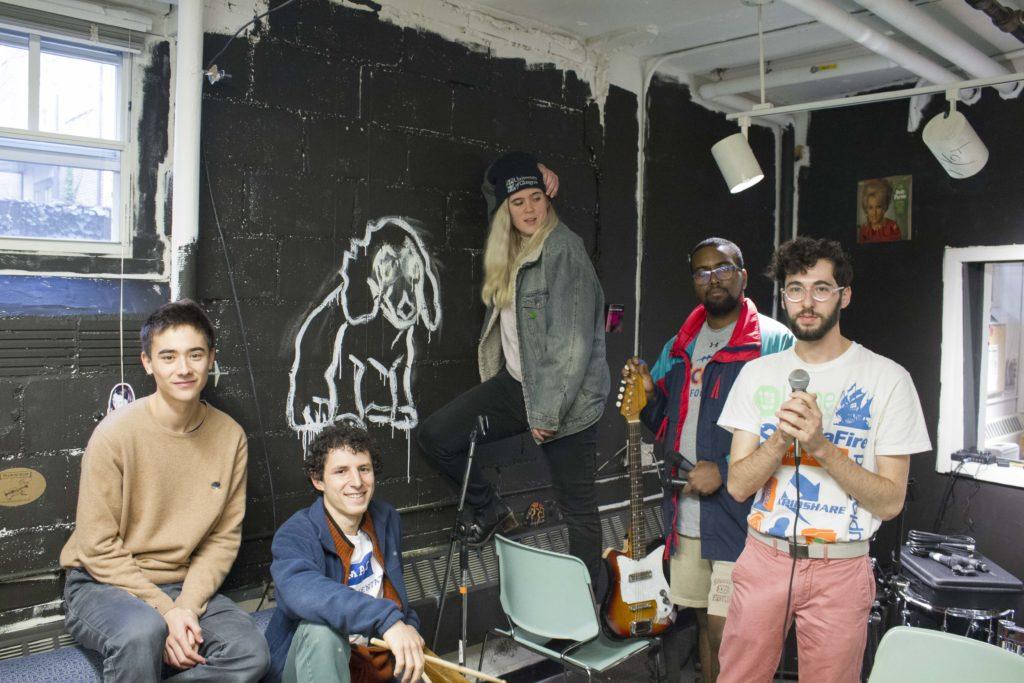 This week The Mac Weekly sat down with the five WMCN senior staff members. Catie Bell, Yafiet Bezabih, Theo Jacobson, Daniel Shinbaum and Noah Stieglitz come from a variety of backgrounds, but can all agree on the value of community radio.
The Mac Weekly: I just want to say, that right before we did this interview, Daniel was having a radio show, can you tell us about your show?
Daniel Shinbaum: It's got a really long name that I can't repeat because it's just really, really, really long.
TMW: Do you wanna try? We don't have to print it.
DS: I don't even know what it is. laughs
DS: It's a quote from a philosopher named Presanatromi? Negastrove? Something like that. Talking about the experimental musician Florian Hecker and describing his music as a chimera. How do you even pronounce that? laughs
Yafiet Bezabih: Chevy Camaro, yeah.
DS: It was like the way that he combined sound waves or something like that. And experimental avant garde electronic music is mostly what I play.
Theo Jacobson: My show is right before Daniel's. It's called Breakfast Corndog. I mostly play music that's self released by people on Bandcamp or put out by small labels that usually end up being East Coast bands. Today I played a lot of this one band, Blue Smiley, because the singer just died this week and they're a really good band so I played a bunch of their songs.
Catie Bell: How often do you eat corn dogs for breakfast?
TJ: I don't think I ever have actually. But this one band that I play a lot called … Ylayali, they have a song called "Breakfast Hot Dog" that I really like and I think that corn dogs are funny.
TMW: What about the rest of you?
Noah Stieglitz: I have a show and it's Thursdays pretty late a night like 11 p.m.-12 a.m. and it's called New Jersey Shore Rumble, not for any real reason. I think New Jersey's alright. laughs
YB: Why? Are you from New Jersey?
NS: Nah, I'm from Atlanta but I lived in the suburbs of New York so we went to New Jersey more often than we went to the city. But anyway, I play a lot of late 90s, early 2000s R&B mostly like Lauryn Hill or R. Kelly. Not like super deep stuff. Just a wide variety of that kind of music from that era.
CB: I have a show called Radio Astronomy which is a play on words because it's astronomy on the radio but I also like radio astronomy. Anyway, we talk about astronomy. This semester we're going to have a lot of guests on the show. It's me and two cohosts which is different. In semesters past I've done a Seattle music show. I might do that again, so stay tuned.
YB: Are they all astronomy people? Like physics and astronomy majors.
CB: Actually we had Theo on our first week and we're gonna have Tonnis [ter Veldhuis] and Sean Bartz. So we're going to have some physics professors on, but we're going talk to them about the cool part of what they do which is the astronomy part.
YB: They foretell the stars bro, what more do you want? My show is on Saturday nights from 12-2 a.m. It's with my co-host Malik Earle ['18] who I've had a show with since first year and it's called Race Riots because we're trying to insight a race riot on our show. It hasn't happened yet, but it'll be good publicity for WMCN.
TMW: What have you been doing to work towards that aim?
YB: We only play hip hop.
TMW: Do you guys want to talk about how you got into WMCN and your experience through the years?
TJ: I think Catie should start since she's been on the staff the longest.
CB: Yeah I started first semester freshman year actually… Staff has really changed a lot since I started. I got on because they said if you're interested show up and I kept showing up and they never told me to leave … it was really a different vibe. It was like a club of friends I guess. So it's really cool now that our staff is people from a lot of different friend groups and I think that's something that is a lot stronger about staff now. There was a lot of just hanging out before, even through sophomore year.
DS: Even when I joined sophomore year at first it definitely felt like it was all that same group of friends.
TJ: I didn't have a radio show my freshman fall, but I went to the radio progressive and I was like 'Oh man, I have to get a show in the spring.'
CB: I remember people talking about you joining staff. People were excited about you being on staff.
YB: I was just gonna say that I joined staff so I could pick my own radio show time. I stayed and then this year I forgot to go to the thing so I ended up with the worst time. Full circle though, it got back to me.
TMW: If you had a lot of money how would you use it for WMCN?
DS: Autotune.laughs
NS: Caviar.
TJ: Better stools.
DS: Something we've been talking about for years is to get a community off campus event. That's something we're always striving towards … If only we could get the WMCN station moved out of being in a dorm.
CB: Yeah if we had an unlimited amount of money we would tear down J-Wall and put WMCN there.
NS: There's a lot of inconvenience with putting WMCN in a dorm and –
CB: Especially the quiet dorm.
NS: – Yes but mostly just because it's a security risk because we technically have to be in here whenever a community member is in here and they can't get in here when they don't have a key.
TMW: Is there anything that you'd like to say about the concept of community radio?
TJ: Yeah we've had a lot of discussions and meetings where questions like: what's a community radio station? Are we one? What's our role as a community radio station? come up. But I think first and foremost we serve the Macalester community, so I think people should just listen to the radio more.
YB: Like find shows you like. Find shows you want to listen to on a regular basis. Spotify and Pandora are shit, they're not going to help you find new music, you know. We're going to help you find new music more than they will.
TJ: And you feel really connected to the shows you listen to.
CB: We're becoming actually really good content for Mac students to listen to. We're going to have staff shows where we have live shows in here which is something really cool and content that you couldn't hear on Spotify. Those are your classmates getting a band to transmit over the radio, which is frickin' awesome I think.
TMW: Is there anything else you want to add?
YB: It's funny how the culture changes every year. Like not a ton, but a little bit.
NS: I feel like we've done a lot more community stuff that's not just radio. Like we have so many events this semester compared to last year even.
CB: I've never been here for a reunion … but in the notes it said 'Hanson played on WMCN, but more importantly we have underwear.'
DS: Can we put in a budget request for underwear?
TMW: Are you seriously trying to get WMCN underwear?
CB: Have you seen the mock up on the table?
NS: Also there's a perception that WMCN people all wear jean jackets, but it's really only Catie. laughs