Way Back at Mac: Prehistory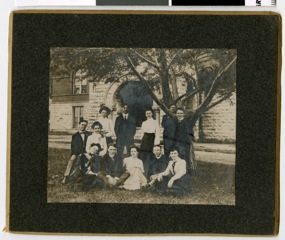 We all know that Macalester College was instituted in 1874, but few are aware that the groundwork for the school was laid nearly twenty years before with the Baldwin School. The Baldwin School, the precursor to Macalester, was created by Rev. Edward Duffield Neill, with much assistance from its namesake Mr. M. W. Baldwin, as a preparatory institution for the forthcoming college. The idea of a strong center for education in the Twin Cities was so popular that after the idea came about in 1852, Minnesota legislature granted a charter to Baldwin and Neill in 1853. The building was erected in late winter and the school opened in early 1854. The Baldwin School in 1854 boasted an enrollment of 71 students, only 28 of them male.
Because of the gender disparity, the founders felt there was a need for a separate institution for boys. The Baldwin School's sibling institution, originally dubbed Calvary College, held the classical and scientific departments; however, "in deference to the prejudice of some against the naming of institutions after localities associated with the life of Jesus, the male department of the Baldwin School was incorporated as the 'College of Saint Paul,' instead of Calvary." And so began the College of Saint Paul, but the road to Macalester was still as bumpy as Grand Ave in the 19th century. These bumps included financial hardship and the dawn of the Civil War, when Neill entered the battlefield as a chaplain. With the United States in turmoil, the trustees deemed it appropriate to close the school until peace reigned once again.
In 1864, Neill left the school for a short amount of time, but he was in good company as he served on President Lincoln's administration. Still, Mr. Baldwin argued that being "president of a good college is far better." Neill returned to the Twin Cities after his stint in the White House and became Macalester's first president in 1874.
During this time, plans were laid for Baldwin University, which would include both the Baldwin School and the College of Saint Paul. However, in the midst of planning part three of Baldwin education and building an endowment for the university, Mr. Baldwin died without leaving a provision for the project in his will.
Our college's namesake, Charles Macalester, saved the institution from failure. A wealthy businessman, Mr. Macalester rented out the Winslow house to the College of Saint Paul for a hundred dollars a month to the establishment. His gift changed the course of the college's history, allowing it to reopen in the Winslow House while it slowly regained its financial footing. In his will, Mr. Macalester bequeathed the Winslow House to the College of Saint Paul, provided that it be used solely for educational purposes. The founders promptly named the college after their financial savior. Although the college underwent more financial difficulties in the following years, Macalester College was born, and great things were on the way.