#ReclaimOurCity panel held on worker and climate justice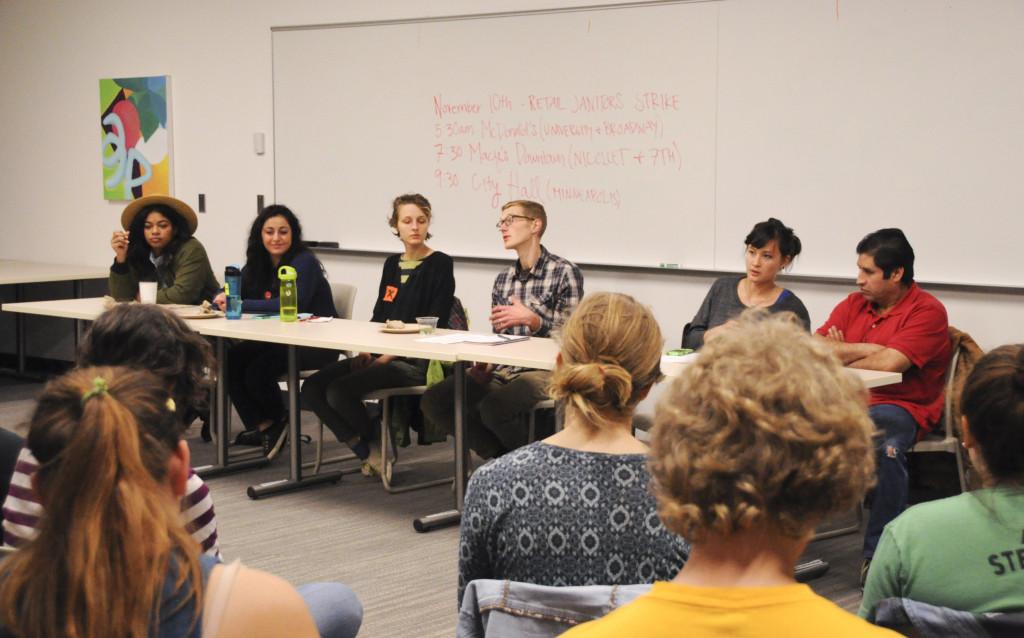 Around 25 people gathered in Janet Wallace on Tuesday, Nov. 3 to attend a panel entitled "#ReclaimOurCity: Panel on the Intersection of Worker and Climate Justice." The panel was co-hosted by Macalester student orgs Fossil Free Mac, Macalester Students Against Sweatshops, MacPIRG, and local organizations Fossil Free Minnesota and CTUL (Centro de Trabajadores Unidos en Lucha, or the Center of Workers United In Struggle). The panel intended to inform attendees about intersections between worker and climate justice, and encourage them to show up at the #ReclaimOurCity: March for Working Families this Tuesday, Nov. 10 in support of fast food workers, retail janitors and workers, PCA's, and airport workers.
The panelists included MPIRG organizer and local Black Lives Matter leader Mica Grimm; MPIRG organizer Mahyar Sorour; University of Minnesota student and Fossil Free Minnesota organizer Paige Carlson; visiting environmental studies professor at Macalester Erik Kojola; and CTUL organizer and local retail cleaning worker Pascual Tapia; and his interpreter from CTUL, Susan Kikuchi.
"The community panelists were brought together on such short notice primarily through existing relationships," event organizer Giulia Girgenti '18 said in an email. She explained that planning for the panel had begun over fall break, but that these preexisting relationships made it easier to find speakers.
"Organizing is all about building and sustaining relationships within and across groups, and it was the great relationships that allowed us to pull together such a great panel with so many student and community orgs collaborating through the planning process on such short notice," Girgenti said.
Paid sick days, fair scheduling, a $15 minimum wage, and an end to wage theft are all key goals of the organizations and the upcoming strike
"You guys get schedules to work, right? You usually get them like a week out or something. We're talking about people who find out the day of that they have to work," Grimm said, explaining how scheduling is currently set up for retail cleaning workers and others. We're talking about people who are on call all the time, but don't get any warning. When you're working under those types of conditions, there's no way to prep."
Unfair scheduling, Grimm explained, is essentially wage theft, and gave an extremely local example: "There are Target workers that are waiting in line two or three hours with all the people going to Target Field [for a game] just to find out whether or not they're working…People should be paid the two hours that they're waiting in line."
Tapia also spoke of the necessity of ending wage theft and bettering working conditions for workers in the Twin Cities and beyond.
"It's not enough that they give us back what they stole from us," he said. "They also need to improve our working conditions."
The panelists also discussed the connections between workers and environmental inequity.
"Most environmental issues primarily affect folks who live in lower income [areas] or communities of color," Sorour said. She used the Hennepin Energy Recovery Center (HERC) incinerator, a garbage incinerator located near Target Field, to illustrate her point.
"Folks in that neighborhood don't have a choice of whether or not this incinerator is where they live, operating within two miles of 12 elementary schools. These kids have to go to school and breathe in that toxic air," she said. People in this community disproportionately face health hazards in their living environments and are less likely to be able to take time off of work or request paid sick leave as a result of the kinds of jobs they are working.
"It's environmental racism…and it's a pure example of how economic issues and environmental issues are related and that's why [for] both groups, it's so crucial to come together," she said.
The strike itself will take place next Tuesday, Nov. 10, starting at 5:30 a.m. at the McDonald's at the intersection of University and Broadway in Minneapolis. At 7:30 a.m., strikers and protesters will march to the Macy's on Nicollet Mall in downtown Minneapolis and will move to the Minneapolis City Hall by 9:30 a.m. Transportation will be provided for Mac students interested in attending, and may also be available for those who need to return for their 9:40 classes. The early time is chosen specifically to allow striking workers who work more than one job to get to their second job, and also to ensure that workers are actually striking during their shifts.
Students can also get involved at an art build, where participants can make signs for the strike, at the CTUL office this Saturday from 2 p.m. – 8 p.m., or by helping hand out strike notifications to different businesses the night beforehand. These advance notifications help protect workers from retaliation and from being fired.
Emily Sylvestre '16, one of the panel organizers, not only reminded Mac students that the strike's goal to raise the minimum wage would benefit them as college students, but noted that workers like those striking on Tuesday also work on the Macalester campus.
"These issues touch our community as well," she said. "We have people who come to clean our school, we have people who are not being paid $15 an hour, [who are] directly a part of our community, so this isn't an issue that's just out there in Minneapolis. This is here, too. So when we stand up for the workers in Minneapolis, we're standing up for the workers in our community."
"I think the greatest success of the panel was the complete focus on community voices and perspectives. It's not very often at Macalester that we engage with the local community around us — yes the CEC works to get students off campus and volunteering, and yes lots of other departments on campus keep us aligned with our values of multiculturalism and internationalism," Girgenti said. "But there is so much action and momentum building on the ground right here in the Twin Cities that students need to be aware of, and we very much wanted to shift that focus away from Macalester for once."
Near the end of the panel, Tapia encouraged the attendees to come out to the strike on Tuesday morning.
"We want change — not just for me, not for ourselves, but for everybody," he said.