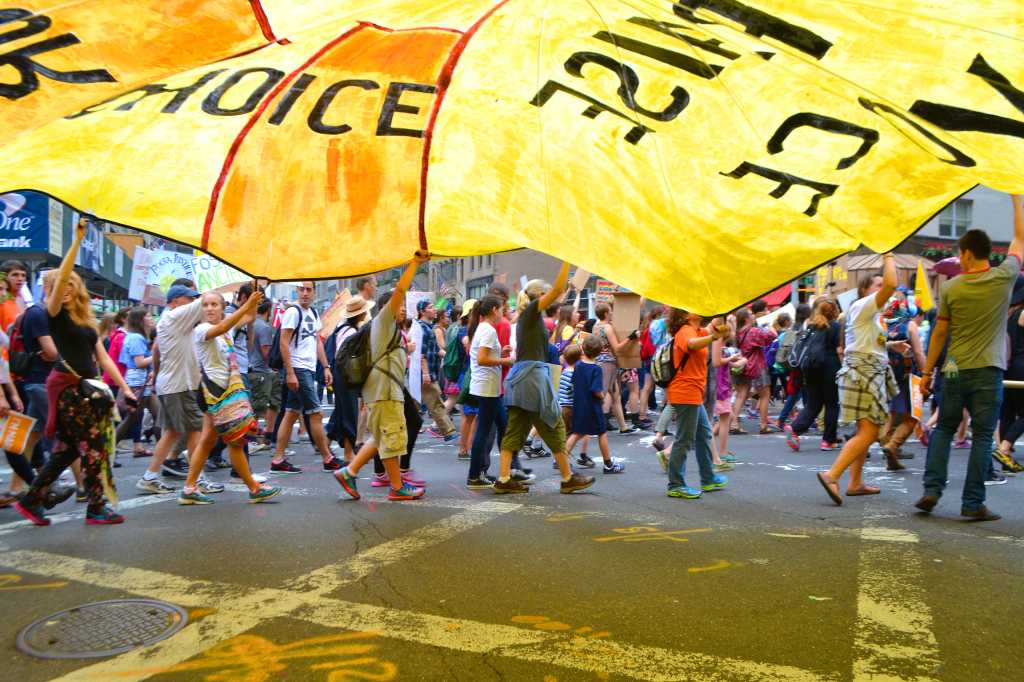 In the sea of almost 400,000 people that attended the New York People's Climate March on Sept. 21, a band of 30 Macalester students added their voices to the call for world leaders to embrace climate justice at the United Nations' Climate Summit. The group traveled for over 20 hours by bus and van to reach Manhattan in time for a youth convergence and the biggest climate march in history.
Though it was no short ride, the trip to New York was just the final stretch of a much longer journey for some students. Akilah Sanders-Reed '16 said the march was already on her radar when it began to gain popularity following an article by environmentalist Bill McKibben in the June 2014 issue of Rolling Stone. She said there was no question that she—and Macalester—would be marching.
"I knew immediately that I was going to be involved. In fact, if there had been a job opening in organizing and I hadn't already had a summer job, I probably would have flown myself to New York and worked on the ground on it. As it was, I knew I would be organizing at Macalester for it and that I would be getting as many students as possible there," Sanders-Reed said.
Sanders-Reed, who is the co-chair of the environmental justice task force of Macalester's branch of the Minnesota Public Interest Research Group (MPIRG), began working over the summer with Henry Kellison '16, the head of the environmental justice task force, and other MPIRG members at Macalester to give students access to the event.
"It was a really cool project for us to take on because it being just three weeks into the semester, there were lots of students who were either brand-new at Macalester or getting adjusted to being back in school," Kellison said. "So to ask for students to come hundreds of miles to this really cool event just a couple of weeks into the semester, and to actually have people come out and do it, was really exciting."
For all of Kellison and Sanders-Reed's excitement, they said they never expected the turnout that they received.
"When we started the semester, to be honest, I didn't think we were going to get more than 10 or 12 people there … but you know, I never would have ballparked 30. If you had asked me in August or even early September, I never could have guessed," Kellison said.
Sanders-Reed said she was blown away by not only the interest from Macalester students, but also specifically by the interest from first years.
"About half of the students were first years, which is especially impressive three weeks into their total college career," Sanders-Reed said. "I think I was still figuring out how meal swipes work and they were willing to hop on a bus with minimal logistics and go to New York for the weekend for some crazy rally with a bunch of people they barely knew. That was really impressive to me."
Delanee Hawkins '18 said the impact of the march was more important to her than the difficult prospect of demonstrating as a first year.
"I wanted to be a part of something historic and one of my main goals is to make a positive change in the world and this was a concrete way to do that," Hawkins said. "There was pretty much nothing that would have stopped me at that point, because it was really important for me to go."
The Macalester marchers joined a diverse group when they reached New York. Marchers included young children still small enough to be carried by their parents, the old guard of the environmental movement wearing badges from protests gone by, people dressed as bananas, as fish caught in nets, and one woman decked from head to toe in pink with a sign that said "never ever ever ever ever vote Republican."
The issues motivating the marchers were just as diverse. Groups focused on renewable energy, food and water justice, anti-corporation campaigns, wildlife preservation, tar sands, mountaintop removal and nuclear energy.
The Macalester students were largely divided between the student block and tar sand block, and said that both areas created a real strong sense of community.
Hawkins, Sanders-Reed and Kellison all agreed that the most powerful moment came when all of the blocks united in a moment of silence. Planned by organizers as a moment of reflection and remembrance for the victims of climate change, the silence was broken by a sounding of the "climate alarm" intended to wake up the world to the reality of the global environmental situation.
"The moment of silence came and it was almost dead silent on our block, and then from way way down in the city you could hear this roar that sounded like a cross between an avalanche and a jet engine," Sanders-Reed said. "Hearing that thunder in the distance and realizing what that was, who that was, and how many people were making the sound that was echoing through the buildings was really cool. That was what gave me the biggest sense of how many people were actually there because I couldn't see them all, but at that moment I could certainly hear them."
Unity, as was felt in the moment of silence, is what many marchers hope will shape the future of the environmental movement. Hawkins said she hopes the unity of the marchers sends a message to policy makers.
"I hope that people who have the power to change legislation realize that the world is paying attention to what they're doing and we are going to hold them accountable for our future," Hawkins said.
Sanders-Reed said she hopes the march sends a message to the general public about what the climate movement really is.
"I think this march showed a side of the climate movement that people aren't used to seeing. It was bigger, more diverse and more beautiful than any of the things we are a part of in our communities on a day-to-day basis," Sanders-Reed said. "There are so many people working so hard on the ground in so many places that it's often easy to lose sight of the huge movement we are a part of, so I think that showing exactly what the climate movement looks like was really important and that will reframe a lot of the discussions and the way people view this."
No matter what policy changes follow the march, Kellison said that this was not an event that will easily be forgotten.
"When we look back at climate mobilization in the next decades, I definitely think the People's Climate March will be pretty high on the list of the cool things the organizers did," Kellison said. "And I'm really excited to have been a part of that and to have helped make Macalester a part of that too."