Personality Profile: Justin Sims – Blended passions turn into career path
Macalester Baseball player Justin Sims '14 has two obsessions in life: math and baseball. Sims's four years at Macalester College have given him the opportunity to combine these two fixations into a career upon graduation.
A native of Bronx, New York, Sims had never heard of Macalester until the summer going into his senior year of high school. During that summer, he attended Head First, a baseball showcase in Richmond, Virginia, where he met Macalester head baseball coach Matt Parrington. A few weeks following the showcase, Sims received an email from Coach Parrington.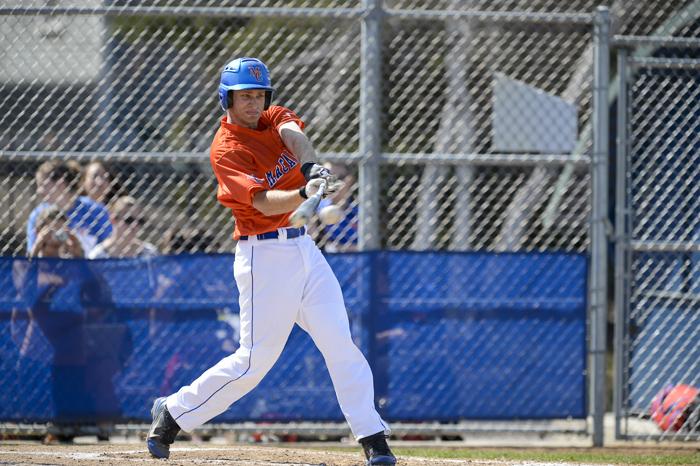 "It was the first time I really looked into the school," Sims said. "It was great academically and gave me the opportunity to play baseball, two things I was looking at most in a college."
Parrington had no difficulty recruiting Sims. "Justin indicated to us in mid-February of his senior year that Mac was in his top two schools, so recruiting was fairly easy," said the Macalester coach.
Sims visited campus during a weekend in spring to catch a Macalester doubleheader versus Concordia-Moorhead. The Scots lost the first game, but rallied to win the second game in exciting fashion on a dropped pop-up in extra innings.
"It was a very exciting atmosphere and one that I could see myself being a part of," Sims said of the visit. "Then I got to hang out with some of the guys after the game, and it seemed like a very good group of guys. After my visit, I knew this was going to be the place for me."
Mac Baseball
Sims played little as a freshman during the team's run to a Conference Championship and a MIAC playoff berth. However, during that season he was tasked with trying to steal the other team's signs and identifying the opposing pitcher's tendencies. From that point on, the in-game decision-making aspect of baseball began to fascinate him.
Sims participated in 15 games, including seven starts at first base during his sophomore season. It wasn't until his junior season when Sims became the primary starter at the first base position. He started 27 of 38 games and batted .271, while only committing one error in the field.
This season, Sims and the Scots travelled to Tucson, Arizona to open up the 2014 season, where they fared with a 4-6 record. Through the spring trip, Sims batted .286 including three doubles and seven RBI.
Overall, Sims describes his experience of playing baseball at Macalester as "amazing."
"We have gotten a good group of guys together and Coach Par has been awesome," continued Sims. "The team had a ton of success freshman year, but once you are conference champion you think you will be back every year after that. The last two years have taught us that you need to keep working hard. Hopefully we can get back to the playoffs and compete for a conference championship as we did three years ago."
Meanwhile, Coach Parrington has raved about Sims and his work ethic. "He didn't get as many opportunities over his first two years as he would have liked, but he remained persistent and his patience has been rewarded over the last two years," he said. "He has become a very good first baseman, someone we can rely on. He is the consummate teammate with good leadership skills."
Mac Academics
Aside from wanting to play baseball at Macalester, Sims wanted to attend a small liberal arts school that was challenging academically. Prior to college, Sims's two favorite subjects in school were math and science.
"Its math and science programs were a higher caliber than other liberal arts schools," Sims said about the school. "I was not only getting a great education, but getting academic excellence in the subjects that I was most interested in."
Sims arrived on campus initially believing that he was going to double-major in chemistry and math. Yet when Sims was not placed in Intro to Chemistry like he requested, he instead decided to take Principles of Economics in his first semester. He ended up falling in love with the subject and felt it would be a perfect complement to mathematics as a double-major.
The Blending of Passions
Sims's love for both baseball and math stretches long before his arrival at 1600 Grand Avenue.
"I have loved math ever since my Grandpa taught me blackjack as a kid," Sims said. "In regards to baseball, I started playing when I was two-years-old. My mom would give me a soft bat and put a small ball on the couch, and I would hit the ball off the couch."
Growing up, Sims combined statistics and baseball in everyday activities. He competed in fantasy baseball with friends for fun, which sparked his interest in roster decisions and the baseball operations side of the game. In addition, the book Moneyball, which describes how the Oakland Athletics implemented statistics and analytics to make personnel decisions, captivated Sims.
"After reading Moneyball in high school," Sims said, "I saw that it was possible to use math within baseball, and I knew that was something that I wanted to do."
Sims became more involved with baseball and statistics as his college career progressed. After his sophomore year at Macalester, he and baseball teammate Ross Bronfenbrenner '14 created a baseball scouting website. Sims noted that at one point, the website was generating 5,000 hits a day.
The summer before his senior year, Sims stayed on campus to help Macalester statistics professor Victor Addona with research. The two spent the summer studying the effects of age in the MLB Draft. They found that that relatively older players are drafted more often than younger players, but relatively younger players reach the majors at a higher rate compared to older players. For example, a 17-year-old high school player that is selected is more likely to reach the majors than a 19-year-old draftee. However, once both groups of players reach the Major League level, there is no difference based on relative age.
"Research with Victor really solidified my goals and hope of working in baseball," said Sims about the experience.
Future
Sims is now hoping that his love for baseball and math will translate into a full-time job upon graduation at Macalester. His preference is to work in analytics and scouting operations for a professional sports team.
The job description entails using statistics and quantitative analysis to make decisions about players such as which players to sign and draft. The position also examines on-the-field decisions and strategies such as when to pinch hit, when to bunt, and when to bring in a certain pitcher.
Thus far, Sims has interviewed with multiple Major League Baseball teams including the Yankees, Mets, and Indians, along with the Philadelphia 76ers from the NBA. Only a couple of days before press time, he was offered and accepted an entry-level position with the New York Yankees.
However, Sims is still ultimately undecided about what his future has in store for him.
"I am not really sure exactly what my ultimate career goal or title will be," he said. "Obviously a General Manager would be amazing, but something that I would really be interested in is Director of Baseball Analytics. As long as I am working in baseball and using math and economic tools to impact play on the field and decision-making in the front office, then I will be more than happy."