Apples to Apples: Adam, Ben and Levi
Adam, Ben and Levi moved in together junior year but have known each other since their freshman football season. The Mac Weekly sat down with them this week to talk about childhood on the farm, the history of the Shish/T-Shirt Apartment, and their plans for the future.
Adam Bauer: I'm so excited to be famous. I'm going to put this on my résumé and LinkedIn.
When did you guys become roommates?
Levi Brown: Ben and I were roommates sophomore year in Wallace, and Adam lived down the hall, but we've known each other since preseason freshman year. We all moved into this house junior year.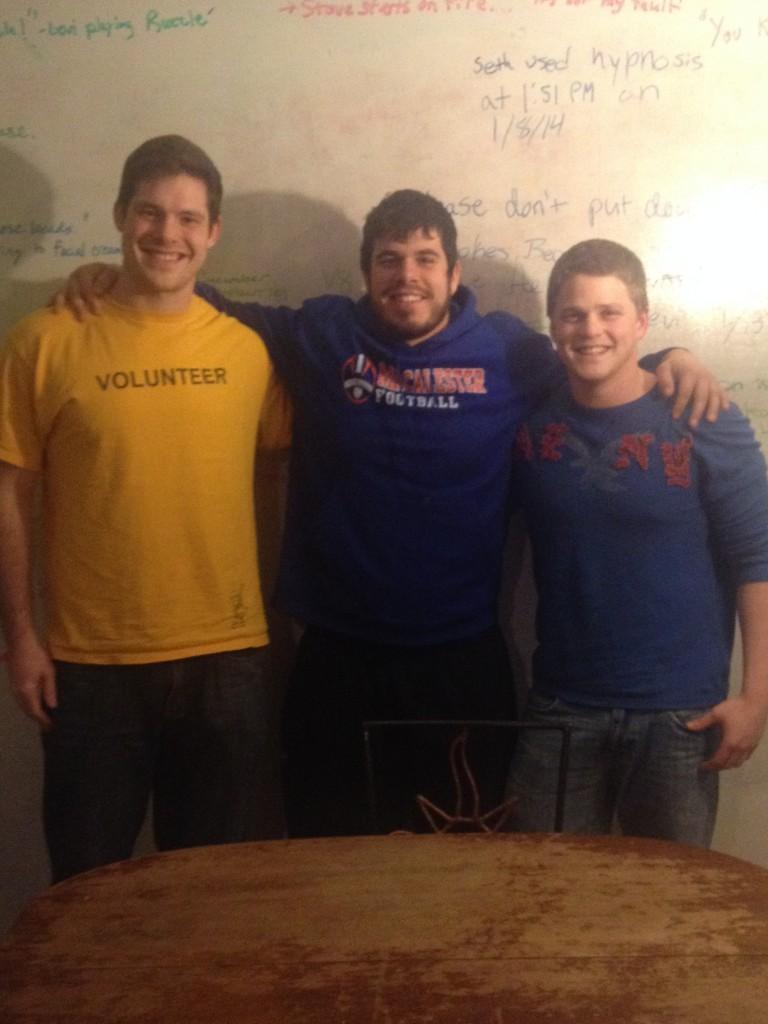 All three of you play football. How has that been?
Ben Conlon: Yeah, we played all four years together.
AB: It's been pretty great. I think now that we're done it kinda sucks because we don't get to play, but we do have a lot of free time now.
LB: There's been a lot of ups and downs. I've torn both of my ACLs and freshmen year I had a couple concussions. But I had one good year out of the four so that was awesome.
AB: Levi was an Academic All American junior year.
LB: It doesn't count. It wasn't All American, it was All District.
AB: No, it counts.
LB: I'll put it on my résumé.
Where are you guys from?
AB: I'm from a small farming town in Central Wisconsin.
LB: I grew up on a farm in Southeastern Minnesota.
BC: I'm from St. Peter, Minnesota and I've lived on a farm, in the country, and on a lake, but I've always gone to school in St. Peter.
Do you still work on the farms?
LB: Every summer.
AB: Yup, when I go home I still do.
BC: I moved off the farm when I was young, but I would do all the chores when I did.
What kind of farm do you two live on?
AB: I live on a beef farm, and if anybody cares it's like 80 acres.
LB: My dad and grandfather have a dairy farm, and for a time in high school, to pay for college, I raised beef with my grandmother.
Have you visited each other's hometowns?
LB: Ben and I visited each other's house over winter break freshman and sophomore year. I had my 21st birthday in La Crosse which has the highest number of bars per capita in the U.S. so that was fun. Never got the invite to go over to Adam's house, though!
AB: The invite's always there, it's just a little out of the way.
How did your quote wall start?
LB: Yeah that was last year, but now it's just quotes. It was definitely Ben's idea.
AB: Wasn't it actually your sister's?
BC: It was either me or my sister. It was just like a little pun or fact, or fact based off of a pun. But now it's sort of evolved into a quote wall for when someone says something stupid or funny. So it's there forever.
AB: The first date on here is Dec. 2, 2012.
What does it say?
LB: Ok, so for some reason it's really biased towards me and stupid things I've said, and many of them were not in my… best state.
BC: Levi's not very good at spelling. But one time he finally spelled hierarchy correctly and he was so excited and said "I'm writing it on the board!" So he writes it in the top left corner but he spells it wrong. So that's how it started.
Can you share some of the other quotes?
AB: Anything on the quote wall from Levi probably has a story behind it, but we could be here all day. Let's just take one. Levi you choose which one we talk about.
LB: Tears? OK so we were playing Cards Against Humanity and I was laughing so hard…
BC: Before the cards were even out.
LB: But I was the dealer trying to figure it out but nobody could understand what I was saying because I was laughing so hard. And when I laugh, I cry. I was crying so hard I had tears dripping down my chin. But Ben made the valid observation that the couch was wet with my tears. No Adam quotes though, huh.
AB: I don't understand why I'm not on the board.
LB: By far the most composed of anyone that lives here.
Why does the other wall have markings on it?
BC: That was a measurement wall but that's kinda been taken over by visitors. The houses before had their heights marked, but it turned into a scribbling fiesta at a party.
AB: I think it was the volleyball girls.
LB: Shout out to Wiggie for scrawling your name and the cow you drew.
BC: Lot of names, a lot of scribbles. And a cow.
What do you guys do together as a house?
AB: A lot of Call of Duty.
LB: Netflix! Well, Ben and I watch shows like "Walking Dead" and "Game of Thrones."
BC: Since Levi and I started living together sophomore year we would go through season after season of different shows.
LB: Yeah way too fast, especially during O-chem. Probably shouldn't be saying that.
BC: We try not to watch shows that we both like without the other person.
LB: Highly recommend "New Girl" and "Better off Ted."
Do you have any pets?
LB: Jesus.
AB: We had a cat.
Where's the cat now?
AB: I didn't like the cat. Ben brought it from a farm back home and he sent me a picture—I was at home for the summer— with a text saying "Look what I just got!" and I just despised it.
Before you met it?
AB: I'm a dog person.
LB: It started with the people who lived here before us because they had a cat, so it seemed like a good idea. But they did not get their cat from a farm where it's used to being outside doing stuff all day so their cat didn't yowl 24/7, so we gave it back to the woman at the farm. How long did it last?
BC: Two months.
AB: A month and a half.
BC: I was living in here with the previous tenants over the summer. Bonnie and I were hanging out here a lot and got to play with the cat, so we wanted a cat and then… yeah.
AB: He would also stick his paw under the door and scratch at everything. Ugh—the cat drove me nuts.
What's something about the others that nobody would know unless you lived here?
AB: Oh, this is great.
LB: Ok, let's see how far this goes, Adam.
AB: Levi doesn't like to go to the bathroom in public places so he always come back here to use it rather than somewhere on campus.
LB: Very true, I guess nobody else would know that. I can't think of anything about anybody else, but I like things clean except everything is always a mess when I'm in charge of it.
AB: We take turns taking out the garbage but Levi will just let it sit there. There was one time Ben had to ask him three times before he would take it out.
LB: I was doing things! It's not like I'm just lazy.
AB: It's not a big deal. I just wanted to bring it up.
BC: But when he does clean things, it gets very clean. It's just the time leading up to that point that's messy.
What are you guys going to miss most about Mac?
BC: Friends at my finger tips.
LB: Jesus! You made that sound as creepy as possible. But yeah being this close to all of our friends all the time is awesome. I'm gonna make you two come see me at some point, but who knows if it'll be months or years.
AB: I'm going to miss this apartment. It was just so close to campus. People could just pop over and hang out for even just an hour.
BC: I'm also going to miss football.
LB: Absolutely.
BC: I don't even know what I'm going to do with myself when fall comes around. It's been what, 12 years?
LB: I've been playing since fifth grade. Nine years.
AB: Sixth grade for me.
LB: It's going to be weird for sure.
What are your post-grad plans?
LB: The dreaded question.
BC: Somebody hire me!
AB: I'm looking to get into an agribusiness firm. And my girlfriend's a junior, so I'd like to be here.
LB: I'm planning on being a scribe next year and then going to medical school, depending on how this MCAT goes.
BC: I'm currently applying to different jobs in healthcare and biology. I'm trying to see if what I fall into is going to be a fit for me and then I want to go to grad school in the field that I like.
What else does the Macalester community need to know?
AB: A lot of people call this the Shish apartment and I don't really understand why because we don't live around Shish. If anything it's the T-shirt apartment. It's Zimmerman's dry goods. Shish isn't even close! I'd understand if people called us the Patagonia apartment or even Avalon.
Wow you feel really strongly about this.
LB: Another thing, if you don't like football players, just get to know us better, please.
BC: If we ever have a party, people are more than welcome to come. It's not just football guys. Though now that we're old and grumpy we tend to kick people out pretty early.
AB: You will be kicked out by at least 12:30.
LB: I feel people have a stereotype about football players that just isn't true.
AB: You can dislike one of us as a person, but don't associate that with the whole football team. Don't throw everybody under the bus, because the football team has a bunch of good kids. Anywhere you go you'll find a bad apple… well except on our team because we're all good apples.
LB: Sweet apples.
If you were an apple what kind of apple would you be?
LB: Pink Lady! 100 percent.
AB: I'd definitely be a Honeycrisp.
BC: I'd be a Jazz Apple.