Baseball team looks to rebound after rough 2013 season
Three years ago, the Macalester Baseball team won the MIAC Conference Championship in one of the most memorable seasons in the program's history. Last year, however, may have been one of the team's most forgettable.
Macalester finished last in the MIAC (4-16 MIAC, 11-28 overall), due to a large amount of misfortune. For one, the Scots lost nine out of 10 games last year that were decided by one run.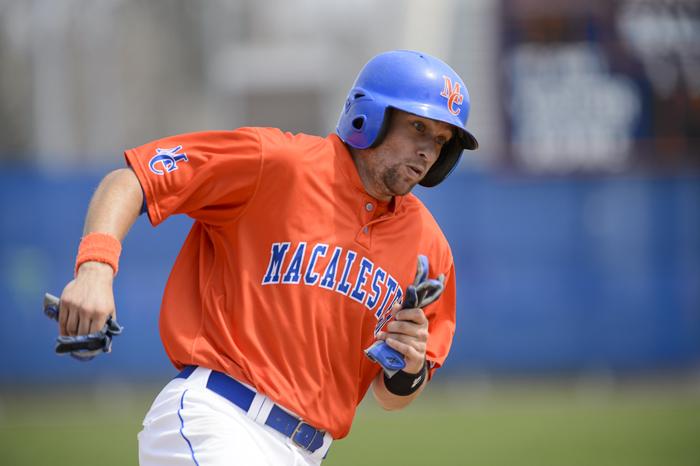 "There is a lot of randomness that goes into a baseball game," said Justin Sims '14. "Given that we lost nine one-run games last year—a stat that I believe would exhibit little to no correlation from year to year—I would expect to win many more of those close games this coming season."
In addition, the miserable weather last season that ran into mid-April did not favor the Scots because of a key injury to the pitching staff. When starting pitcher C.J. Smith '14 was lost for the season after breaking his leg early in the the team's Spring trip, the Scots were left with little depth on the mound. That was crucial in two cases: first, when the Scots played 10 games in one week down in Arizona on the Spring trip; and second, when the inclement weather forced the Scots to play multiple doubleheaders in consecutive days in late April. With the loss of Smith, there were only so many fresh arms to go around, and the Scots allowed a 7.55 ERA on the season.
"We were put in a tough spot last year with how close together games were and some other untimely injuries and circumstances," Smith said.
The Scots will be forced to approach this season with even more unfamiliarity. The team typically plays multiple games in the Metrodome in late February and early March before heading down to Tucson for their spring trip. However, with the demise of the Dome, the Scots will not play their first game until March 14 against Marian (Wis.) in Arizona.
"We really haven't changed our pre-season preparation as a result of not having the Dome," said head coach Matt Parrington. "The main difference is having more time to get the pitch count up for our pitchers prior to the Spring trip. The only real difference in our preparation is that we've added competitive scrimmage situations twice per week in practice."
While the Scots struggled with pitching depth last season, their high-powered offense kept them in many games. Led by All-MIAC third baseman Colin Carpenter '14, who hit four homers, the Scots averaged over five and a half runs per game. They return with a majority of their core hitters, losing only two players from last season's everyday lineup.
Although the Scots were picked in the preseason coaches' poll to finish last in the MIAC this season, that doesn't appear to bother any players.
"I think we were picked to finish last in conference this year simply because we finished last in conference last year," Sims said. "Our conference record definitely doesn't tell the entire story and is more of a superficial look at our season last year."
Smith agrees that there is a new look about this year's team. "We have guys on the team that are really focused on making a difference and making a splash in the MIAC," he said. "The team looks good and I think most people have underestimated what we are capable of accomplishing this year."
Carpenter believes the team can return to the top of the conference. "As for every season I've been at Mac, I expect this team to be towards the top of the conference, if not the very top, and making the conference tournament," he said. "I honestly believe that we have the players, coaching and mentality this year to repeat what we did three years ago."
Ultimately, the head coach maintains reserved expectations for the coming season.
"We need to develop some consistency in order to improve," Parrington said. "We are razor thin in certain areas. As with most teams, returning relatively healthy from our spring trip will have a major factor on our overall improvement throughout the season."
Ahead is a positional breakdown and analysis of the Scots roster for the 2014 season:
Infield
The Scots lost the middle of their infield due to graduation, which included second baseman David Melms and also shortstop and Team MVP Jimmy Belfont. However, third baseman and All-MIAC selection Colin Carpenter returns in hopes of building on his monster season in 2013. It was a huge bounce-back year for Carpenter, who started 21 games as a freshman in 2011, but missed his entire sophomore season due to a knee injury.
"Personally, last season was a huge confidence booster for me, especially after missing my entire sophomore season," Carpenter said. "I remember talking with Coach Parr after last year and just telling him that I'd never felt more confident at the plate in my life. It took almost half the season to actually get going, but once I did I almost felt untouchable. I just hope that I can pick up where I left off and continue to give our team opportunities to be successful."
Playing the other infield corner will be Sims, who will enter his second season as the team's starting first baseman. He batted .271 in in 27 starts, while only committing one error with the glove last season. Indeed, Sims believes that defense may be one of the team's greatest strengths this season.
"On the defensive end, non-returners committed 37 out of our 74 total errors last season and our record was 6-20 in games where we committed two or more errors," Sims said. "This year I feel that our defense will prove to be one of our strong suits, with more range this season in the infield."
Coach Parrington has many strong candidates to choose from to fill the void of the vacated second base and shortstop positions. Phillip Stuhr '16 appeared in 26 games last season as a freshman, batting .268 in 15 starts. Fellow sophomore Jonathan Melms '16, the younger brother of the aforementioned David Melms, is also a candidate for an infield starting spot. Melms led the team with a .550 on base percentage and was a perfect 4-for-4 on stolen base attempts in 2013.
Another sophomore to watch out for this season is first baseman Sam Berk '16. Berk is expected to fill the designated hitter role for the Scots this season after starting 17 games at the position in 2013.
First-year players Quentin Stewart '17, Alex Dash '17, and Dan Klonowski '17 will also be given opportunities to compete at the infield positions.
Catcher
Tom Forster '15 will enter his second season as the Macalester starting catcher. The junior was the only player to appear in every Macalester contest last season, playing outfield in most contests in which he did not catch. Forster batted .274 on the season, scoring 22 runs and collecting 21 RBI. He was voted the team's Defensive Player of the Year for his catching efforts.
There will be some experience behind Forster with Danny Halloran '16, who started nine games in his freshman season behind the dish. Outfielder Scott Foltz '15 will also serve as the team's emergency catcher if needed.
Outfield
The Scots will return their starting outfield from last season, which includes Ross Bronfenbrenner '14 in left field, Mick Mar '15 in center and Nick Sia '16 in right. Bronfenbrenner will enter his third season as the starter in left field and will likely be the Scots leadoff hitter for the second year in a row. He struck out only seven times in 126 plate appearances last season. The senior is also one of the top base stealers in the MIAC, converting 30 steals on 31 attempts in his Macalester career.
As a freshman, Nick Sia was one of the top performers on the team, posting a .327 batting average in 33 starts. He led the team with five triples and also finished second on the team in batting average, hits (37), and total bases (54).
However, Sia's centerfield teammate Nick Mar had a rough sophomore season. Mar hit .303 as a freshman two years ago, which earned him Macalester Freshman Athlete of the Year during the M-Club Awards after the season. However, a lower body injury plagued Mar for the majority of his sophomore year, in which he hit .216 in 30 starts. Despite struggling at the plate, Mar was still one of the Scots best defensive players, leading the team with a perfect 1.000 fielding percentage.
Reserve outfielders Scott Foltz, Aidan Hennen '17 and Peter Bertel '17 will also be given the opportunity for playing time in the outfield or in pinch run scenarios this season.
Pitchers
Perhaps one of the biggest question marks for the Scots going into the season will be the pitching. The Scots will try and avoid the loss of the team's top two pitchers from last season: Smith and Nathan Kelleher-Crew '14.
Smith began the 2013 season on a tear, not allowing an earned run in 15 innings. However, during the Scots spring trip in his third appearance of the season, Smith was hit directly by a line drive in the leg, which broke a bone and forced him to miss the rest of the season.
"The hardest part was actually not being able to be with the team all the time," Smith said. "However, I did learn to help my team in other ways, like being supportive and giving advice to other teammates, especially the younger guys. It wasn't an easy experience, but I grew as a person and became a better teammate."
Smith returned from the broken leg to start the season at wide receiver for the Macalester Football team. However, a shoulder injury suffered in the second to last game of the season is expected to sideline Smith again for the year.
As a junior, Kelleher-Crew was considered the team's ace last season, posting a 3.84 ERA in 11 appearances with nine starts. However, he decided to quit the team during the offseason, leaving the Scots with a big hole to fill.
One player expected to fill that void will be Justin Kleschen '15, who had a strong finish to the season last year. After a shaky start, Kleschen dominated the opposition once conference play began, possessing a 1.78 ERA, which ranked him fourth in the conference.
Chase Khan '14 will look to rebound from a tough 2013 season, in which he allowed a 9.79 ERA. In addition to his starting pitching duties, the hard-throwing lefty will also be relied upon as the team's closer. He saved two games last season to lead the team.
Griffen Gallagher '16, Lucas Babinec '15 and Alex Isaacson '14 are also expected to make starts this season on the mound. Gallagher's strongest outing came last season at St. Thomas, in which he allowed only four hits in 4.1 innings of work against the eventual conference champions. Babinec will look to build on his experience of starting five games for the Scots last season, which ranked third on the team. Isaacson, a converted outfielder, performed well in three starts last season, which included a complete game effort in a loss to Bethel.
Other returners that will contribute on the mound include Paul Schubring '15, and Ben Farber '16. The team will also introduce eight newcomers to the pitching staff: Joseph Aulisi '17, Dylan Edwards-Gaherty '17, Brendan O'Connor '17, Ryan Fleming '16, Jamie Progebin '17, Forest Redlin '17 and Anson Justi '17.