For this week's edition of the Senior Spotlight, The Mac Weekly interviewed Evan Greenberg and Evan Anderson, who have been friends since living on the same floor their first year. Ever since, they have been united by habitation, sense of humor and, perhaps most importantly, their names.
How and when did you guys meet each other?
EG: One day I was watching a Steven Seagal movie and you sat down to watch and I think we watched, the entirety of Steven Seagal.
EA: Okay. I don't remember that.
So what's your first memory?
EA: I don't know, I feel like I just came into this college and there was already some kid named Evan that was in my life. So I just inherited another person with my name as a friend of mine. That's literally how I think of it. We weren't as close until second semester. So I don't know really what happened in there. There was one time when we were watching this movie—
EG: Was it Steven Seagal?
EA: It was not Steven Seagal, it was this other video on YouTube. Remember Yacht Rock? It was one of the first times I ever felt like I was bonding with you. It's this video series that's making fun of late '70s a.m. soft rock, and for some reason we both understood why it was funny.
Is it weird saying your name out loud to each other?
EG: No. We're so used to it at this point.
EA: I like to think about what it's like for people with even more common names than Evan. Like John or something like that, because inevitably you're going to run into people or might even be close to people with that name. So it was only inevitable before I found someone with the same name as mine that I would have to refer to constantly.
EG: I mean, I never refer to myself as Evan. So I was like, 'if I'm ever going to say Evan out loud I'm probably going to be talking to him.'
EA: Yeah. That actually makes sense.
EG: Yeah, unless I call myself something else inside my head.
So no nicknames for each other to avoid confusion?
EG: Other people call us nicknames. But we don't have nicknames for each other.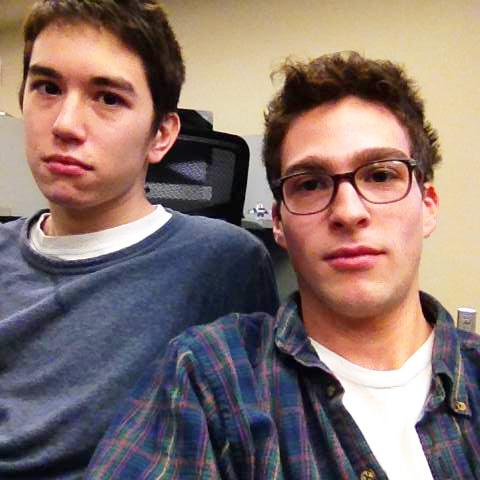 What are some nicknames people have for you?
EA: You're GB.
EG: Yeah GB, Greenberg, Geebs. You're Mr. Clue.
EA: I'm Mr. Clue, yep. One day last year I was just thinking, 'Why don't I have a nickname, why has no one in my life ever given me a nickname?' And then someone was like 'fine you want a nickname? You're Mr. Clue.' And everyone just started laughing because that is kind of particular—
EG: You resented it.
EA: I did resent it. Because I figured if you have a nickname you should have at least something to do with its creation.
EG: You've wanted so many nicknames since freshman year.
EA: Yeah, I've wanted to be Skip, I don't know why, it just seemed like a suitable nickname.
EG: Shu? Mr. Shubie?
EA: No that was assigned to me by my floor because there were, in fact, three Evans on that floor regularly. So in order to distinguish all of us they asked my middle name, because sometimes that's used in lieu of a first name. But my middle name is my mother's maiden name, it's not another first name—
EG: I mean it's a good nickname.
EA: You can't just say 'Shu' to someone and have them know that you're referring to a person.
EG: Well most nicknames don't make sense.
EA: Yeah but they at least sound like a first name, or like a term of endearment.
EG: But why isn't Shu a term of endearment?
EA: Because it's an inanimate object, in addition to my mother's last name!
EG: But you spell it Shu.
EA: But people don't think about the spelling when they're saying it out loud, so when you hear it and someone's unfamiliar with you they just think that you're referring to someone that has footwear as a name.
EG: I would love to be named 'Sandal.'
EA: But see, that's a little offbeat.
What's your favorite thing about the other Evan?
EG: He whistles, and when he whistles it's not the normal, reasonable-pitch whistle. It's very, very, very high pitched. And you sort of whistle off the top of your lip, and it's almost inaudible, except for maybe dogs.
EA: Well then how can you hear it?
EG: I can hear it. I hear it from your room at, like, 3:00 in the morning. But I do like your whistle, it's a very nice whistle.
EA: Thanks! I don't have people comment on that regularly. What's my favorite thing about you? The irregularity of any of your habits. It seems like sometimes you're up at 4:00 in the morning making a sandwich and listening to smooth jazz, and other times you're sleeping in until 6:00. That could be either me or you. But maybe because the irregularity of our habits overlaps so much that it makes sense for us to be friends. I don't know what a schedule feels like.
EG: We both thrive and perish in a structureless environment.
How do you think that's going to translate post-grad?
EG: Hopefully I won't crash and burn.
EA: Yeah. I have nothing to add.
Do you guys have any plans after Mac? Or what do you want to do?
EG: I want to move out of the Twin Cities, mostly because it's so cold. But I also could live here.
Where would you like to go?
EG: That's a good question. I don't know. I could stay here. I'm sort of circular with plans. One day I want to move to the west coast, another day I'll want to move to the east coast, and then one day I'll want to work in Canada for six weeks, make money and then travel.
EA: The only familiarity I have with other places, when it comes to living in those places, is what I think it might be like, or what I've witnessed on television or something like that. I'm pretty sure that if I were to move to New York it wouldn't be like "Felicity" or "Seinfeld" or something like that, it would just be like me living in that city and I doubt that there are many plotlines for frequent episodes—
EG: You working in the coffee shop, trying to make enough money to pay rent?
EA: But I feel like everyone does that, that lives there initially.
EG: In which city?
EA: New York. Maybe Chicago or something like that. I feel like here, I know enough people even tangentially that I'll be able to eek out a living, or at least a social life.
EG: We'll be fine.
EA: No, I'm not worrying about it. The only reason I might worry about it is because it's such a novel concept that I might be on my own, without any suggestion of what I should be doing with my life.
EG: Talk about structure.
How long have you two lived together?
EG: Since sophomore year. Sophomore year we shared a Bigelow double for about a semester, and then I got a call from him over winter break saying that he was becoming an RA, so he moved out to Dupre where he was an RA—
EA: For one semester.
EG: So I had a Bigelow double to myself, which was awesome. And then we lived together again.
EA: We reconvened! Junior year, in a house that we shared with four other people because some people went abroad.
EG: But we stayed!
EA: We were the only consistency of all the group of people.
Do you guys have any funny stories to share about hanging out as Evans?
EG: I don't want to get too embarrassing.
EA: I don't know if there's anything too embarrassing, from an objective standpoint.
EG: The only one I can think of is when I had to shovel out your car last year.
EA: Yeah, so we both have cars in St. Paul with us, and last year there was a snow emergency and we both parked on the street—
EG: Because we both did not heed the warning. It was the first blizzard that year. I had a test at 8:30 in the morning that day, and for some reason I shoveled out my car the night before, but forgot to move it. When the test was over I freaked out, thinking they were probably going to tow my car. So I sprint back in my full coat and long underwear, pants, boots, in a foot and a half of snow I sprint back and when I get there I move my car because it's already shoveled out. I go inside completely out of breath, dying, and look outside and there's a tow truck hooking [Evan A's] car up to it. I go outside and I start yelling at him, "If I shovel this car out right now will you not tow it?" And I shoveled your car out for you, Evan.
EA: Yeah. That's a great story. It's an example of the fortitude of our friendship that you would do that for me. I was totally unaware of this at the time. [Evan] told me to come back, so I was running home—I had just out of this jazz class—and Miles Davis was playing in my head while I was sprinting home and it was all very cinematic.
EG: And I'm just passed out sweating on the couch.
EA: It was a rough day.
EG: Not a good day. But Evan knows more than me. About general information.
EA: That's probably not true. I don't know anything about lithography or stratigraphy or mining.
EG: He reads Wikipedia pages like a fiend, and also would be really good at pub trivia but also refuses to do pub trivia.
EA: Yeah I don't like the idea of pub trivia, because I went to one in the CC about a week ago and there was an answer to a question that I knew was correct, and yet it wasn't included as an acceptable response.
EG: He got very, very angry.
EA: I got angry and I sent an irate email to Jim Hoppe about how that particular pub trivia master should never be there again.
EG: What is he going to do?
EA: I don't know, but I think Jim Hoppe is someone who is willing to listen to someone's gripes without really taking them seriously if they're not meant to be taken seriously. And he did take it seriously, so my suspicions were confirmed.
EG: You have one more nickname that I forgot about. You used to wear purple pants and your nickname was "Purple Pants."
EA: They were maroon.
EG: I'm sorry, they were maroon. I like that nickname.
EA: I hate that nickname. I hate any alliteration in nicknames.
EG: What's one example of an alliteration in a nickname?
EA: I don't know…. Annie Oakley?
EG: Annie Oakley isn't a nickname.
EA: Buffalo Bill!
EG: Buffalo Bill is a great nickname.
EA: He was an outlaw. What does a buffalo have to do with it? It's not a descriptor, it was just something that was in his environment. It's like "oh this is an environment that I exist in let's just take something from that and that will be my nickname."
EG: Well there you go.
EA: It should refer to the character he has.
EG: "Outlaw Bill," is that better?
EA: That would be better! I would remember what he did more easily.
EG: You already remember what he did.
EA: With no thanks to his nickname! I think that good nicknames are a reflection of a person's character, and that nickname in particular does not refer to his character in an illustrative way.
EG: Does purple pants refer to your character?
EA: I don't like those purple pants. I don't wear them anymore.