Boehme: Openly gay draft prospect will force NFL to confront prejudices
Prior to Feb. 9, analysts predicted University of Missouri defensive end Michael Sam to be selected between the third and seventh rounds of the NFL Draft. On Feb. 9, Sam came out to the public as gay in interviews with the The New York Times and ESPN. If drafted, he would become the first openly gay NFL player.
Following Sam's announcement, Sports Illustrated interviewed 12 NFL executives who, speaking anonymously, said that being gay will hurt his draft stock. The executives claimed that he would be a distraction by making fellow players uncomfortable and/or by drawing unwanted media attention. CBS Sports dropped him two full rounds on its mock draft board.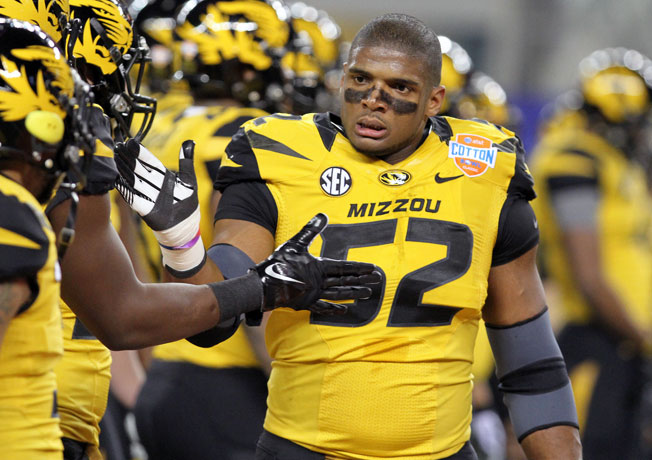 Multiple NFL players have spoken out against having a gay teammate. Last January, 49ers cornerback Chris Culliver said, "we don't got no gay people on the team, they gotta get up out of here if they do." Last week, Jonathan Vilma, a New Orleans Saints linebacker speculated about showering with a gay teammate: "Imagine if he's the guy next to me . . . How am I supposed to respond?"
Michael Sam knew that backlash would come. By declaring that he's gay before this May's draft, Sam is forcing NFL executives to take a stance and prospective teammates to get a grip. If he isn't drafted, each team will be forced to explain why not. After all, there's evidence that an openly gay player can contribute to a football team: Michael Sam.
During a 2013 preseason practice, Michael Sam told his teammates that he was gay. By the end of the season, he had won the Southeastern Conference Defensive Player of the Year award, and led his team to a No. 5 national ranking. His teammates voted him team MVP.
Speaking of the effect that his announcement had on the team, Sam said to the Times, "I never had a problem with my teammates. Some of my coaches were worried, but there was never an issue."
Is the NFL different? Not according to the number of "distraction" players that teams keep. Eagles wide receiver Riley Cooper used a racial slur at a concert. Steelers wide receiver Plaxico Burress served two years in jail for criminal weapon possession. Eagles quarterback Michael Vick received 23 months in jail for dog fighting. And Packers defensive end Johnny Jolly served six months for drug possession, evidence tampering, and violating probation.
No external factors have ever mattered more than how well a player can play. Whoever drafts Sam will get an ideal team player: someone willing to sacrifice themselves for a greater cause.