Kyle's Kitchen F***- ups: Cooking when you aren't a cook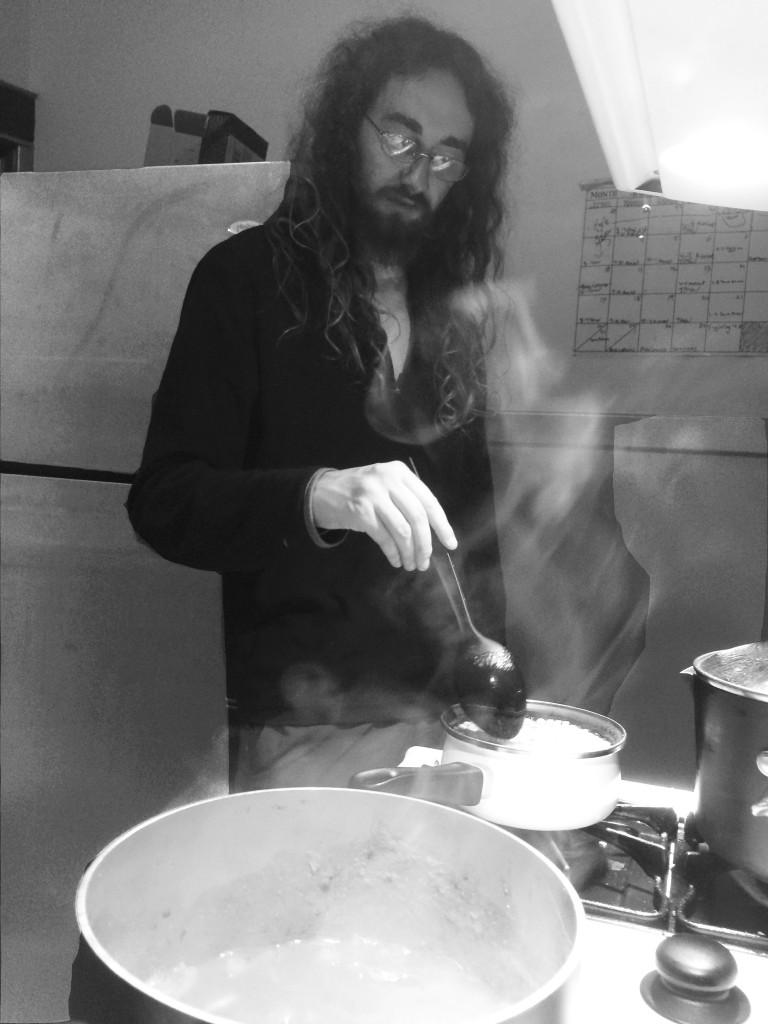 College is a time for self-discovery through experimentation. This process has been vital to my Macalester experience. I'd like to tell you about one such personal experimentation.
Like other choices to experiment, this is something I hardly did before coming to Macalester. In fact, the few times I tried in high school, it left me embarrassed, exhausted and needing to apologize to my parents, girlfriend and all those hurt by the mess I created. Similarly, peer pressure motivated its transformation into a habit that I'm not always proud of. What is this experimentation I speak of? Not drugs, alcohol or sexual exploration—it's cooking!
Since coming to Macalester, I have cooked more times than I had in the 18 years of my life prior to college. And a majority of that came in the last two months when my housemates collectively decided that I would cook on Tuesdays as one of our four family dinners of the week.
Before, I was purely dependent on my parents and whatever the Independent Grocers Alliance could freeze. This adversity to the kitchen leads to some hilarious shenanigans once you actually get me in there, to the frustration of some, but the sheer amusement of most.
Food & Drank editor and housemate, Sara Staszak, has asked me to detail a few of these for the aspiring rookie cook. There are several morals to the story, but the most important: I'm still cooking. So whether a veteran or just starting, do not let your mistakes discourage you.
Below I catalog some of the choicest shenanigans for your reading pleasure. While this mostly meant for the laugh, some are pretty helpful cautionary tales, so read carefully.
1. High might make it cook faster, but not necessarily better.
This is more a universal mistake I made most of my life. I am often in a hurry and do not have the patience to cook. When I was younger I figured the solution was cook it hotter. It's a simple equation. Heat + Raw = Cooked, so More Heat + Raw = Cooked Faster. Not the case. Do not do that. What you will get is an omelette with wet on the inside and burn marks on the outside (to the displeasure of your ex-girlfriend) or black slabs soaked in lava cheese in place of grilled cheese.
I don't do chemistry, but I believe it has to do with the the rate of change of the rate of reaction as the heat increases. That second derivative isn't the same for all ingredients, so don't mess around with the heat. If it doesn't say "High," don't cook it on "High."
2. The Vaso-Bagel Response
This tale is one of self-discovery and also knife safety. A little over four years ago, I was in Long Island for a cousin's wedding and fancied myself a real 'New Yawk' bagel. I ran downstairs, got a bagel from the bagel bag and an, I'll admit, larger than necessary knife. Before I started cutting, my mother, always the worrier, looked at me and said, "Don't cut yourself!" My 17-year-old angst scoffed and I proceeded to saw with vigor.
And anticlimatic though it may be, I sliced my thumb. We're talking a good slice, worth several stitches, weeping profusely and refusing to clot. I ran to the bathroom and started washing it and putting pressure on it, when my mother walked in. The flow started to slow, but I noticed my head getting lighter and my mind wandering.
I sat down for a moment, relaxed and stated that I was ready to stand. Then I was lying on the floor staring up at a very concerned face asking my grandmother to get directions to the hospital. Whoops, I fainted.
At the hospital later I received my first (and only) stitches, a much needed tetanus booster and the news that I have Vasovagal Syncope. My body is very protective of its blood. Apparently when it loses some margin out of an extremity, it pulls all blood back to the heart and shut downs all other processes, like say… brain activity.
It's reminiscent of a computer going into Safe Mode. (A pre-med student can check that definition, that's how my doctor explained it to me.)
The moral of the story is be careful cutting bagels. My family bought me a bagel guillotine which comes highly recommended as a solution to this f***-up. Just don't touch the blade.
3. How much is 16 oz. of shredded cheese?
So the other day I went to Whole Foods with a recipe calling for 16 oz. of shredded cheese. I saw that there were quantities of cheese of less than a pound. I figured 16 oz. equals a pound and bought a pound. Those units do not translate do not make that mistake. Once shredded the volume that the cheese takes up is way more than a pound.
4. Egg In A Basket
When I was wee lad, this meal made rounds throughout breakfast, lunch and dinner. It was a staple of my parents' cooking ability and so last summer, I decided to cook myself one. I'd never tried, but figured it could not be too difficult. Still I wanted to make sure I didn't make a mistake, so I googled a recipe and found one on Yahoo! Answers. Not a great source for a paper, but it's done fine for cooking advice. It included a tip to place the cheese on the bread and then flip it over after the pan side toasted some.
Terrible idea. Never do that. The cheese side should never touch the pan. Ever.
Upon flipping there was a great sizzle and terrible smoke, signaling that I'd made a huge mistake. Of course I tried to flip it, but the melted cheese resisted my efforts until I was left with a third of the cheese on the bread and the rest waiting to be cleaned off the pan.
A thick cloud of smoke started to form and as luck would have it, our smoke detector breaks code and is located just outside the door of our kitchen. I'm not advocating for that, but it sure was fortunate in this case.
This wouldn't have been such an awful mistake, however, if the next day I had not failed again due to a heating error. That leads to the next error in cooking judgment, which I won't spoil here.
5. Why not eat the skin on an onion? Paula Deen recipe for salsa.
This is the final f***-up from home. This summer I found myself in the possession of some fresh tomatoes and decided the only correct use was salsa. I headed to the store to buy the rest of the supplies and realized I had no clue what I needed. I picked up what my mother advised: onions, olive oil, garlic, a green bell pepper, green chilies, black beans and vinegar.
When I got home I found a recipe on Recipes.com (superior to Yahoo! Answers) that employed my ingredients. I set to work and started to chop the onion.
At this point my mother ran in and told me that I was cutting the onion wrong. Apparently, the skin is to be peeled off first.
So I asked, "Well is it bad for you?"
"No," she said.
"So it won't hurt?" I countered.
"No, but you just don't leave the skin on."
"But how do we know we don't leave it on, if we always take it off!" I exclaimed.
We went on like that for quite some time until I tried some onion skin. I spit it out and exclaimed, "Who would ever eat that! Ooof awful." Laziness is no reason to break tradition laid down by our cooking forebearers.
Oh, a sidenote on the salsa recipe: Paula Deen's Salsa-on-the-go. Surprisingly, no butter involved.
6. Liquid Yogurt as milk
I bet you can guess this one.
I went up to my housemate and asked, after having poured it over my cereal, "Why is this milk pink?"
Turns out it was pomegranate yogurt. Whoops. Read the label, folks!
7. Salad Spinner
I maintain that this is an innovation, but my housemates command that it be included. You see, I grew up without a salad spinner. I'm not making some claim that I come from an underprivileged background, but in this case it does explain the situation at hand.
You see, my housemates asked that I prepare a salad as part of my dinner. After washing, the vegetables were soaked and poorly mixed within the salad bowl. I could have mixed and dried them myself, but I am always looking for ways to expedite. So I grabbed what my housemate had previously called a "salad spinner."
Look at that title. Based on that, what does this thing do? It spins your salad. So I dumped the salad in there and set it a spinning. I opened it up and discovered that everything looked more appetizing. The vegetables were appropriately moist and the toss job was much better than any I could have achieved.
I walked out to my housemates and proclaimed, "This thing is amazing. You just hit this button on top and it tosses your salad for you!"
In the initial pause, I was met with three faces sporting a mix of incredulity and dumbfoundedness. Then:
"You didn't just put the whole salad in there, did you?"
"That's for lettuce!"
"Are you kidding me, Kyle?"
"What?! It's name is 'Salad Spinner.' What else does it do?"
Apparently, it's inappropriately named. Still, I defend my actions as thinking outside of the box. I went beyond its normed use and applied this tool in new, unheard of ways. With promising results.
One caveat: do not put cheese in the salad spinner. It is far harder to clean afterwards.
Otherwise, my advice is to fill your salad spinner to the brim. It's your salad, mix it well.
8. Church recipe book. Old ladies. Canned everything.
I have trouble thinking of recipes, so my mom and dad gave me a recipe book from our church back home, Trinity Presbyterian Church. Founded by Italian Americans and immigrants, it is chock full of everything pasta. Also, most of the recipes come from a cohort that grew up in the 1930s. So most recipes call for canned vegetables.
I'm usually blending canned tomatoes, cooking canned mushrooms and everything else. Apparently, that's not cool.
Apparently, it's a sodium nightmare.
As it turns out you can substitute fresh vegetables. Kudos to Anna Pickrell for teaching me that deviating from the recipe to include fresh ingredients is completely fair game.
Also, the recipe book features some of the very original recipe titles like "Hamburger and Rice," "Sauce and Meatballs" and "Peas and Eggs." Plus, each recipe is accompanied by a photo of its creator. In most cases, this is a classic, smiling lady.
Yet there is one woman, Trusiana Ferri. It may just be the photo, but the look in her eyes says, "I hate everything and everyone. I hope you choke on this recipe." I'm sure she was a lovely woman, but that photo sends shivers down my spine. Just a fun little note of kitchen time with me.
9. Cumin—What is that?
So this is in general about most spices. My most common critique is a lack of spicing. This comes from my own background. I grew up in a house that used little to no spices. Spices were for special dishes and rarely mentioned. If they were used, it was because the recipe explicitly stated to use them. Therefore, I do not associate spices with the kitchen.
My most common association comes from 9th and 10th grade history courses concerning The Silk Road and the Dutch East Indies spice trade. I learned about spices as fanciful goods from foreign lands that were meant for the rich. I'm not calling it politically correct, but it's the association I make. It follows that spices are part of fancy, high-class dinners that I have no clue how to cook.
I'm slowly breaking down my preconceptions about spices and that fact that anyone can have them. So another way Macalester introduced a student to incredible new opportunities and broke down cultural barriers. Way to go.
Remember the moral folks: I wrote a lot of mistakes here, but I am still cooking. Just last night I jammed the can opener by turning it the wrong way and forgot to put the seal on the bottom of the blender. This led to both a hand sliced open by the can top and a blender covered in tomato sauce.
Still I strive on, learn with each cook and you should too! I find persistence to be the most important ingredient to any recipe. Holy metaphors! Hopefully, the people you live with are as accepting and understanding as mine. If not, come cook for me. (That's a serious request. A topic for another article would be the fact that I estimate about 15 % of the student body has prepared some meal for me personally.)