Senior Spotlight: HEGEMANIACS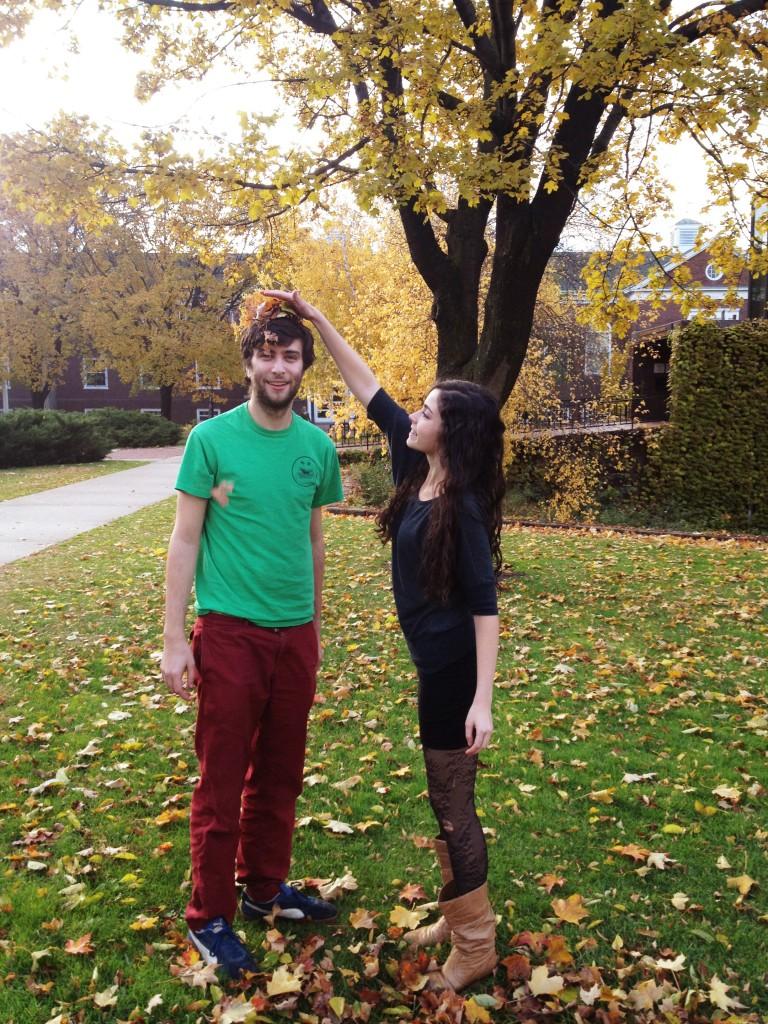 The Hegemonocle is The Mac Weekly's official rival, but we wanted to profile the senior editors, Joe Evers and Michelle Einstein, to expose their weaknesses. Disclaimer: this interview was conducted by Sophie Nikitas, an unreliable and mediocre staff writer on the Hege.
How did you get involved in the Hege?
Michelle Einstein: I needed to get involved in something, so I went to the org fair the fall of my freshman year. They seemed really silly—they were wearing slutty denim, that was the theme—and I decided I needed to meet some upperclassmen so that I could get invited to parties, so I joined the Hege.
Joe Evers: I just wanted to. It sounded fun.
So what has kept you in it?
JE: I've always liked things like The Onion, so it's cool to be sort of mimicking that.
ME: It's a good outlet for your jokes. Your friends get kind of tired of listening to your jokes all the time, so now you have new friends who you can joke around with.
What kind of stuff do you like to write about?
JE: I like to venture on the side of, "What's the nuttiest scenario I can think of?" I don't really like to write commentary. I don't really need a joke to have some sort of meaning, or message.
ME: I'm pretty into graphs. And charts.
How did you rise to power?
JE: I think we rose to power because of our domineering personalities in group meetings, and our general silliness. It was just something I was interested in, that I had heard of other people doing— [Michelle] was in it before I was.
ME: I recruited him. And Joey [Frankl '14]. And Mackey [Borg '14].
JE: And me.
ME: And you! And like four of my orientees are in there, so I basically created the organization and its entire well-being. I joined first semester freshman year.
JE: I joined at the beginning of second semester. Once you're in it, it's kind of like a cult. You don't really leave.
ME: People do. There are some people who have disappeared. Bill Brendel.
JE: He transferred, though. He stopped going to this school.
ME: And where's Andrew Shirley? I don't know. His emails bounce back.
JE: The way the system works is the editors will run the meetings, all of the conversation kind of flows through them, so the people who are writing and the most involved kind of become the editors. We were appointed by the last editors.
ME: Mostly we've just been really involved from the beginning.
JE: I actually think Michelle's always been more involved. All the other juniors were abroad last fall, meaning most of the magazine, so I did a lot of things I wouldn't have normally done.
ME: He was head writer!
JE: I was head writer because nobody else was there. I wrote a little bit more, and went to production meetings, and helped the editors out.
How has the transition been, from being staff to being editors?
ME: It's a lot more responsibility.
JE: It's like an actual time commitment. Freshman and sophomore year it was an hour a week, maybe half an hour to write an article once a semester, but it was more of a distraction than it was actual work.
ME: And it's a lot more pressure to be funny! Especially when people know you're an editor, they're like, "Why aren't you funny?"
JE: It's almost more intimidating to turn in your piece [for workshopping] as an editor than it was as a sophomore… as a freshman, that was the most intimidating, handing your piece in the first one or two times, it was the worst. Everybody's reading your piece and they aren't laughing.
ME: But now [as an editor] you have to write something really good because people look up to you.
JE: You'll lose the respect of the younger ones.
ME: I think they don't respect us much anyway.
How has the big increase in staff members changed the dynamic this year?
ME: For the past couple years it's been about 20 members, and this year it's closer to 40, so it's almost doubled the number of people on staff. The Hegemonocle has always been a place where, if people want to get published, they have a space for it, so I think it's hard because we want everyone's voice to be represented but we want to make sure the quality of the magazine is really good. We've had more workshopping opportunities this semester.
JE: Because the group meetings are so big, we've been trying to create more, smaller group meetings outside of our main meeting, whereas in the past all of the workshopping and editing was done on those Thursday night meetings.
ME: But it also means we have the social capacity to do whatever we want, so we had a Kagin dance, and if half of it was only us it could have been fine!
How did the theme of the Kagin dance come about?
ME: Well, I wanted it to be audiobook-themed.
JE: I've always wanted to have a Hege audiobook, just to have someone read it and put it on the internet.
Who would be the best voice for that?
JE: Patrick [Leppink-Shands '14].
ME: But back to Kagin.
JE: We wanted to have a funny theme, and we chose "Dairy" because that was what was making the most people laugh at the meeting. We were doing it for us.
ME: Some of the other themes we thought of were "space-themed"—
JE: "Space" and "Space Jam."
ME: "Late Jurassic period." Or you say that's it's "70's-themed" and people come dressed as hippies—
JE: But it's the 1870's.
So like unspecified 70's?
JE: Exactly. A lot of the themes we threw around were very hokey, kids' birthday-like themes.
Plus "disease."
JE: That got sad. It didn't get a ton of traction.
ME: Glad we didn't do that one.
So what did the Dairy Kagin involve, for those who missed it?
JE: Milk and cheese.
ME: Breastmilk.
JE: We're just glad people came.
ME: There was a time where Joe and I were standing on stage together, and we just looked out into the crowd and we thought, "Look what we did."
JE: It was like our child.
Did you notice the football players with the jugs of milk?
JE: I did hear about that, but I didn't see it.
A couple football players came in holding a gallon of milk in each hand, just dancing on the side.
JE: I'm glad people got into the theme.
How did the most recent issue go?
ME: We have so many talented people and so many ideas that I want it to be the best it can be. I think in the past, Mikey [Freedman '11] and Dan [Rocklin '11] and Alex
[Juffer '13] and Jon [Gershberg '13] have all done a good job of getting it going. But it's been five years since the Hegemonocle was created, so it's time to step it up. And I think we did.
JE: Mostly thanks to Michelle, and Justine [Decker '14] and Lydia [Karlson '16], our production heads, it actually looked like a real magazine, which was different for us. There wasn't as much ClipArt.
ME: Not that ClipArt is bad.
JE: No, ClipArt has its uses, certainly. But it looked like a real magazine, and I think people were surprised. I think worse jokes are made better when they're laid out in a nice way.
ME: We also tried to have less worse jokes.
JE: That too. I think we can definitely say that we are… better at it than the previous people.
Do you want me to print that?
JE: Yep. Just send it to them.
ME: We also got T-shirts, so we're official now.
JE: Yeah, those T-shirts have pockets, and you can put pens and pencils in those pockets. Or trash.
And the next issue? Is there going to be a theme [like the last issue's "Swimsuit Edition"]?
JE: For the last issue, we initially thought we were going to do a Halloween edition—
ME: —it was going to be "The Spooky Issue"—
JE: But in the end it didn't make any sense, so we came up with a joke theme, which we are probably going to do again.
ME: We want to make a "17 Magazine"-themed edition.
JE: Megan [Schwartz '14] made a joke about doing a retelling of The Bible.
ME: Basically we're aiming for a more cohesive magazine.
JE: And the magazine's here to stay. We're only getting stronger.
I hear you have a rivalry with The Mac Weekly.
JE: We're taking over. Slowly infiltrating your publication.
ME: I value your publication. But I also think our publication is better.
JE: Let's just say that in the competition there has been a rivalry established between The Mac Weekly and the Hegemonocle, and the Hegemonocle has remained undefeated.
ME: Have you seen the quotes in our magazine from The Mac Weekly? About how great the Hegemonocle is?
That was supposed to be off the record.