Getting fresh with farmer's markets in the Twin Cities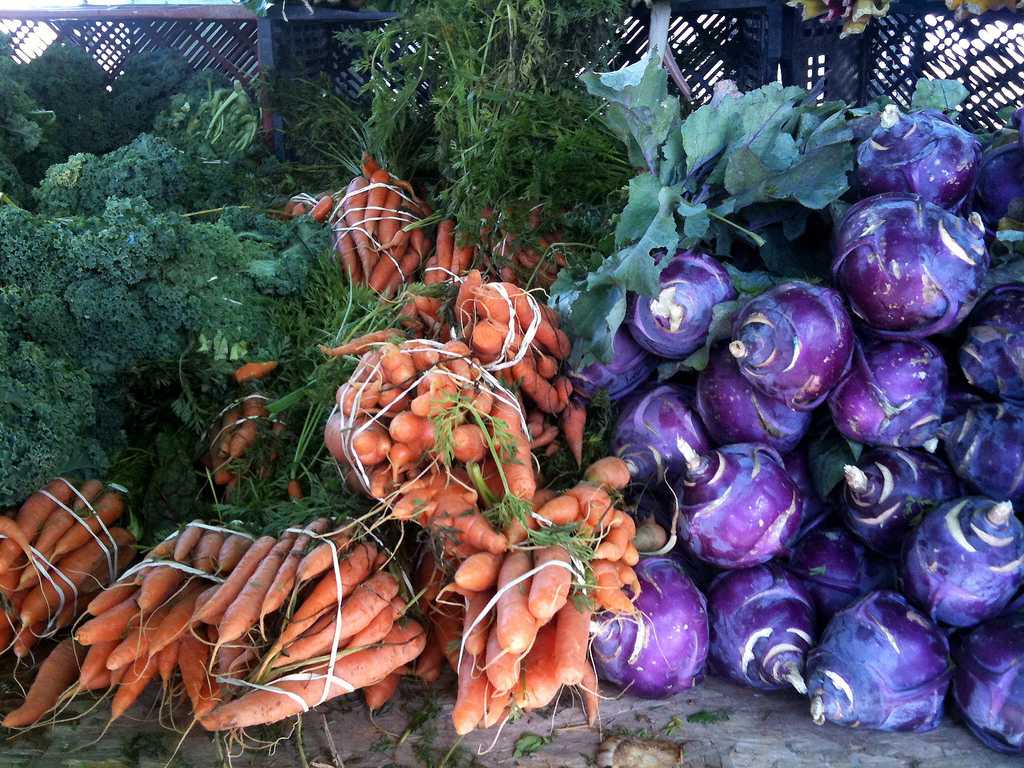 Two weeks ago we featured a page on community-supported agriculture (CSA) options available in the Twin Cities over the summer. CSAs are a great way to engage and support local foods and economies as well as a strategy for eating lots of fresh produce and reducing your carbon footprint.
Admittedly, though, it may be tough to justify such a high up-front cost and the overwhelming pile of veggies each week.
If you're seeking a lesser commitment with some of the same ideals of a CSA, farmer's markets are the obvious next place to go. Luckily there's a surplus in the Twin Cities during the summer. The following is a list of some worth checking out, compiled in part from a list on citypages.
Farmer's markets offer a greater degree of individual choice when it comes to what goes in your shopping bag each week. And often the same local farms are represented at stands at each market, although markets feature a good bit more variety in types of goods offered.
Some cool stuff going in with farmer's markets in the Twin Cities: Starting May 18, the Minneapolis Farmer's Market will start accepting EBT (food assistance) with an EBT booth on-site Thursday and Friday from 9 a.m.-noon and Saturday and Sunday from 7 a.m-1 p.m. EBT is also accepted at the Midtown Farmers Market.
Also, in 2009 Mill City Farmers Market became the first Zero Waste Farmers Market in Minnesota, so there's composting at the site and even the cups and utensils are compostable.
Many of these markets have sections on their websites where you can learn about the different farms and vendors.
Enjoy!
Minneapolis Farmer's Market:
Thursdays at Nicollet Mall, between 5th and 12th Streets
Saturdays at 312 E. Lyndale Ave North, Minneapolis 55405
Every day at Lyndale 6:00 a.m.-1:00 p.m.
www.mplsfarmersmarket.com
St. Paul Farmers Market:
Saturdays and Sundays – 290 E. 5th St, Saint Paul 55101
Tuesdays and Thursdays – 7th Place, St. Paul (7th Place connects St. Peter Street and Wabasha Street, between 7th and 6th Street)
Saturday 6:00 a.m.-1:00 p.m. and Sunday 8:00 a.m.-1:00 p.m.
Tuesday and Thursday 10:00 a.m.-1:30 p.m.
www.stpaulfarmersmarket.com
Midtown Minneapolis Farmers Market:
2225 East Lake Street, Minneapolis 55407
Saturday 8:00 a.m.-2:00 p.m. and Tuesday (starting in June) 3:00 p.m. -7:00 p.m.
midtownfarmersmarket.org
Mill City Farmers Market:
704 S. 2nd St., Minneapolis 55415 (near Guthrie Theater)
Saturdays 8:00 a.m.-1:00 p.m.
millcityfarmersmarket.org
Northeast Minneapolis Farmers Market:
629 NE 2nd St, Minneapolis 55413
Saturdays 9:00 a.m.-1:00 p.m.
northeastmarket.org
Fulton Farmers Market:
4901 Chowen Avenue S., Minneapolis 55410
Saturdays 8:30 a.m.-1:00 p.m.
www.fultonfarmersmarket.org
Linden Hills Farmers Market:
2813 W. 43rd Street (Settergren's parking lot)
Sundays 9:00 a.m.-1:00 p.m.
www.facebook.com/lindenhillsfarmersmarket