Last Saturday, April 27, was Neighborday, which, if it wasn't already, will probably be my new favorite holiday. After all, what's better than celebrating community, friends, and local 'hoods? If Mr. Rogers didn't make you fall in love with your neighborhood, maybe it was hanging out on your stoop, playing whiffle ball in your backyard, selling lemonade on the corner, biking around your cul de sac, or romping through the wooded abyss behind the Jones' house with the neighborhood kids.
At Macalester, some of us live in dorms, some in co-ops, intentional communities, alone or with friends. Wherever we live, we definitely have neighbors, and building those relationships is integral to the strength and vitality of where and how we live and thrive.
As this is a column about purchasing, I'd like to inspire the Mac community to think about how to use their purchasing power to enrich their connections with their neighbors. Here are some fun and inspiring things you can do for little to no cost every day this (or any!) week.
Welcome new neighbors. Bake, make, feed, cook, preserve, can, pickle… wherever your culinary inspiration may lead you, arrive at a new neighbor's house with something you made. Maybe you got some really good kale in your CSA share this week, but you just can't eat all of it yourself. Not confident in the kitchen? Flowers are great too. So is just a friendly greeting. As students, when we live off-campus especially, we forget we are part of the greater Mac-Groveland neighborhood and not everyone is in the 18-22 age demographic. Knowing your block can go a long way—maybe the couple next door needs a sitter and you need some extra cash, or maybe someone will help dig your front steps out of the snow (in the winter, let's hope).
Have a communal yard sale. Selling things you no longer use so that others may discover them is perhaps my favorite suggestion to people trying to downsize and discover meaning in their possessions. Plus, decluttering your life is so cathartic. Why not pool your resources and get the whole street in on the action? Put a note in everyone's mailbox proposing a date for the event and see if anyone's interested. It's like a giant, living treasure hunt and great way to repurpose and reuse things we are ready to part with but not ready to throw away.
Organize a free library. Construct from an old box, wood scraps, salvage a weatherproof container (maybe from your yard sale!) and fill it with books you don't read anymore. Ask your neighbors to help fill it up and watch the magic happen. Promote literacy, a love (and a lot!) of reading and the sharing of ideas and creativity across the block.
Grow food in a community garden. (Don't have one? Start your own!) Feed your family, get some fresh air and bond with your neighbors over what crops are doing really well that summer and which could be made into what tasty recipe. Plus, there's just something about working in the dirt that makes people inexplicably happy. Community composting is pretty sweet, too —if you want to start household composting but aren't sure
Start a public art project. Reclaim your neighborhood bus stop, park bench, free space, or sidewalk. Ask your city if you can paint the electrical boxes, take a cue from MacYARN and embellish lamp posts and bike racks, or think of your own way to beautify your block. Also, get inspired by New York City-based street artist Jason "Jay Shells" Shelowitz, whose latest project, "The Rap Quotes," who's planting signs guerilla-style that quote famous rappers who mention their 'hoods in their songs.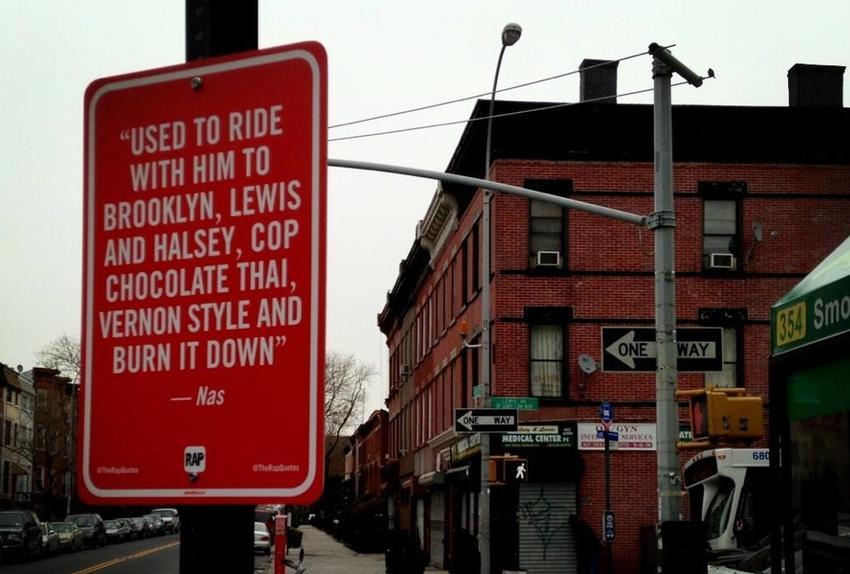 Have a neighborhood barbeque. Growing up, my neighborhood would throw a block party every fall. Everyone would bring a dish to share, and kids would bring a soccer ball or frisbee. As we got older and families started moving in and out, block parties became a thing of the past. But I still remember them fondly, and want to reclaim those bygone days. Hosting doesn't even have to mean opening your home—just your backyard! Don't have one? Ask your neighbors if they'd be willing to have it in theirs! Bring people together over some good, local, tasty spring and summertime food.
Join a book club. I've saved up all my heavier, more intellectual but still personal reads for the summer when I'm not bogged down by so much work, but still want to be able to share them with people. This summer, I'm making it my mission to ask some neighbors to join a book club with me. Are you inspired by a book you'd like to share with someone, maybe over a cup of (iced) coffee? Ask around your block to see if anyone would want to read it with you! Good conversation can lead to great neighborly bonds.
As the school year comes to a close, I hope you get inspired to check in on your block. Challenge yourself to act locally—you'll be surprised what awaits as your community ties grow stronger and your neighborhood unfolds before your eyes.
Online readers, for further inspiration, listen Atlanta's mayor talk about neighbors. Pretty great stuff.