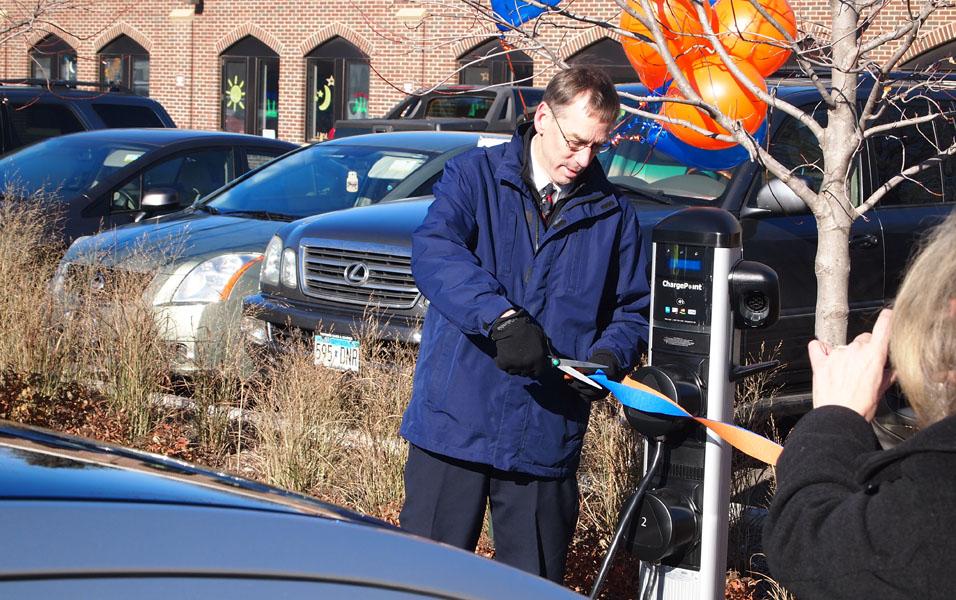 On Tuesday morning at 10:45 a.m., CFO David Wheaton cut the ribbon on Macalester's own electric vehicle charging station. Located conveniently on the northern end of the Janet Wallace Fine Arts Center, the charging station is now open for use. The College received a federal grant and an Xcel Energy grant subsidizing the installation.
Administered through the Minnesota Pollution Control Agency and Metropolitan Council, the grants are helping make driving an electric car affordable. Macalester staff, faculty, and students will receive a discounted rate.
"Public rate will be on par with market price," said Kurt Miller of the Sustainability Office. The station is set, he said, to discourage overnight and extended parking. After all, they're charging stations, not parking spaces, according to Facilities.
The station, a Coulumb CT2021 bollard-style model, can accommodate two vehicles charging at once. The plugin port on electric vehicles is standardized among manufacturers for the most part, but adapters are common for differences in plugins. It takes roughly four hours to charge a vehicle fully, which translates to about 100 miles.
Electric vehicles can help us kick oil by relying on non-petroleum-based power for our transportation. The electricity generated to charge vehicles can come from a variety of sources including wind, solar, tidal, or a combination of these. Macalester's station is powered by Xcel wind credits, purchased in "blocks".
The vehicle charging station is exciting because it is a big step forward for the institution. Making the call perhaps years before electric cars are popular enough to demand charging infrastructure, Macalester invested in it. The hope is that it will get people thinking about electric cars, and perhaps encourage them to drive one. There is enough space to accommodate more charging stations in the future, according to Miller.
Macalester is a model in the community for identifying the need for resources like this and acting upon it. However, there is still much to consider about what the future of electric cars looks like. Hopefully, this will generate good discussion across disciplines on campus about what sustainable transportation looks like through many different lenses. How can we continue to innovate and inspire oil-free vehicles?
For more information about the charging station or questions about electric vehicles on campus, contact the Macalester Sustainability Office at [email protected].