Comedy: All the World's a Dick Joke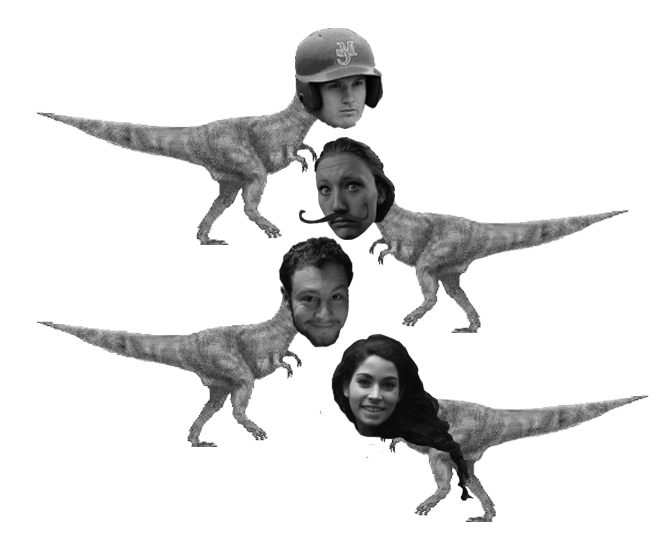 Over the last several years, opportunities to explore comedy on Macalester's campus have grown, through organizations, radio shows and workshops. After controversy over a Hegemonocle article last semester, the student body started to reexamine what place comedy has on its campus. Michelle Einstein '14, newly anointed co-editor of the bi-semesterly publication "The Hegemonocle," Ross Bronfenbrenner '14, in his third year in the Fresh Concepts improv group, Jon Gershberg '13, former co-editor of the Hegemonocle, founder of stand-up comedy workshop and co-host of the radio show "Deep Fried Comedy on a Stick," and Sarah Shoemaker '15, who is in her first year on Fresh Concepts weighed in on the role of comedy in the Macalester community and some of the challenges comedic performers face. A Bad Comedy representative was not available for comment.
Why did you get involved with comedy on campus?
Michelle Einstein: I got involved because I knew that I was supposed to sign up for an organization at the Org Fair freshman year. This one seemed weird and had parties, so I signed up and I guess I'm just still here. I'm the editor now. It's a new position for me.
Ross Bronfenbrenner: I did improv in high school, so I was that nerd who went to a Fresh Concepts practice when he PFed.
Jon Gershberg: I joined the Hege as their first member who was not one of the two founders, because they had a bowl of Brussels sprouts at the Org Fair when all the other orgs had candy. I also run a stand-up comedy workshop— Tuesdays at 9 in 10K if anyone would like to come— which I started that because I know that a lot of people want to try stand-up and it's really hard to do that if you're not 21 and don't have transportation.
Sarah Shoemaker: Sometimes I show up to the stand-up workshop because I'm one of those people that wanted to try out stand up. I'm also in Fresh Concepts. I tried out my freshman year and geeked out really hard at auditions because everyone was so cool and amazing and then I made call backs and then I didn't get in.
[Ross looks uncomfortable]
SS: But then I came to bother them again for a second year and they let me in! And everything's been awesome since that happened.
Care to comment on that Ross?
RB: We're gonna remain neutral there.
Can you all tell me about how your brand of comedy fits in with the Macalester community, and the reactions you get to it?
JG: The Hege being a written form of comedy, and specifically satire, I think we're dealing with a lot of murky gray areas. I think that people, rightfully so, find satire a way to talk about political things, but there's a fine line there and you can get a lot of different reactions. I think it's much easier to criticize something that's done in writing than maybe a joke that's said in a performance or on the fly because it's there in front of you and you can go back to it. We've had very mixed responses—people love it, people hate it—but I feel like that's the case with any comedy or writing.
So then what is the Hege's place in the Macalester community?
ME: I think satire has a lot of potential just to comment on things that you don't think are right, or that people are a little uptight about. I think it's good at looking at things from an outside perspective and taking things less seriously than people do here sometimes. And it's good Cafe Mac reading material.
SS: Thursday nights are not as fun as they could be for the under 21 crowd and Fresh Concepts shows are on Thursday nights.
RB: We also have our specialty events too, like the 24 hour show, the sketch show once a year, a little bit of novelty to them. You get to walk into Dupre and not laugh at the material we do in the 24-hour show but laugh at the state we're in. Mac put us on a list of things people should do on campus. Like, "#18: Go to the 24-hour show."
JG: #19 is "Get offended at the Hegemonocle."
How do people not in your orgs talk to you about your work?
JG: I get texts every so often from a lot of my—not closest but second tier friends, like second level on the LinkedIn account—every so often, like, "I've got a great Hege article! You should write about this!" And I say, "Okay great why don't you just write it?" I think, me in particular, I've gotten a lot of criticism, just on the content.
ME: We definitely get a lot of content suggestions, jokes. Our meetings are Thursdays at 10 in the Campus Center, by the way.
SS: We also get a lot of content. I have a lot of people who come up to me and have thought of the perfect joke for a situation way after it's done, and we're really in the same boat about that. The second you get off stage, you're like "I could have said something so much funnier!" But nice thing about improv is that's not really the way it works: it's there in the moment and then once it's gone you don't have to worry about it anymore.
RB: It's always funny when we get people telling us what to do, because we do improv. So someone will come up to us with a joke and say, "Hey you should put that in one of your skits!" And that's not really something we're able to do, that's not how it works. But what's cool about improv from an audience standpoint is that you come to a show knowing you know just as much about the content as we do when the lights go up.
SS: I have friends who really enjoy coming to the show and playing along with the games that we do, if they know the form, or kind of get the rules, thinking about what they might do if they were up on stage… I think half the school wants to do improv but wouldn't actually get up on stage and do it. We should have a massive improv event, make everybody try it once.
RB: I hear so many people saying, "I totally wanna do that [improv]!" but it's immediately followed by "….but I'd be really bad at it." Everyone who does improv was that person once. No one walks on and is naturally and amazingly talented in coming up with material on the spot. So when people say "I'm really interested in improv but I'm never gonna do it ever…" as much as the first part of that is cool the second part is kind of sad.
SS: The 24-hour show is a great opportunity for anyone who ever wanted to be forced to do improv to have someone pull you up on stage and yell at you until you do it.
RB: We will force you to do it.
SS: And then you realize that you love it!
JG: With the stand-up workshop, I really wanted to create a very welcoming and helpful space to try stand up, because every other stand up space is very unhelpful and not welcoming. So having a workshop amongst people you can trust to just say what you think, either with really well constructed or poorly constructed jokes on stage.
What about when you're trying to tackle difficult or sensitive content?
JG: Louis CK has a quote: "Anything that sucks is also funny." I think that's a pretty good way to approach comedy with difficult situations—things do suck, and comedy turns that sucky situation into something you can laugh at and something that's somehow not as shitty, just momentarily. Of course doing that right and doing that well is extremely difficult, as we've seen time and time again. You go to any open mic at any stand up club and you'll see people fail at doing that. Sometimes it's sad and sometimes it's just offensive. But I think it's really useful to try, because you think really critically about these sucky things and learning how to make fun of them.
SS: One of the funniest stand-up routines I've ever heard was Tig Notaro's routine about cancer.
RB: She had legitimately just found out that she had breast cancer. She essentially improvised half an hour of material about it.
SS: One of the funniest, most sincere, cathardic things to listen to ever. That's an amazing level of comedy that I feel like you just have to be so good at what you do to get to. Like cancer jokes– how do you make that work? She was so honest and made it so personal. I was interested in trying stand-up partly from listening to that.
ME: I came into Mac kind of sheltered, like at home I wasn't allowed to say 'butt.' Coming here and being able to write about poop and dick jokes all the time was like a paradise for me… I felt like I could find myself in this world of dick jokes! But being on the Hege has made me realize is that what's funny all the time is not dick jokes—they're good sometimes, but there are so many things that can be expanded upon. My favorite human in this world so far, Mikey Freedman ['11, co-founder of the Hegemonocle], wrote an entire article about why pears are so bad. It made me realize that normal things can be really funny and it doesn't have to be this perverse world.
SS: The other night we were doing a scene and I thought "I haven't been up there for a while and I need to get in there!" I just walked up on stage and did something weird with my arms [makes floppy dinosaur arms]—I had no idea what I was gonna do with it— and then Erica [Solomon '13] just walked in and said one line that established who I was. I think she like gave me a name, like "Ted," and made my weird awkwardness into the focal point of the scene, which made it seem like I had come up with some crazy character and I hadn't! But when Erica picked me up, and that let me give her more details about her and we built a whole scene. If you can trust one another to pick up each other's cues you end up with something really funny.
RB: There's just kind of a primal fear that you have to get over. A good group dynamic and general fear balance each other out, because you lose the fear once you realize the people around you are there to support you and make you better and vice versa.