Ice rink opens to mixed reviews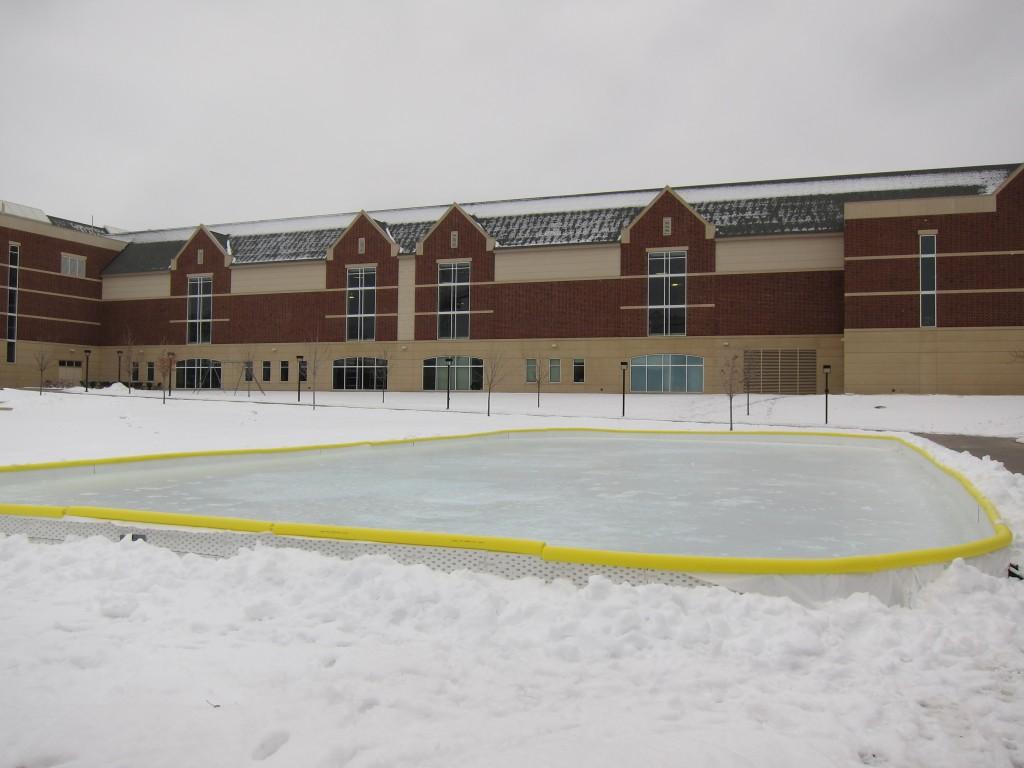 Despite the cold, Mac students have taken advantage of Shaw Field's new ice rink for the last two weeks. Nevertheless, divisions over the rink continue as some students have expressed frustration with the allocation of college funds towards the project and the lack of available skates for rental while others defend the work poured into it.
"For me, I think that the ice rink is a waste of student resources," said Jeanne Stuart '14. "I think the money should have gone other places. If they have the opportunity to discontinue the project and reallocate resources, I would do that."
"I didn't vote for the ice rink because it seemed like something that would be difficult to maintain and that not everyone would use," said Hannah Tsuchiya '13. "I would have rather invested in something that would contribute to the college over the longer term. I don't have skates and they haven't bought skates to use yet, and it's not that big. Not that many people can fit on it. It seems like a waste of money."
Multiple students mentioned the lack of skate rentals as a major problem with the rink.
"I would definitely use the rink if I had skates," said Rachel Swanson '15, "but I'm not going to invest in the cost just to use them here."
"I do have ice skates, but I don't use the rink because not all of my friends own ice skates, and we wanted to be able to go somewhere where we could rent them, said Allison Vandenberg-Daves" '15. "The ice rink down St. Clair is maybe five to seven blocks away and skate rentals are free, and using the rink is free, too. That's a better option for most people."
"We haven't been able to fund skate rentals so far, but we're looking to do so in the future," said Audrey Kohout '14, the MCSG representative in charge of the rink. "Right now we're only focused on ensuring that the rink is up and running."
The students responsible for the rink this semester are disappointed by the negative criticism.
"I just wish that the school could support the rink, and I don't think I've felt that level of support," said Ian Calaway '16, the MCSG representative in charge of ice rink maintenance. "The sign outside the rink says that it is 'created, maintained, and supported by Macalester' and I want to see us live up to those words."
Calaway originally had a group of over 50 students that volunteered to help maintain the rink last semester, but the number has dwindled to eight this semester. There are currently 10 students on the Ice Rink Committee, each expected to devote one or two hours a week to maintenance.
"We have money to pay Facilities to shovel, which has happened, but it hasn't happened since December. We've just been doing it ourselves," Kohout said. "The way I see it is if student volunteers can do, student volunteers should be doing it."
Three times per week, Calaway shovels any snow that has accumulated on the ice. Every Wednesday night he uses a water hose from the Leonard Center to spray the entirety of the rink in order to keep it as smooth and glossy as possible.
"I wanted to be involved with the ice rink because I thought it was a cool idea, and it's been great to see the number of students who have been using it to skate and play broomball," Calaway said. "I want to see our school come behind this."
"I want to highlight that this is an entirely student-built and -maintained ice rink, and those students who have dedicated countless hours to the rink in record-setting cold deserve our appreciation, not contempt," said MCSG President Patrick Snyder '13. "It is seriously hard work."
"I can't walk around without being asked about it, and I can't go out to eat without hearing people talk about it," Kohout said. "I think that the way that we chose to have an ice rink was very well done, and that Jesse Horwitz did a very good job setting up the process, but I don't know if it was the best possible outcome," Kohout said.
The initial plans for the ice rink were developed after MCSG discovered over $75,000 in rollover funds that had not been distributed to student organizations. A college-wide referendum was held in fall 2011 to allow students to determine how best to allocate those funds in the future. Several ideas were proposed at the time, including improvements to bike infrastructure on campus, renovation of campus spaces (including 10K and the 'Turck-Out' Lounge), or the development of a Student Socially Responsible Investment Fund. A second part of the referendum asked students if they wanted to donate leftover money to campus murals, expansion of the textbook reserve program, student lounge game center, hammocks, or recreational sports equipment. Only 39 percent of the student body at the time (788 students) voted in the referendum; the ice rink was chosen as the most popular idea (receiving 331 votes, or 42 percent) in November 2011. At the time, the committee decided to assemble a committee to develop the ice rink and inform the student body of any issues with implementation over the next year.
"I voted for the ice rink. I'm just confused about where all of this intense disgust and frustration and just – I don't understand why everyone is so upset about the ice rink," said Thomas Symmes '13. "The entire student body got the same opportunity to expose themselves to the same process, it was all in our email… I just don't understand why it's not fair that we have the ice rink, and it seems to me that the complaint that it was a failure of the democratic process is an excuse used by people who don't get what they want out of a democratic process."
"I personally think something better could have been done with the money, but for me, as a student government member, if it had been chosen in a bad way I would feel bad, but because it was chosen in a good way I can support it and I can put my time and effort into maintaining it," Kohout said. "When I walk to Olin-Rice now, I think, 'That looks cool.'"