Fool us all: Golf Wang Wolf Haley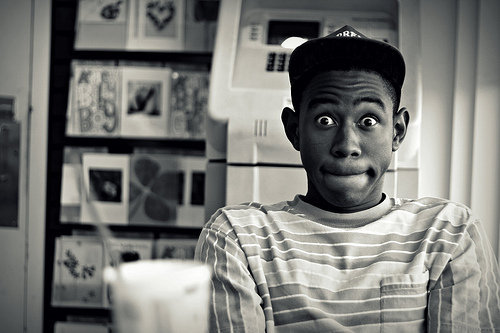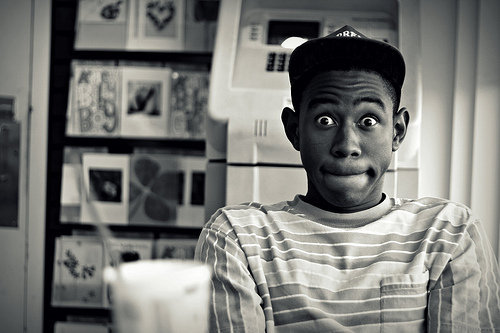 Tyler, the Creator is great because he's totally fucking with us. People devour anything he puts out so thoughtlessly that he can sell neon pink Hawaiian-print shorts on his website for $60. Who else could make a bunch of over-zealous, self-proclaimed "hip-hop heads" that take themselves way too seriously say the phrase "golf wang" (face it, you giggled), one of Tyler's many nicknames for his posse, as if it's a sincere signifier of their identification? His lyrics have confused and/or upset the New York Times, the BBC (publications that, one would think, should be able to understand the concept of "fiction"), a bunch of advocate groups, and probably your parents. Even Pitchfork indulged in finger wagging when Tyler released a new album, "Wolf," this month ("Tyler should know that we don't get to control the ways our words are interpreted when they leave our mouths to filter out into the universe"). But anyone who attempts to take Tyler's lyrical content at face value is laughably out of touch.
If Tyler's hilariously vile word flow was bestowed on someone more self-conscious (or just someone with a filter), his genius would be garbled. But luckily for all of us, Tyler doesn't think much before he talks—unless it's about how he's going to fuck with us next. In an interview with Hot 97, he said of his latest album, "I have not progressed at all…shock value…it's horrible. I feel bad for everyone who fuckin' pre-ordered it cause they just wasted their fuckin' money."
Tyler's sound and his persona aren't disparate. They're both rooted in teen angst — sporadic, energetic, rebellious and misunderstood. The Creator channels Durden with a handful of mysterious alter egos (Tyler, Sam, Ace, Wolf Haley, Tron Cat) that have been gradually characterized and pitted against each other in his three studio albums. The line between fact and fiction is intentionally indiscernible. Tyler can fluidly switch characters between burger-loving skateboarder, straightedge loner, pack-leading prankster, and misogynistic mass murderer without sounding insincere for a single second. Wolf isn't a huge departure from this style—it's Tyler doing what Tyler does best.
The intro track on "Wolf" (entitled "Wolf") features Tyler (as Sam) mock-crooning "Fuck you, fuck you, fuck you, fuck him / Fuck everything else I can see / I know, fuck you I hate you so fucking much / I know you think I'm crazy." For a moment it feels like the beginning of one Tyler's pranks—an entire album of him singing "fuck you" over some piano chords doesn't seem entirely impossible. But once the voice of his therapist character (Dr TC) interjects, it starts to feel real. The second track, "Jamba," starts with three gunshots and a catchy percussive, synthy beat that lets you know he's back in the game.
The production is more adventurous on Wolf than in his previous work. When critics and bloggers compared his crew Odd Future to Wu Tang Clan, Tyler was not impressed. He admitted that he doesn't even listen to Wu Tang, and wanted to make music that sounds more like what he listens to. The song "Answer" seems to be his response: with a hazy, ethereal soundscape, it draws inspiration from one of Tyler's favorite albums—Lonerism by Tame Impala.
"Wolf" spends a lot of time in the dark and sulky regions of Tyler's brain—it seems that he's less focused on proving himself and a little more raw. Songs like "Colossus" and "Answer" are sensitive and lyrically heavy, but that doesn't mean he doesn't indulge in some juvenile fun. On "Tamale," Tyler is obviously enjoying himself so much that it's contagious. "Trashwang" is another jump-around track, which Tyler said was inspired by trap music. "Treehouse95" is a mellow but trippy jazz track that somehow feels right at home on the album. Tyler's at his best on tracks like "Domo 23," where he can alternate between autobiography, violent fiction, joke threats and fuck you's that combine to produce the best (and perhaps only) dark comedy in rap.
But "Wolf" isn't without its weak spots. Songs like "Slater" and "Awkward" feel repetitive and lazy. Sometimes it seems like Tyler's bored of his own shtick, which isn't entirely improbable. Fortunately, Tyler doesn't care what I think and even doesn't read his own reviews. He's too busy—direct quote here—"in New Zealand with fuckin' goats taking fuckin' selfies."