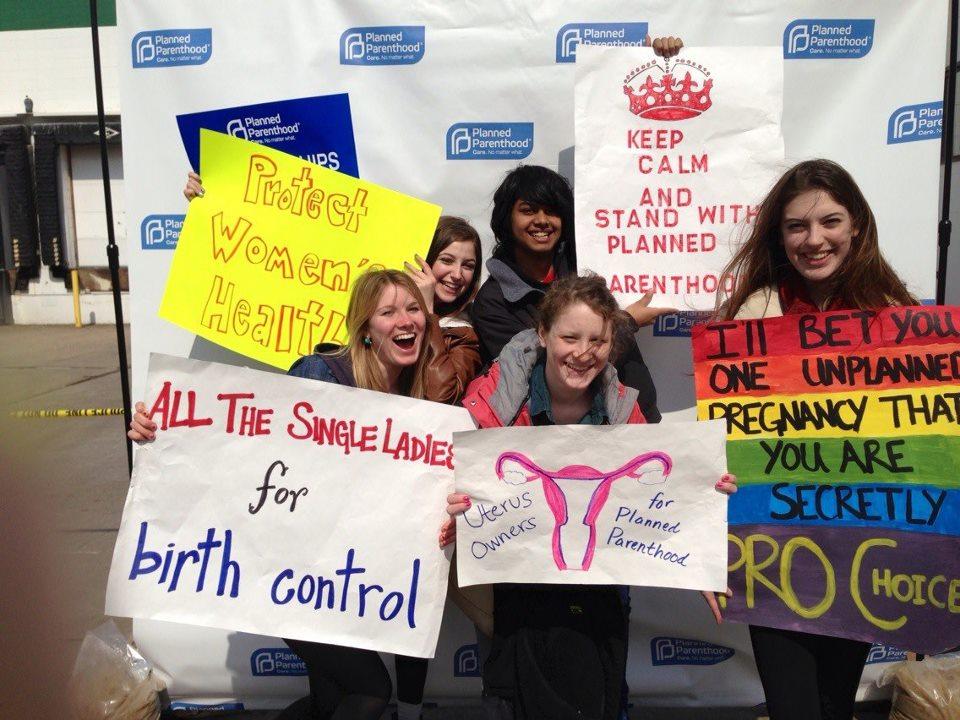 St. Thomas and Macalester were at least two of the colleges represented at last Friday's anti-abortion rally and counter-rally at Planned Parenthood (PP) near Vandalia Street and University Avenue in St. Paul. Brian Gibson, the director of Pro-Life Ministries, said at the beginning of the protest that he expected 2,500-3,000 attendees. Jen Aulwes, communications director for Planned Parenthood Minn., N.D., and S.D. said she expected "around 700" supporters to show up.
These numbers were boosted in part thanks to college students on both sides. Rick Beckel '15, current Co-Chair for Macalester College Democrats (Mac Dems), is in part responsible: the organization sponsored an event to support PP. Thanks to Margaret Mulligan '16 who organized the group's participation for "Good Solidarity Friday," about 100 students signed up to stand with PP between 9:00 a.m. and 4:00 p.m. last Friday, March 29.
"We do a lot of events and all that during the election and after the election – everything we voted for we should [still] be fighting for now that the election is over," Beckel said the night before the rally. "One reason we had such great turnout [during the election] was because of our stance on women's health. Planned Parenthood does a lot to support that, so it's time we did something to support them."
Despite occasional light rain, temperatures below freezing and gusts up to 16 mph, several hundred people were already gathered by 9:30 in the morning. Buses continued to deliver a steady stream of anti-abortion supporters, while those arriving to support PP walked into the clinic for business or past two food trucks and into the designated protest area. The food trucks, along with the $15,000 PP raised the morning of and the weeks prior to March 29, are parts of what Aulwes describes as their rally being a celebration, not a protest.
Gibson also stated that their purpose was to hold a prayer vigil, not to protest. Their supporters were told not to bring signs. Instead, Gibson said, their purpose is to pray for the 4,000 unborn babies this PP facility 'kills' each year. Beckel also said that PP instructed Mac Dems members beforehand not to bring signs as they would be made on-site to keep messaging consistent.
Students themselves spoke of various motivations for attending the event. On both sides, they said their presence had more to do with embodying personal values than standing against those on the other side of the metal barricades. Renee Jordan '14 grew up in Anchorage, Alaska, protesting the wars in Afghanistan and Iraq. She sees standing for her beliefs as a part of her identity. At Planned Parenthood, she remembers not being surprised by "everyone being really happy." Jordan was particularly moved by the sentiments of one fellow student, a "devout Christian" standing with PP who said that "her views and preferences shouldn't decide the actions of others."
Matthew Vogel '13 is a philosophy major at St. Thomas who stood with the anti-abortion protestors because of his belief in the "right to life" of an unborn fetus and his Catholic upbringing. Though he acknowledges that his major helps him think in more detail about his reasons for being there, those two primary reasons are what brought him to PP and kept him out in the cold.
"Because of the dignity of that baby's [personhood], he has a right to life," Vogel said. "It's basically genocide. Germans tricked themselves into believing the concentration camps in their backyards because Jews weren't seen as 'people.' It's the same thing here."
Rothin Datta '16, who is running for MCSG Vice President, also attended in support of PP, but left feeling provoked by anti-abortion protestors. He feels like students against PP "were far more obnoxious" but also points out that "[PP supporters] can be too, so that might not be a fair judgment." Originally from India, he has been exposed to, confused by and intrigued by social and moral issues at Macalester and in the US as a whole. Ultimately, he notes that "telling people their views are stupid never really helps change them," though admits he has no resolution to the conflict beyond that.
Beckel and Mulligan both walked away from the event feeling satisfied with the outcome and impressed by the diversity of support enjoyed by PP. In separate interviews, both said the memory of an older woman holding a sign that read "Grandmas for birth control."
Kyle Sulonek '14 came from St. Thomas to stand against PP and abortion because of his faith. Like Vogel, he said he took a stand to make abortion illegal because of his Catholic background. Though steel barriers and strong opinions separated him and Vogel from students like Beckel on the other side, both put time and effort into supporting a community they had background in. Neither Sulonek nor Vogel knew if St. Thomas students were present in support of PP. Alex Kopel, current chair of UST's College Democrats, said she knew of no sponsored event or students attending for PP.
For some, the rallies for and against abortion outside the PP clinic were more personal. Sam Doten '16, an MCSG candidate for Student Organizations Committee (SOC) Chair, and Jeff Lyman '16 both said their families would gladly be on the anti-abortion side of the barrier. In Doten's case, as Mulligan said the night before, it was even possible his mother would be protesting opposite from him. In the end, Doten says his mother was busy or chose not to go, adding "I would have been mortified if I saw [her]."
Working in St. Paul, Doten said his mother "used to keep this sign in the trunk of her car. She would go outside of Regions [Hospital] and would stand there with a sign that read 'they are killing babies here.'"
These days, things have changed for the better.
"I see my mom probably like every week," Doten said. "I've never been, like, super close with my parents as a teenager, but especially now that I'm not living with her we talk more. She asked what I did Friday night, and I said I went to a rally. She knows I'm active in several things so I don't think she asked specifically."
For more photos from this event, check out this flickr gallery.