President Brian Rosenberg announces sabbatical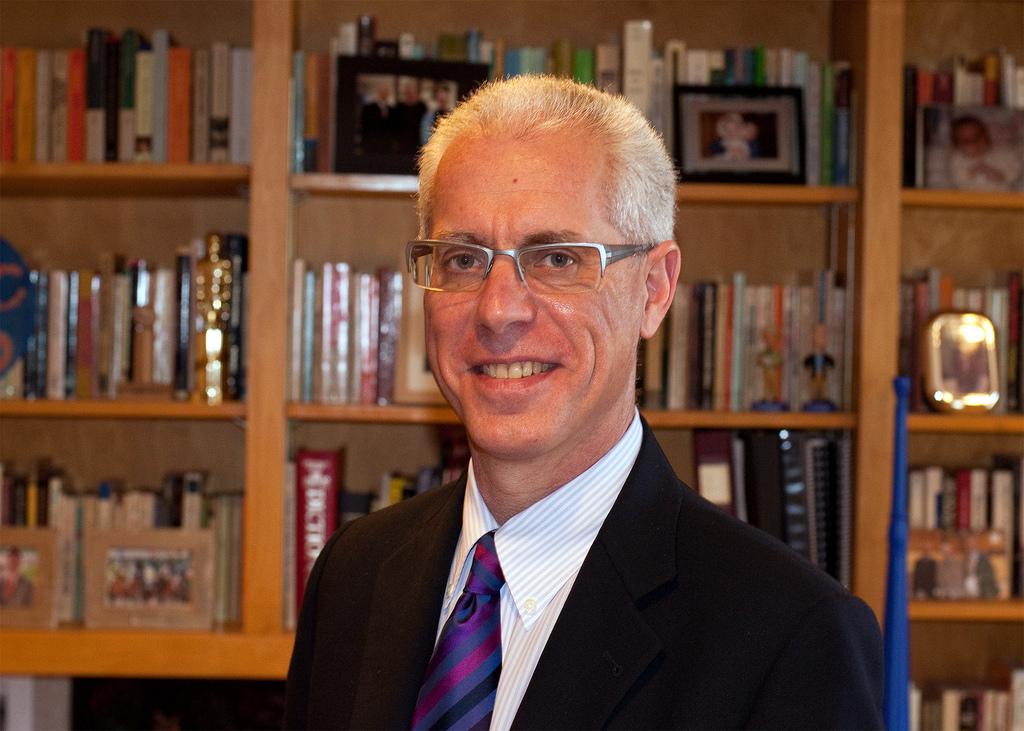 On the first day of classes this coming September, there will be one notable face absent from campus: President Brian Rosenberg. Rosenberg will start a semester-long sabbatical on September 1 and will be away from campus and his presidential duties until the end of December. Rosenberg isn't sure where his four months will take him, but he knows one thing for sure: it won't be here.
"I know that I can't be just across the street," Rosenberg said. "I need to at least spend most of the time somewhere else, but I don't know where that somewhere else will be yet."
Rosenberg is considering spending part of his sabbatical in New York, which is where he is originally from and where some of his family still lives. He also says Italy is one of his favorite international destinations and hopes that it appears on his fall itinerary.
Rosenberg doesn't have a rigid plan for what he will do for those months, but he hopes to devote much of his time to writing.
"I like to write—particularly right now—about issues related to higher education," Rosenberg said. "And I can only do that in the gaps between the other things I do."
Rosenberg hopes that his time away will be a "clean break" from his responsibilities at Macalester, but expressed reticence at taking time away from his job.
"I had mixed feelings about [my sabbatical]," Rosenberg said. "Part of me felt like when you have a job that you're getting paid to do, you should just do it. Most people in most professions don't get to take sabbaticals."
Rosenberg admits that he has been slower to arrive at his sabbatical than might be expected for someone in his position. Both of Rosenberg's presidential predecessors took sabbaticals sooner in their tenure at Macalester than Rosenberg has chosen to take. Rosenberg believes that his hesitation has been due to a combination of his personal disinclination to take sabbaticals and the sense that there has not been a convenient time in the life of the college to step away from his office in Weyerhaeuser.
"There's always something that I feel like I should be doing," Rosenberg said. "There never is a good time to do it. There are just less bad times."
The Board of Trustees played a central role in convincing Rosenberg to finally take a temporary step back from his job—a break that the Board saw as well-deserved.
"Brian is one of the best college presidents in the country," Dave Deno, chair of the Board of Trustees, wrote in an email. "It's common for presidents with a long period of service to take a sabbatical to refresh and recharge."
This will be Rosenberg's first sabbatical while at Macalester and the second of his professional career. He took his first soon after being granted tenure at Allegheny College in Meadville, Penn., where he was a professor of English. His sabbatical fell immediately after the birth of his oldest son, so he spent much of the time away from his teaching responsibilities to care for his newborn and work on a book.
"I spent a lot of time changing diapers," Rosenberg said.
While Rosenberg is away, current Provost Kathy Murray will serve as president, and current Associate Dean of Faculty Kendrick Brown will take over for Murray as provost. According to Rosenberg, Murray will wield the same decision-making power that the president holds.
"It doesn't work having two presidents. I give her the freedom to do the job."
Rosenberg's sabbatical coincides with the beginning of the strategic planning process, as well as what some students feel to be the height of student activism related to administrative actions and institutional policy. This academic year has seen student mobilization around the controversial tenure denial of professor Lara Nielsen, the discrimination lawsuit being levied against the college by professor Ping Wang, calls for food justice and institutional divestment from fossil fuels and Wells Fargo.
According to Rosenberg, these student efforts had no bearing on when he chose to take his sabbatical. He believes that his absence will not derail any of the day-to-day management of the college, nor the larger programs and plans.
"All those things will continue as they'll continue, whether I'm here or not," Rosenberg said. "They're not dependent upon one person. They're about institutional policies or institutional decisions, so those issues had absolutely nothing to do with decisions for the timing of this."
"If I were trying to wait until there was a moment when nothing was going on on campus, there would never be a moment."
Professor Wang, who is in the midst of a legal battle with the college over alleged racial and gender discrimination in the promotion process, isn't sure what effect Rosenberg's sabbatical will have on her case. However, she doubts his absence will dramatically alter the trajectory of her lawsuit because she sees Rosenberg's temporary replacements as extensions of his previous decisions and policies.
"The people he chose to replace him are the people that carried out the policies he made," Wang wrote in an email. "I just don't see how they're going to change the direction he set up."
Unlike in the case of faculty, Rosenberg's contract does not require him to sign a document guaranteeing that he will return after his sabbatical. However, he assures that he will return to Macalester after his months away, but is not sure for how much longer he will continue to serve as president.
"Presidencies have life cycles," Rosenberg said. "And I just try to be attuned to the life cycle of my time here. If I ever reach the point where I feel as if it's time for me to leave, then I'll go. My goal is to not stay a day longer than it feels right for me to be here."
Despite the uncertainty of his future at Macalester and his initial reluctance at taking the time away, Rosenberg expressed optimism for what he has to gain by finally taking several months away from his presidential duties.
"The point of an institution giving a sabbatical is that you come back and do your job better," Rosenberg said. "If it gives me the opportunity to come back and do my job better, then it might be a good investment."