On Sept. 13, men's soccer opened their MIAC schedule with a match against Saint John's University. The Scots came out firing, and within 14 minutes Cody Da's '27 calm finishing touch sent the Scots in front. Continuing to hunt for opportunities, the Scots provoked a handball in the box and won a penalty, which Nick Kent '26 converted to double the lead. 
Not satisfied with the already formidable lead, the Scots' attack kept pressing forward, and a lovely through ball from Chris Frantz '27 sprung Zach Liptzin '27 in on goal. Calmly evading the keeper and firing the ball in from a narrowing angle, he made it 3-0 in the first half. With staunch defense from the Scots not allowing anything from the Johnnies, the big first half lead made much of the second half a formality. The Johnnies drew one back, but the Scots piled on two more in return, one from Hans Haenicke '25 and one from Elijah Edelman '27 to construct a 5-1 final score. It was a dominant win to open a conference season with high energy and high expectations. 
This match was a rematch of the playoff contest that ended the Scots' season in 2022, one where a rare defensive miscue allowed a goal for the Johnnies, and the Scots couldn't get on the board to equalize. For another team, the story of the conference opener goalfest against a previous foe may have been all about the past defeat: a revenge match for a bitter playoff exit. These Scots, however, maintained a different outlook. 
"[The playoff defeat] comes up in conversation, but not a ton." Head Coach Gregg Olson said. "It was just a reminder, because we have so many younger guys in the team that [our attitude] was [to tell them] 'hey guys, just a heads up, they ended our season last year,' … We take a little bit of confidence out of [the win]. But we don't really talk too much about where we finished the year in conference."
The Scots are here for bigger things than just righting past missteps. The path to the 5-1 win on the John Leaney field against the Johnnies began in earnest at the beginning of the month, with a 3-0 home victory over Carthage College. Haenicke's 15th minute header sent the Scots in front, and after a sustained and solid defensive stand, the Scots were able to take advantage of Carthage, chasing the game in the later minutes. They put two goals in the net in the space of 21 seconds in the 86th minute, capping an auspicious 3-0 win.
From there, the Scots played a series of games that highlighted the different strengths of this 2023 squad. They beat Simpson College in a 4-2 affair that featured Kasdan Blattman announcing his presence in a big way with a free kick bolt from the Macalester blue that put the Scots up 2-1. In that match, the Scots also got their first crack at a team in a true 'park the bus' look, as 10-man Simpson looked to cling to a 2-2 draw. It took some time, but they broke through in the 86th minute after a sequence from Grant Luce '25 and Branko Sciortino '24 found Blattman, and Blattman found the net, followed shortly by a Chris Frantz lob for the Scots' fourth.
A visit on an unseasonably chilly Sept. 6 evening from a strong University of Wisconsin-Eau Claire side gave the Scots their toughest defensive test yet. The Blugolds had several big opportunities but they were all extinguished by Sam Price's '25 heroic, Tim Howard-esque performance against a persistent opponent, preserving a clean sheet in a well-earned 0-0 draw. He had six saves, but that figure doesn't do justice to the quality of those stops, especially against one-on-one opportunities for attackers and from close range headers lashed in from set pieces.
Against another tough opponent in Wartburg College, the Scots played to a 1-1 draw. This match, they went down early and had to scrap back after being behind for the first time all season, finding their equalizer from a Nick Kent '26 penalty. Their next contest, which would be the last before the St. John's win, was an emphatic 3-0 win over Luther College, who beat the Scots early in the 2022 campaign, but never stood a chance in their rematch.
Olson credited the promising preseason and general improvement to increased comfort within a system that draws a lot of continuity from last season.
"Last year, we [implemented] a new system of play, and it took us until a game or two into conference [play] to really have figured it out." Coach Olson said. "If you look from [a 2022 game where the Scots lost 4-0 to St. Olaf College] and before, our record was not very good. And then after the St. Olaf game, our record was excellent. And I think in large part it was because guys, including the coaching staff, got really comfortable with our own system at that point. And now [we have] a very similar system, so the guys have really been able to just get going right away from the beginning of the year."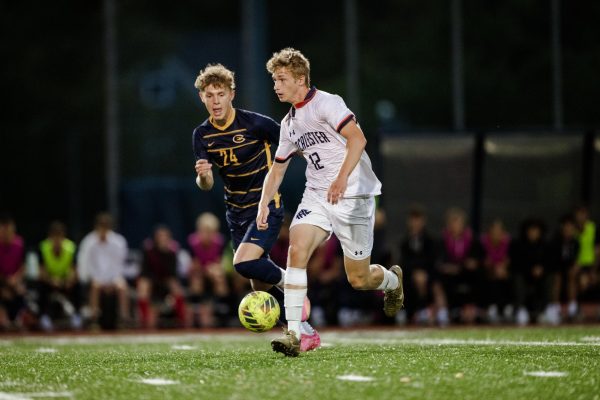 Following the win against Luther, the season's first edition of the United Soccer Coaches' weekly poll came out, and placed the Scots at 18th in the country in NCAA D3. This is the first time that these Scots have found themselves in the national rankings since 2017. For another team, this may have dominated the storylines, or become a heavy mantle. Once again, these Scots defy the expectations. 
In an interview, Coach Olson described how he acknowledged that it's nice to be nationally recognized, but told the team humorously, 'it's really important to talk about … for recruiting,' implicitly cautioning the team against getting caught up in the fervor of a national ranking. He also added that he felt it makes them a team to beat, but that that brings them a measure of confidence. 
" . . . ultimately all [being nationally ranked] does is put a big target on our back," Olson said.  "And that's a good thing. Like teams are gonna want to knock [us] off now. But the only place I really want to talk about it is with our recruits."
With the team clicking within Olson's system, the team's players have been allowed to shine. 2022 All-MIAC striker Hans Haenicke has been a constant target up top for the through balls that Scots have enjoyed success with, and is a big threat for headers in the box from set pieces. Cody Da has also made himself known in the attacking third with his share of goals. First-year Kasdan Blattman has been a wonderful addition to the midfield, poking holes in opponents' defenses, along with returners Grant Luce, 2022 All-MIAC inclusion Branko Sciortino and Ian Staresinic '25, working together to build the Scots' possessions into final third opportunities. Zade Alafranji '24, playing fullback, has helped build out attacks in the wings and half spaces, something which the Scots have found success with. Alex Beck-Ruiz '26 has also been great in coming off the bench to provide an injection of pace down the wing. Beck-Ruiz is listed as a midfielder, but quite often he'll play in a mobile fullback role, dropping deep to defend and ranging forward on offense to exploit space on the outside — similar to what Trent Alexander-Arnold does for Liverpool. Nick Kent, All-MIAC in his 2022 first-year campaign, has been a destroyer and a creator at center back. The sophomore has been a skillful distributor, taking goal kicks and helping develop possessions into the midfield, while also using his strength to stop the opponent's attacks, along with Alexis Bromberg '25. Sam Price is back in goal and has already demonstrated his abilities, playing the last line of defense for the strongest Scots squad in recent years.
Coach Olson, who leads these Scots, is in his 11th season at Macalester. He led men's soccer to a MIAC title in 2015, to this day the last team MIAC title for the athletics program as a whole. He's one of only a few here who can count themselves as a MIAC champion, and one of fewer still who did it at Macalester. Olson knows what it's like to be at the top of the conference and to compete at the national level, and part of his job will be to keep a steady ship as these Scots try and get there for the first time in their playing careers.
The Scots' conference rivals will provide a worthy challenge to this Macalester side though. The MIAC is full of powerhouse teams — Carleton College and Gustavus Adolphus College primarily — whose ambitions rise above just the conference. The Scots count themselves among those teams. They look — and perhaps on some level expect — to come out on top of the MIAC come late October, and they look beyond that, hoping to make waves in the NCAA tournament. 
"We want to win the conference," Coach Olson said. "Going into the last game week or a couple game weeks, we want to be in contention to be able to win it. And nationally, our conference right now has five teams on the men's side that can all be in the top 20 or top 25 at any given time, so our conference has a really good chance of running deep on the national scene. So conference play gets you ready for that on the national level. I'd like to say, like every other team out there, 'we want to make it deep in the NCAA.' But I think we can. But we need some experience to get us there and to have a ton of confidence in saying, 'Yeah, we're gonna go and we're gonna make a deep run.'"
Compared to conference rivals, this is a young squad, so getting into a rhythm and keeping calm against potentially more experienced opponents will be key, something Olson pointed out himself.
"We're the only team right now in the conference that's not bringing back fifth-years." Coach Olson said. "Even Carleton has fifth-year seniors that are playing this year due to COVID. Our [class of 2023] all graduated, and they're all off, out and working. So we're a really young team within the MIAC, compared to others. And that's a big difference when you get down to playoff time."
The Scots experienced both the strength of the MIAC and the difficulties of playing against an experienced team bolstered by fifth-year seniors firsthand in their second MIAC game. The Scots went blow for blow with Gustavus Adolphus College, who returned two of their 2022 All-MIAC players as fifth-years for 2023, and who were ranked 10th nationally in the season's first poll. It was an evenly matched affair, and both teams had chances. As the game wound down, goalless, it seemingly destined for a 0-0 draw. However, one last offensive push got the Gusties their winner in the 89th minute. The loss brought lessons and some optimism for the Scots. 
"It's why it's important to play really tough teams," Olson said. "It's really important to play top teams, and obviously you can't escape doing that in conference, but we need to be able to play — and I think we have played — at a high level recently, but there can't be these little mental breaks within the game against a really good team like that … I think that we went toe to toe with them as far as taking our chances and looking to play our game versus fearing it and trying to do something really different. I think we went toe to toe and just had a little mental lapse that led to their goal."
Their next game was business as usual. In a non-MIAC midweek home match, the Scots welcomed Central College. In a game without the pressure of conference implications, the Scots were at liberty to rotate players around. 22 players saw the field, and only one outfield player — Bromberg — played for over 65 minutes. Amidst the shuffle, Parker Etzbach '26 found the net for the opener, his first of the season. After Central equalized at the end of the first half, some familiar names combined for a goal out of the gate in the second period, with Cody Da and Kasdan Blattman assisting on a Hans Haenicke go-ahead. 2-1 would remain the final score, although the Scots peppered the Central goal, ending the afternoon with 22 shots.
After the 1-1 week, the Scots dropped to 23rd in the country, although it's hard to imagine that changing anything in the team's approach; with the rest of the MIAC season standing on the horizon and a real chance at conference supremacy, there are bigger things to attend to. It'll be a month-long sprint with multiple games each week, an extended ordeal that will test the Scots' ability and resolve. 
Crucial games against strong opponents in Carleton and St. Olaf will occur on the road, presenting more challenges the Scots will have to rise to when the time comes. They've started off with the confidence and skill to make them a threat to the conference title, and they've set their sights on goals as lofty as perhaps any other Scots team will this season. These Scots have demonstrated the requisite talent and cohesion to take on the obstacles in their path — now they have to face them.