Proposed tax to support public transit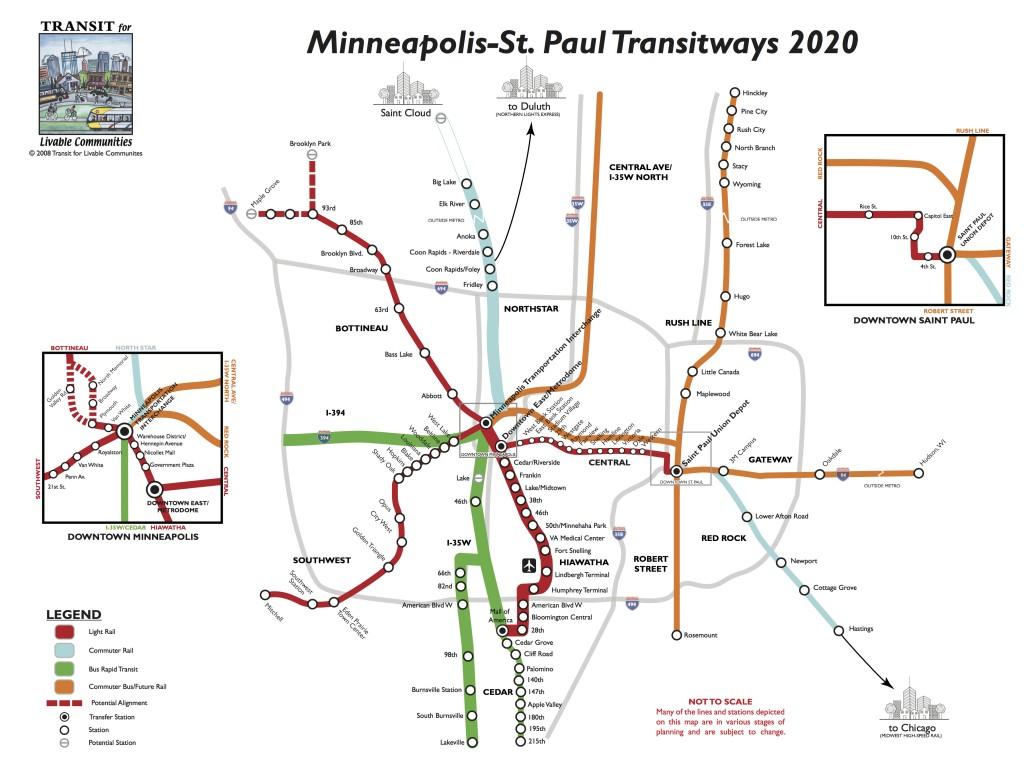 On top of the 6.875 percent sales tax all Minnesotans pay every time they make a purchase, residents of Hennepin, Ramsey, Anoka, Dakota and Washington Counties pay an additional .25 percent in sales tax which goes directly towards funding public transportation in the region. The money helps maintain public bus routes and light rail lines (LRT) in and around the Twin Cities, like the 63 and 84 routes most often used by Macalester students. This "Transit Improvement Tax" has been in place since 2008, when the state legislature passed it with bipartisan support.
Now the DFL-controlled state legislature is considering expanding the sales tax to increase funding for metro transit. Governor Dayton's budget proposes increasing the Transit Improvement Tax to .5 percent, while a bill in the state legislature aims to increase the tax to a full 1 percent. The revenue from these increases would pay for expanding the number of rapid transit bus routes, speeding the construction of new light-rail lines and funding for more sidewalks and bike paths.
Joe Huber '15, a transit advocate, expressed excitement and hesitation about the program. "I use public transit very often, and compared to other cities, the Twin Cities, for a Midwestern city, does very well, but it could be better, and we're already seeing progress from such a proactive transit agency," he said. "Another thing to keep in mind is that sales taxes are regressive, and so they do hit the poor in society proportionally more than they do those in upper-income classes. Additionally, the poor are more likely to rely on public transit so it does help them the most because it corrects spatial mismatch between jobs and where they live."
Proponents of both the bill and the Governor's proposal have pointed out the benefits of expanding transit in the Twin Cities. They say that a strong, region-wide transportation system is important to creating an attractive environment for businesses as well as raising the standard of living. Proponents of the transit tax hike point out that many other large metropolitan areas spend substantially more on their transit systems than the Twin Cities do.
"You see other metropolitan regions making these kinds of investments, like Denver, and Denver had a huge sales tax increase in 2004, and they're just getting ready to open the first [light rail] line of their entire build-out," Huber said. "And so if the Twin Cities wants to keep up with other regions competing for jobs and people and a place in the global economy it needs to invest in its transit system which is lagging in comparison to other metropolitan regions."
Those who oppose the increase in the Transit Improvement sales tax argue that too much of the money is allocated to public transportation and other DFL "pet projects" rather than maintenance of infrastructure such as roads and bridges. Opponents are not only skeptical of how the money will be spent but also oppose the sales tax hike in principle.
Huber disagreed with that assessment.
"It's an investment that pays off in the end and that's something very few cities have at this point in America," Huber said. "Transit affects us all whether you ride it or not and transit takes cars off the road and even if you're still a driver, that's one less car on the road because people are using public transit, and it's also more environmentally sustainable."