FAC navigates 17% operating budget cut for student orgs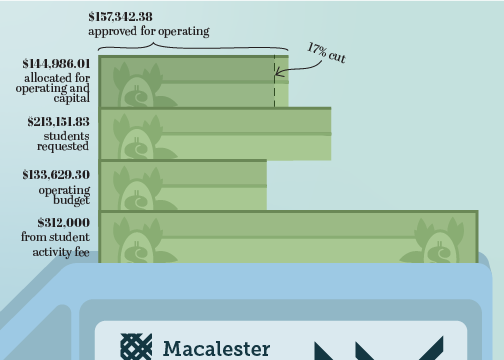 When members of the Financial Affairs Committee (FAC) of Macalester College Student Government (MCSG) finished voting to approve or reject student org budgets, they were faced with a difficult reality: FAC approved $157,342.38 in operating budgets, $23,713.08 more than they had available. 
"If I didn't implement a [17% operating] cut, I would be promising people money that doesn't exist," FAC Chair Heaji Kang '23 said. 
On Tuesday, April 10, MCSG's Legislative Body (LB) unanimously passed Kang's motion to approve $144,986.01 for capital and operating expenses for student orgs for the 2023-24 academic year. However, FAC had a total of $312,000 to cover student org budgeting. If you're wondering where $167,013.99 are going and why orgs received a 17% operating cut across the board, here's a breakdown of this year's Budget Bonanza process:
The $312,000 that the FAC had to allocate for various student org activities come directly from the student activity fee, which accounts for $230 per student. 
Of this $312,000, FAC set aside $160,370.70 for off-the-top expenses and $18,000 for Flexi funds. Off-the-top expenses cover expenses including, but are not limited to Textbook Reserve funds, The Mac Weekly's printing and website funds, Community Chest funds and compostable dishware funds. Flexi Funds provide $200 to every student organization that is chartered by MCSG. 
Every student org received a 17% cut in approved operating funds, which exclusively covers materials and expenses that orgs will use for less than three years and comprises the majority of orgs' expenses. Conversely, capital — which orgs only requested $18,627.49 worth of funding for — includes expenses for materials that would last more than three years.
Of the capital expenditures requested, FAC approved $13,807.98. FAC originally approved $130,596.71 for operating expenses, and the LB granted the Young Democratic Socialists of America (YDSA) $281.32 and the Vietnamese Cultural Organization (VCO) $300 through appeals. This brings the current operating funds for student orgs to $131,178.03 in total. However, student orgs can appeal to the LB for more operating funds.
In previous years, student orgs requested less money due to COVID-19's effect on student activity, which led to rollover funds that could be allocated for the 2022-23 academic year. This year, FAC does not have the same rollover funds.
"With the last academic year being much more active — orgs either reviving themselves again [and] being active in the budgeting process, we definitely have less of that COVID pool of money from the student activity fee that we saw one to two years ago," Kang said. 
For many student org leaders, this year's 17% budget cut came as a surprise, given the precedent of rollover funds to support operating expense requests.
Leaders of MacSlams, who received $9,811.25 of their originally requested $15,240.00 operating budget, are struggling to plan for the next academic year. Adrien Wright '25 and Kendall Kieras '24, two of three MacSlams leaders, explained that the group uses much of their allocated funds to pay the honorarium poets who perform at their slams. Now, they're straining to find a way to pay poets fairly with their budget for next year.
Kieras explained that, due to the COVID-19 pandemic, many outlets for slam poetry closed temporarily and have struggled to return and stay afloat. Therefore, many slam poetry events have paid poets less than in the past. Kieras emphasized that MacSlams works to pay poets appropriately for their art and labor.
"Having these events really builds a name for Macalester in the world of professional poetry," Wright added. "Poets really are grateful to come here and grateful to perform here because we are building such a vibrant space. But we can't continue to make that name for Macalester and MacSlams if [we don't have enough funding]."
Other orgs — such as Model United Nations, which receives funding from both FAC and the forensics department — are planning on re-examining how they consider funding in future years. Director of Communications for Model United Nations Quinn Roberts '25 shared that, after their meeting with their FAC liaison during Budget Bonanza, members of Model United Nations believed that they would receive the full funding they requested. 
"We definitely have a lot less trust in FAC's ability to support us as a club after this situation," Roberts wrote in an email to The Mac Weekly. "We are unlikely to try to rely on them for funding in the future and are definitely more inclined towards alternate resources now. Part of the issue is that it's hard to believe that they will follow through on promises they make to us in the future after being told everything would be covered."
Although Roberts, along with some other members of Model United Nations are unhappy, they're understanding of the challenges that Budget Bonanza brings to FAC.
"While this situation has definitely been frustrating we also recognize that FAC is largely student-led and everyone is doing the best to their abilities, we just would have liked some more transparency throughout this whole process," Roberts wrote.
Kang, along with other members of the FAC, did not know the extent of necessary operating cuts until after org representatives met with FAC liaisons. Kang has had positive experiences with meeting with org leaders over budgets and encourages all org leaders who feel that the Budget Bonanza allocation process was unfair to reach out to the FAC with hopes of creating open communication.
"It can be upsetting when org leaders put a lot of work into enriching the campus community, and the funding, essentially, is the empowerment to continue that work," Kang said. "And not seeing that can be really hurtful … I'm allocating every dollar that I can possibly give."
*Cal Martinez is a member of MacSlams