Ballet Hispánico's production of Doña Perón at the Northrop
Eva "Evita" Perón is one of, if not the most, well-known and polarizing women in Argentinian history. If you are not already familiar with her story, you may know her from the musical "Evita" or the movie by the same name. However, one way you probably have not been introduced to the former first lady of Argentina is through ballet. On Feb. 24, Ballet Hispánico brought "Doña Perón" to the Northrop at the University of Minnesota, the first ever ballet rendition of Eva Perón's story. A riveting and emotional story, the ballet chronicles Perón's life in tasteful chapters from childhood to her untimely death.
Not only is "Doña Perón" the first ever ballet version of Eva Perón's story, but it is also the first full-length ballet put on by Ballet Hispánico. 
I had the opportunity to speak with Eduardo Vilaro, originally a dancer for Ballet Hispánico and now the artistic director and CEO of the organization, who gave some insight into the ballet. 
"The show is called 'Doña Perón,'" Vilaro said. "'Doña' is a term of endearment and also respect when you use it with a last name. We didn't want to use 'Evita' because [that name] has such connotations to the Andrew Lloyd Webber musical and the Madonna movie. [We had] a female choreographer developing this work, so instead of [having] men telling the story of a woman, we wanted to have a more holistic approach to the narrative [as] a woman's narrative."
Choreographed by Annabelle Lopez Ochoa, this ballet takes audiences through Evita's life from beginning to end. As Ballet Hispánico writes on their website, the piece "explores [Evita's] diverging legacies while reclaiming the narrative of this iconic Latina figure."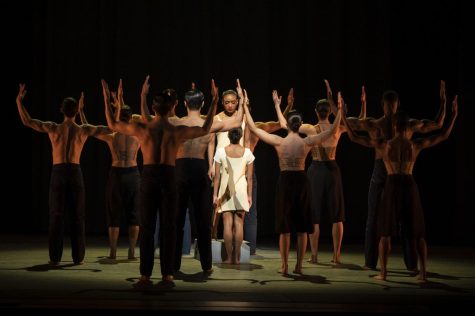 "The story is of Eva Perón from Ochoa's vision," Vilaro said. "It really takes you through these vignettes of her life. [Perón] was a very interesting woman. She got to Buenos Aires at 18 and she died at 33, so in that short time, even before she became the first lady, she really grew. I mean, by the time she met [Juan] Perón she was already living in one of the richest neighborhoods, she had a radio station and she really made herself."
Vilaro explained that the ensemble of dancers, other than Evita, were representative of the "descamisados," a Spanish word for '"shirtless" or "without shirts," and a colloquial term for the poor people of Argentina and Juan Perón's followers.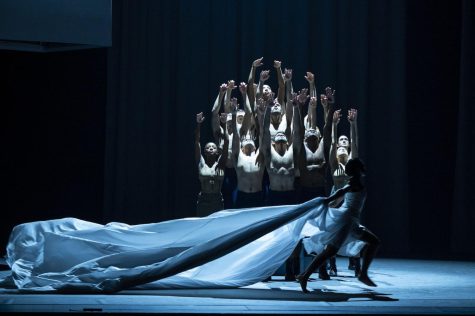 "[When] she started her campaign with the 'descamisados,' they really raised her up," Vilaro said. "[Evita] reached out, she did so many things to buy them shoes, houses and clothing. She really worked to get that community behind her because she knew what it was to be them, so she utilized that. Some say [it was a] political opportunity kind of thing to do. Some say it was honest. We're just showing the image of how that community helped raise her to the level where she got."
The ballet blended classical dance and music with Argentinian rhythm and melodies. Additionally, the dancers used their bodies to add to the musicality, employing body percussion and a capella rhythms throughout. Vilaro spoke more about this fusion during the post-show talk back.
"I thought it was very important for the choreographer to have malambo and tango," Vilaro said. "And the sounds of the accordion, the violin, the bass and the drum [are] very specific Tango [instruments]. [We have] remarkable musicians that come together with us and just make this incredible music."
As artistic director, Vilaro is tasked with choosing the productions that Ballet Hispánico puts on, so he spoke a bit about that thought process and what motivates it.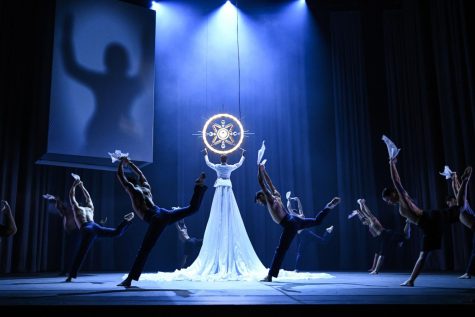 "One of my artistic visions is reclaiming our narratives as Hispanic and Latinx folk," he said. " I'm very much interested in reclaiming our stories from our culture. And so a lot of stories like Evita, like Frida Kahlo, have been taken and not told from an authentic voice. The work is very important to me to raise the veil of the beauty of the multitude of diasporas that have intersected to make us who we are as Latinas and Latinos."
However, Ballet Hispánico is much more than just a dance company. The organization is over 50 years old and the nation's largest Latinx dance organization. They work to educate, create community and much more. 
"We're this company that just understands service and what our community needs," Vilaro said. "I'd like for Ballet Hispánico to become the nation's Latinx resource organization where people come. So that means as we go into the future, it would be more like a university. We're in communication with scholars, we [would like to] publish information about dance and Latin culture. And of course, more dancing!"
"Doña Perón" premiered last year in May at City Center in New York City and is now touring through May nationwide. A vivid and emotional portrait of one of the most polarizing figures in Argentinian history, "Doña Perón" was a promising start to what will be Ballet Hispánico's collection of full length ballets. 
https://www.ballethispanico.org/company/performances/new-york-season/dona-peron