7th Street Entry show featuring Haze Gazer, She's Green, Bugsy and Dad Bod
On Friday, Jan. 27, I went to 7th Street Entry with two other friends to see a show. Haze Gazer, She's Green, Bugsy and Dad Bod were performing. As they are lesser-known indie bands local to the Twin Cities, the tickets were just $10. I had been itching to go back to a show and this was the perfect opportunity to go to a concert. I had three days to prepare so I went through each of the artists' discographies and I really liked what I heard. I was looking forward to seeing these bands. 
We had gotten inside the venue just a few minutes before the first band was going to open. There was a small standing area and there were people standing around the awnings or sitting on some make-shift steps at the back of the venue. The lights were various shades of pink, purple and blue. This was my first time being at 7th Street Entry but I already liked the vibes of the place. 
Haze Gazer opened the show. Their music was abrasive and filled with yelling. The bass and drums were hard hitting. I really liked how much the bassist was getting into the music, and her face kept scrunching up while ripping on her bass. She even broke one of her nails and still kept strumming away. They got the crowd going since a mosh pit immediately broke out once they first started playing. 
Once Haze Gazer was done with their set, the crowd had cleared a bit so we decided to go into the crowd to get a closer view of the next artists on the bill. She's Green was next. The lights went red and they filled the room with a shoegaze sound. It was hypnotic. They only performed four songs, but all four were all dreamy and energetic. The lead singer's voice was soft, but then for the choruses, the guitar and drums got a lot louder and everyone in the crowd rocked back and forth with the sound.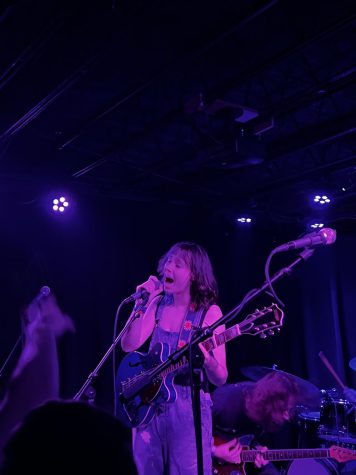 Bugsy was the third band to perform, and I had been listening to their Extended Play [EP] for the days leading up to the show. The light was bright on the two performers in the front. The lead singer had eye-catching half brown and half white hair and a vintage-looking dress on. They got the crowd to mosh but told attendees to be safe while having fun. Their music was full of energy with good riffs and lyrics. 
Dad Bod closed the show and it truly was a spiritual experience. Their last song was "Rot" and the performance was amazing. Their whole set was great but that one closing song really showed their capabilities as a band. The lead singer, Callie Marino, performed an emotional version of that song. She got onto a box right in front of us and started yelling the lyrics with pain in her voice. 
The guitarist told us that he had been feeling depressed in the last couple of weeks but the fact that we had shown up made him happy. The show had sold out the day-of, and something that none of the artists had thought would happen. They expressed their gratitude for folks coming out to support them. It felt really nice to know how much showing up to their concert meant to them. 
After the show, I bought merchandise from She's Green and Dad Bod since I really liked their performances and their songs. I have become a fan and keep going back to the singles and EPs the bands have out on streaming services. This concert was on a whim, but I am so glad I took a chance and went. It was a really good first concert of the new year. I would definitely see them again, especially if they put out new songs, so hopefully that will happen soon!