A home away from home: diversity of lunar new year celebrations
On Saturday, Jan. 21, the Lunar New Year's Eve, South Vernon St. was quiet as usual. However, the Chinese House on the street was full of lights and activity.
Residents decorated the house with red lanterns and red papers with the Chinese character 福(Fú), which means good fortune. The table was piled high with Chinese snacks, including sachima, want want senbei, hawthorn chips and a large basket of oranges. People gathered on the sofa and carpet, enjoying the Spring Festival Gala on TV, a special broadcast that started in the 1980s and is watched by millions of Chinese people annually on New Year's Eve.
"Can you hand me that rice cracker?" "You must try this egg roll!" "What does this song mean?"
The whole house was full of chatter, laughter and a festive atmosphere.
This lively event is the Spring Festival Party, hosted by the Chinese House, one of eight language houses at Macalester. The event was well-attended, with attendees including Chinese students, Chinese learners and non-Chinese speakers who were interested in the event.
Tom Liu '24, the student manager at Chinese House, from Qingdao, China, was surprised by the cohort's diversity. He and other Chinese House residents try to accommodate students with different Chinese levels by talking in a mix of Chinese and English.
"Some of the people fluent in Chinese helped us understand the comedy scenes in the Gala…I also learned some new vocabulary which was a plus," Evvie Bond '26 said. Bond is a Chinese minor and currently studying second-year Chinese.
Given that the Spring Festival took place three days after the semester started and due to other unforeseeable reasons, Liu was initially anxious about whether the Chinese House would have enough time for preparation.
"The whole thing was executed in a relatively prompt pace," Liu said. "This is something that I felt a little bit bad about because if we had more time, we could definitely attract more people."
Despite concerns, the event ran smoothly, and participants enjoyed the festival experience at the house. Liu sees it as an opportunity to informally introduce the Chinese House to more students and showcase the traditions and customs of the Spring Festival in China.
"By celebrating Spring Festival … we let others see a glimpse of Chinese culture other than what we see on the television," Liu said. "We get to see about the Chinese culture and her people. We all celebrate peace, harmony [and] prosperity."
The Spring Festival party wasn't the only Lunar New Year's-themed event on campus. As early as Friday, Jan. 20, the New Year's spirit was already spreading on campus.
In the Cultural House (C-House), the Vietnamese Culture Organization (VCO) hosted a NEM (spring roll) Workshop to fry spring rolls and celebrate the Vietnamese New Year, Tết.
According to Na Nguyen '25 from Hanoi, Vietnam, one of the NEM workshop organizers and a member of the VCO, it is the first time VCO has hosted such a large-scale event, and given a short time at the beginning of the semester, the team was overwhelmed by the logistics and the number of participants, with around 50 people gathering at C-House.
Trying to include everyone in making spring rolls, VCO prepared eight different cooking stations. Since so many electric stoves were working simultaneously, half of the C-House lost electricity.
"We 'broke' the C-House," Nguyen said. "Even though the lights were completely out, people moved to different rooms, put up lights, [and] started singing and frying Spaniels at the same time. So, it was really nice that people kept up the morale and were really positive."
Initially, the NEM workshop was disclaimed as a vegetarian-unfriendly event, but several vegan and vegetarian people signed up.
"Obviously, people don't read the fine print," Nguyen said. "So the night before [the event]… I [said], 'just get me some tofu!' and then we tried to make a separate vegetarian station … and there's no cross-contamination."
To recreate the Tết spirit, VCO members also put together a playlist of classic Vietnamese songs that usually play during the New Year and sent out red envelopes with gold chocolate coins to let people get a taste of the lucky money tradition.
"Everyone got a bite," Nguyen said. "[The event] was not perfect, but it was perfect to us."
For Koreans, the Lunar New Year, known as Seollal, is also one of the most important times for family reunions, ancestor worship and food sharing. Although the Macalester Korean Cultural Organization does not regularly host any public events, some Korean students had an informal gathering and went to the Korean Presbyterian Church of Minnesota in Brooklyn Park on Friday to celebrate Seollal with other Korean community members in the state.
"We got to eat Tteokguk," Albert Ahn '25, from Busan, South Korea, said.
Tteokguk is a sliced rice cake soup that Koreans usually have for the Seollal celebration.
"We say that when you eat Tteokguk, that's when you gain one more year and age," Ahn said.
The same day, Friday, Jan. 20, The International Student Program (ISP) and Chinese Cultural Club (CCC) collaborated and hosted a crafting workshop during their weekly Talk 'n Tea session to introduce some of the New Year traditions in China, such as paper cutting and 福 character calligraphy to wish good fortune would come to the house.
"We appreciate [the CCC] bringing in different kinds of culture into this space and sharing with other people," Joanna Zeng '24 said. "And we encourage, if any other students who want to also share their unique culture to other peoples, [ISP Talk 'n Tea] may be a very good opportunity for them to do so."
Zeng is from Xiamen, China. Although she got a chance to go back home during winter break, because the start of the semester overlapped with the Lunar New Year, she was not able to celebrate it with her family. This is a recognizable experience for many international students; some have not been back home for three years due to COVID-19 travel restrictions.
"I really miss those moments that I can spend with my family and celebrating this tradition with them," Zeng said. "And I feel like I cherish those memories and would like to continue with the tradition even if I'm away from my family members."
"[This event] provided me an opportunity to decorate my own house as well," she continued.
Like Zeng, the wish to bring family traditions and homeland cultures closer to oneself is a common reason for presenting cultural events during the Lunar New Year for both event organizers and participants.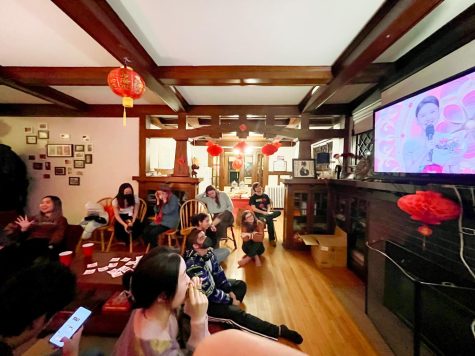 "We attempt to create a home away from home," Liu said.
Besides various events hosted by student organizations on campus, the Chinese Department also took the chance to introduce more Chinese cultural aspects for students in language classes through different in-class activities.
Lulu Qiu, the Chinese Lab Instructor, designed red envelope activities in language lab class. First, the students practiced calligraphy on red xuan papers, writing common New Year blessings and greetings in Chinese. Then, Qiu asked students to give red envelopes to people who are dear to them.
"Some put real American dollars, some put candy, some put the blessings they wrote in class," Qiu said. "I want [the students], through the action of giving, to understand that people celebrating the New Year [by giving red envelopes] is not just about money. No. It's a gesture to give…as a blessing for you."
Qiu and Chinese tutors also designed a zodiac animal painting event for the first week's tea social. According to legend, an animal is assigned to a lunar year in a repeating twelve-year cycle. Depending on the tales in different countries, the name of the animal can vary. Students who came to the event explored different ways of representing zodiac animals with brushes and colored ink.
"I focus a lot on the zodiac animal, particularly, because I think that is one of the things that students find most interesting … They are eager to know 'what is my zodiac animal' and would find out for their parents and siblings," Qiu said.
Rivi Handler-Spitz, Associate Professor and Chair of the Chinese Department, also helped to facilitate the event. She was excited to see a diverse cohort of participants.
"[I was delighted to see] even some students whom I had never met before, who don't study Chinese here, but who studied some Chinese in high school and they were kind of reconnecting to Chinese culture," Handler-Spitz said.
Both Qiu and Handler-Spritz mentioned the importance of embedding cultural components in the Chinese Department language curriculum design.
"It's hard to stay motivated to learn a language when it's just like memorizing vocabulary," Handler-Spitz said. "We learn the language in order to participate in these types of [cultural] events."
While Asian students from different countries talk about the New Year traditions and cultural customs, they seldom mention the term "Lunar New Year" but more often refer to it as "Chūnjié" (Spring Festival), "Tết", "Seollal" etc.
"In my opinion, whenever we try to translate words from other cultures, especially with ties to cultural phenomena, there's inherent loss in translation that really can't be avoided," Kien Nguyen '25, from Hanoi, Vietnam, said. "Even when we're speaking right now, when we think of what we did, it was always Tết, our word for that holiday in our country."
For many, it is after coming to Macalester and meeting different student bodies that they got to learn how other cultures celebrate the Lunar New Year with various traditions.
"When I was in China … I [thought] of Lunar New Year as something that is unique to our own culture," Zeng said. "But during the [crafting] event, I heard a lot of cute and fun stories from different cultures, like why in Vietnam, they call this year a year of the cat instead of the year of the rabbit."
The term Lunar New Year also tends to overgeneralize all the New Years that do not follow the Gregorian calendar. But there are many different new year celebrations happening at different times of the year in many different cultures.
"The term 'Lunar New Year' has the problem of collapsing the Chinese and the Vietnamese celebrations into one and kind of not taking into account the fact that there are other Lunar New Year's and other traditions at all," Handler-Spitz said.
As a Jewish person herself, she suggested that Jewish New Year and Islamic New Year each follow a different lunar calendar, so the term "Lunar New Year" can cause confusion.
"I think the term 'Lunar New Year' is not problematic, it's how people have been viewing Lunar New Year in general, especially through media," Na Nguyen said. "I know that China, South Korea and Vietnam take a lot of the discourse, [but] we've never seen like Hmong Lunar New Year, Thai, Cambodian, Singapore and Malaysia … I would want people to get more representation from other countries that also celebrate Lunar New Year."
Nevertheless, people admit Lunar New Year can be a convenient term to explain the festival to people who don't know much about the new year cultures in some Asian countries.
"It's become a very ubiquitous word right now. When people think of Lunar New Year, people directly go through like: red envelope, red lanterns," Na Nguyen said.
However, through different cultural events on campus, more people can gradually learn about the diversity and variations between different cultures. In addition, staff from ISP encourage students to take advantage of the resources that the campus provides.
"If there is an event that is important to students, and they think other students, not only international students, may be interested, come and chat with us …We have a small budget that can help them get some snacks to celebrate,"Associate Director for Compliance at ISP Luyen Phan said.
For ISP staff, hosting an event is a process of learning.
"We try our best to … explain [different customs] into cultural contexts that other people can understand … not just American students, but other [international students]," Phan said. "The learning aspect of doing this job is not only learning from students but helping other people who can understand that the world is diverse."
*Rachel Lu and Hanna Chang were also interviewed and contributed perspective for this article.