Screening of independent film "Relative" at the Parkway
 As the 2022-23 awards season begins and all anyone is talking about is nominations and winners, I had the opportunity to view Michael Glover Smith's independent film "Relative." Released in 2022, the film chronicles Benji Frank and his family on the weekend of his college graduation in Rogers Park, Chicago. Each older sibling is unique, giving audiences a wide array of characters to relate to: from his brother battling addiction to his sister with a seemingly picture perfect family. The reunion of these siblings, their parents and assorted extended family members forces everyone to reckon with their familial bonds, for better or worse. 
The film features Chicago acting royalty Wendy Robie of "Twin Peaks" and Francis Guinan of the Steppenwolf Theater, so it is no surprise that "Relative" has already been nominated for 11 awards and won six. Not only was I able to see the film at the Parkway Theater in Minneapolis last week, but I also had the chance to speak with Smith about this character-based film and his process of writing and directing. 
"My approach to creating drama is to create characters who I think are interesting," Smith said. "[Characters] who hopefully feel like real human beings and put them together in a situation that will allow whatever's going on with them under the surface to come [to light]. [I want] to create characters and relationships that would feel very honest." 
"Relative" features a wide variety of characters: a mother and father, their four children, extended family members and a new girlfriend. While talking about creating so many distinct, fleshed out characters, Smith expressed his love for an ensemble cast. 
"As the writer, I'm trying to make every character interesting, no matter how much screen time they have," Smith said. "It's about trying to create a sense of balance because it's a big family, [and] you want to give every character their moment to shine. I want them all to have moments within this film that feel kind of [special]."
After discussing the development of characters, I asked Smith if the Frank family is based on his own. 
"Abby, it's based on your family!" Smith laughed. "It's based on all of our families. I mean, to be honest with you, the real impetus to create 'Relative' was to capture the feelings that I have whenever I go home."
Originally from North Carolina, Smith found his love of film through theater. He attended a performing arts high school and acted in community theater partly because "the closest [he] could be to movies was just by acting." Smith eventually found himself in Chicago through the DePaul Theater School, finally began to meet other filmmakers and never left the city. He now teaches film history and aesthetics at several colleges in Chicago. As much as he loves Chicago, he still misses his family, which he explained was a large inspiration for "Relative."
"I don't see my family a whole lot and whenever I get home, it's always very emotional," Smith said. "I think [everybody has] complicated relationships with their family members, even if it's not an overtly dysfunctional family. There are always things that are tough, [and] I wanted to do justice to those complex feelings. The film is not autobiographical, but it is. Those kinds of relationships are based on the emotions that feel familiar to me."
Smith and I talked about Hollywood for a bit as well, musing about the need for story-driven movies in order to keep mass audiences interested. Proudly, Smith explained that "Relative" is not like that. In fact, it probably would have suffered if it were. 
"This movie is not about a plot, where someone's trying to achieve something and someone else is trying to prevent them from achieving that goal." Smith said. "It's about a situation. The Hollywood version of 'Relative' would be Benji [relating] to his family members in [the context] of whatever the overarching story was. To me, it's enough to see him relating to the people around him."
Shifting gears, I was curious about what Smith's favorite part of writing/directing is, as "Relative" is his fourth feature film. 
"The shooting stage," Smith said. "Filmmaking is a very long process and it starts off as a very solitary endeavor. So, to me, the most exciting part is the actual shooting stage when I'm on set, and working with not only the actors, but also the crew. And [when I get to] incorporate their ideas because everybody who worked on this film was an artist. When your collaborators come up with something that is better than what you had in mind, that is the best part of directing. When an actor surprises you. That to me is the most gratifying part."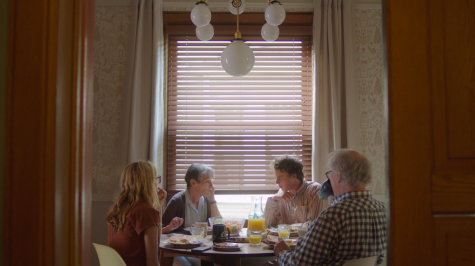 As we wrapped up our conversation, Smith and I talked about that special quality only the Midwest possesses. 
"I just want to say that I'm really excited to bring this film to Minneapolis," Smith said. "I think this film plays well to a Midwestern audience. In a lot of ways, ['Relative'] is a love letter to Chicago… but I also find that people who live in other Midwestern cities recognize it in a way that people in other parts of the country don't know. I think Minneapolis will be similar in that they recognize a certain kind of Midwestern culture being depicted in a way that is humorous and loving." 
After watching "Relative," I can say with certainty that Smith's film achieved that feeling and more. A heartfelt depiction of a family that anyone could resonate with, "Relative" captured the essence of loving your relatives through both the good and bad times. Smith and his team are currently touring "Relative" across the country, and though it is not available to stream yet, I highly encourage you to keep an eye out for when it is. To learn more, go to relativemovie.com.