Back to Mac weekend celebrates new Hall of Famers, Title IX
On Friday, Sept. 23, the Macalester M Club hosted a night of honor, inspiration and celebration, inducting five new members into the Macalester College Athletics Hall of Fame. After two years without an induction banquet, former and current students, faculty, staff and guests were able to gather in Kagin Ballroom for speeches and awards. Inducted were Sheila Brewer, Brandon Guthrie '00 (cross country, track & field), Kathryn Miles '00 (softball, volleyball), Annie Borton '07 (soccer, basketball), and Tom Conboy '08 (basketball). The banquet, held on the first day of a larger Back to Mac alumni celebration weekend, represented not only a return to normalcy for the Athletics Department but also an important reminder of the forward progress that Macalester sports are making.
The M Club is an athletics support group made up of alumni who have earned a varsity letter, varsity coaches and those who were unable to play sports here at Mac before Title IX. Steve Cox '77, the M Club President, not only hosted the banquet but planned much of a night that he's been anticipating for a long time.
"It was a very special night on many different levels," Cox said to The Mac Weekly. "With the onset of COVID, back in 2020, which put a kibosh on an upcoming Hall of Fame banquet, myself and the awards committee of the M Club weren't sure if we would ever have the opportunity again, like we did the other night. So it was just a multi-layered reason to celebrate that occasion."
One of those layers was the 50th anniversary of Title IX. Part of the Education Amendments of 1972, Title IX prohibits sex-based discrimination at any federally-funded educational institution. In athletics, it decreed that men and women must have equal opportunity and resources to compete and succeed in their sports. Before the legislation, women made up only 15% of collegiate athletes; now, that number is 44%. Macalester Athletics has held events throughout 2022 to honor the 50th anniversary, including a special dinner for female varsity athletes in March and the 31st annual Mac Hac in June, from which proceeds benefited the Beyrer Fund, which supports women's varsity athletics at Macalester.
Sheila Brewer's induction into the M Club Hall of Fame this year, while always deserved, is perfect for celebrating Title IX. Brewer began her Scots career as a coach, leading the volleyball team to 350 wins and three conference titles in 13 years. In 1983, she became the first woman to serve as Athletics Director for both men's and women's sports at a MIAC school. Student leaders present at the banquet came away inspired by Brewer's story and accomplishments, including volleyball and track & field athlete Adisa Preston '25.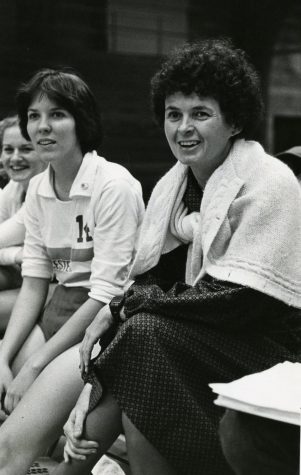 "The fact that she was able to not only come into a completely male dominated field, but have such a large impact, and work her butt off with really getting limited recognition and not even necessarily being respected, is quite literally insane," Preston said.
The other new Hall of Fame inductees, all former Macalester athletes, also shared stories that resonated with current Scots.
"[The] inductees spoke, and it was fun to hear that what they remembered most was going out with their teammates and hanging out and going on the buses," women's basketball captain Emma LaFrenz '23 said. "They all said the winning was fun, and the awards were fun, but it's not what [they] remember the most."
Brandon Guthrie graduated in 2000 after earning 12 All-MIAC honors as a distance runner. In 1999, he competed in the NCAA national meet for cross country, where he finished 40th. Brandon won indoor track MIAC titles in the 3000 meters in 1999 and the two-mile run in 1998. He also earned All-MIAC honors in outdoor track and field nine times in five different events.
Kathryn Miles' name lines the Macalester leaderboards for her career and single-season efforts in softball. When she graduated, Miles owned the single-season records for batting average, .408, and slugging percentage, .755. In her senior year, on top of that slugging percentage, she scored an outstanding 27 runs and drove in 21. Miles sits second all-time for the Scots in career triples (eight), slugging percentage (.645), and batting average (.400).
Annie Borton cemented herself in Macalester women's soccer history with her incredible goal and assist tallies. Earning All-American honors three times, she scored 52 times and assisted 37 goals, accruing 147 points, second in school history in all three stats. In her tenure, Mac put together a 43 game unbeaten streak, as well as reached the NCAA tournament all four years. Her sophomore season in 2004 saw 20 goals and 50 points, both second-most ever for the Scots.
Tom Conboy is a name any men's basketball fan already knows. The all-time school leader in both points and rebounds, Conboy was a force in the MIAC his whole career. In his freshman year, he helped propel the Scots to the MIAC playoffs (the last time they qualified until 2021-22), then made the All-MIAC team his next three years. His senior year was the highlight of his illustrious career, leading the conference with 23.2 points and 10.8 rebounds per game.
"It was also just so inspiring to see them up there, and they're all in different walks of life," Preston said, echoing LaFrenz's thoughts of connecting to the new inductees. "[One of the honorees] seemed so young, and so to see him and just to relate to him [was] so good. And then to think about how much athletics then helps your further career, like being able to be on a team teaches you how to work with people, and being able to be on the team reminds you like that you're all working towards something that's a greater good… The idea that we as people are trying to progress, as well as doing things together. I don't know. It's just a beautiful thing."
In addition to honoring Brewer, Cox wanted to expand the Title IX celebration to the women that have shaped Macalester Athletics, both before and after the equality of women's sports teams.
"When the awards committee met earlier this spring, we really wanted to come up with a proper way to celebrate the 50th anniversary of Title IX in a way that Macalester could also be part of that celebration," Cox said. "We came up with this idea of sending invitations out to the 'trailblazers' in women's athletics. I spent a couple of afternoons in the archives room in the library, looking through digitized old Mac Weeklys and came up with a bunch of names of people who I would contact to invite them to this occasion and to have them show up and to give them an [M Club] sweater. It was just such a very, very special event in that celebration."
Of the alumni invited, seven trailblazers attended the banquet. Francis Young-Rolstad  '88 spoke to the audience on behalf of all those who were present about what Title IX meant to her.
"She just did an outstanding job in describing how Title IX impacted her before Macalester, but of course it rang true throughout her athletic experience, in the four years that she was a student and competed as a varsity athlete in both basketball and track and field," Cox said of Young-Rolstad. "So it just turned out great."
LaFrenz spoke about using Title IX and the words of the Macalester trailblazers as inspiration and motivation in her athletics career.
"I like to remind myself that 50 years ago, I literally wouldn't have been able to play sports, at Macalester or in general," LaFrenz said. "It's just fun to think how far we've come now that we are playing sports and have fans and have equal resources with the men's teams … 
I think [my goal] moving forward for my senior year is really building up my younger teammates and other people on women's teams at Mac, to encourage them to keep playing sports. And then also in the [youth] camps that we do, it's super fun to see girls coming up and playing sports and coming to Macalester and wanting to play here. That's one of my favorite things."
Another feature of Back to Mac weekend were three back-to-back-to-back home games on Saturday, Sept. 24, all against St. Olaf. Men's soccer opened the day with a 0-4 loss. The Scots took 13 shots, more than their opponents, but couldn't find the back of the net. Women's soccer followed up with a hard-fought 2-1 victory. Captains Sarah Hamilton '23 and Lucy Grochulska '23 both scored, creating a two-goal lead that would be threatened but never lost.  After coming on as a substitute in the 70th minute, goalkeeper Jocelyn Radke '24 faced unrelenting attempts at scoring by the Oles but refused to concede, making two crucial saves in the dying minutes of the match.
During the soccer matches and leading into the nightcap football game, the crowd of fans at Macalester Stadium would not stop growing into a roaring supporters section. By kickoff at 7:00, the attendance had reached an estimated more than 800 people, despite poor weather conditions, by far the most the Scots have seen at a home game so far this year.
"I was there to watch the fans enter the stadium, and I just couldn't believe how they just kept coming and coming and coming," Cox said. "One of the goals of the [M Club] Board of Directors is to create events that bring the Macalester community together in the name of athletics, and it was kind of just watching a dream come true to see those students and staff, Macalester football fans, M clubbers and their families. It was just really, really great."
A wild start to the football game fueled the already energetic crowd. The first big moment for Macalester was a defensive effort, denying an Oles fourth down conversion attempt on the Scots 20-yard line. In the resulting drive, QB Michael Nadeau '24 connected with WR Nick Bice '24 for a 50-yard touchdown, opening the scoring. On the following PAT attempt, the Scots' kick was blocked and taken almost the entire length of the field by St. Olaf, only to be tracked down within the 5-yard line by LB Noah Bresson '24, to a roaring applause by the crowd.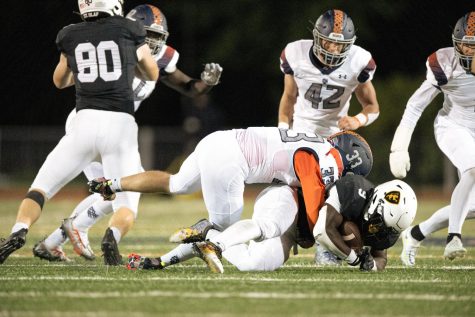 St. Olaf scored touchdowns in their next three drives, resulting in a 24-12 lead for the Oles at halftime. The Scots attempted a late comeback with three passing touchdowns in the final 17 minutes, two to WR Ty Bruckner '23 and one to WR Michael Poker '24, but couldn't complete the task. Falling 38-32, Macalester suffered their first loss of the season, but that didn't quiet down a crowd that kept roaring until the final minute.
The 2022 Hall of Fame inductees were announced and congratulated between quarters, met by long rounds of applause. Between the inspiration found from the banquet and the enthusiasm surrounding the games on Saturday, Athletics Director Donnie Brooks considers Back to Mac weekend a success and dreams of even more.
"This is something that we hope to do and we hope it grows, but I hope it's more than a celebration of athletic events, I hope it grows to a day where we can celebrate a number of things," Brooks said. "How great would it be to have a choir, for there to be a special lecture, because when our alumni come back in the summer, it's great for them to get together, but the thing that I believe they enjoy is the time that they get to spend with current students. So the hope is that in future years we could continue to grow this Back to Mac and make it something that feels like a big family reunion."
Cox emphasized that undying spirit, praising a shift in culture around supporting Macalester Athletics that he has seen in the past few years, at the hands
"Well, one thing is for sure, that these crowds just don't happen," Cox said. "It's not like somebody wakes up in the morning and says, 'Hey, let's go to a football game.'  It takes leadership and it starts, of course with President Rivera, who is just a die hard sports fan. Sports are important to her, they are important to her kids. She brings a love of athletics to Macalester. Our leadership pretty much sends the message that there's nothing wrong with supporting athletics."
Cox also praised Brooks and the many coaches for their role in building a supportive fan culture, which he thinks has influenced the success of teams recently. In 2022, every Macalester team has a .500 winning percentage or above.
"Leadership is important, but competitive programs are also important. I think that there's always that mysterious factor of big games, like, to what extent will the crowd have an impact on the outcome of this game? And I think that in [the playoff basketball games] at Carleton and at St. John's, the Mac student crowds were that unknown variable before the game and turned out to be a great, great variable throughout both competitions … It just seems like a very comprehensive approach to having athletics be an arena where many different people in the Macalester community can come and cheer a team on and also just have a really fun time doing it."