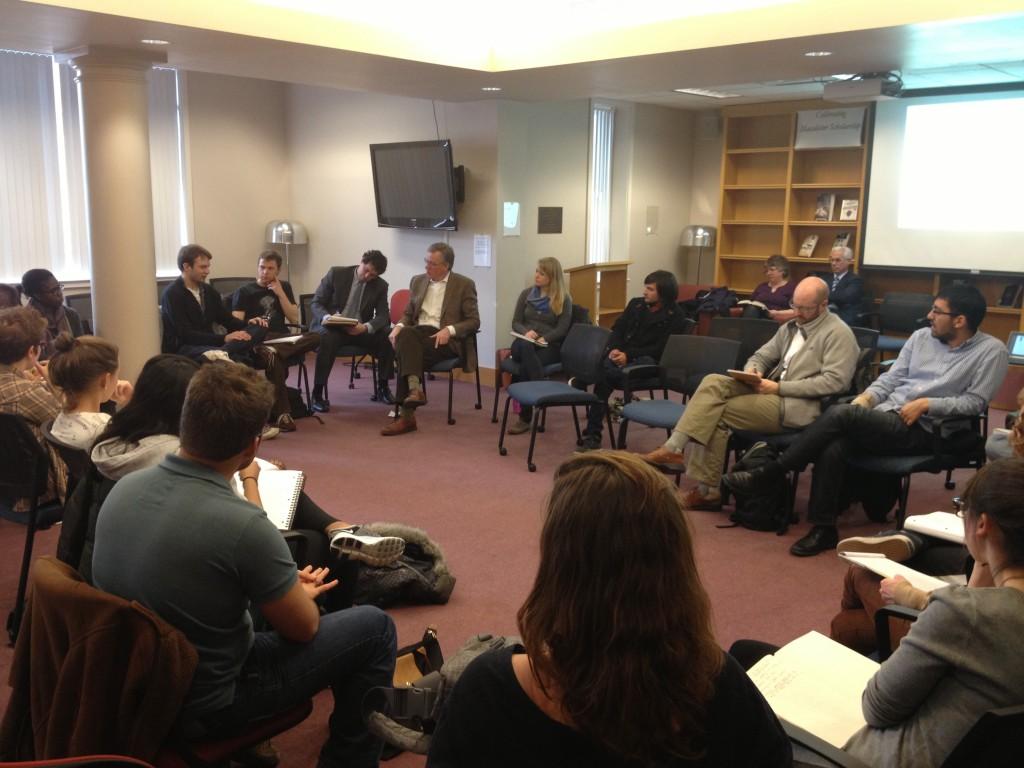 The conversation had already been going for a good 30 minutes when one student worried he might be striking a note of discord with the mayor.
"I have to be honest here," said Hossein Alidaee, a senior from Irvine, California.
Mayor Coleman started laughing.
"That's why we're here!" he said.
Last Tuesday Saint Paul Mayor Chris Coleman visited Macalester and met with students to learn how to attract and retain young professionals to the city. The conversation meandered between a wide variety of topics, including transportation concerns and racial diversity.
The discussion, along with two other stops at Concordia Saint Paul and Metropolitan State University, was a first step for the city and the mayor to gauge the needs and desires of young residents of Saint Paul. After a short introduction by President Brian Rosenberg, Coleman described some of the goals of the conversation to the students, who were seated alongside the mayor in a circle.
"I think we've made a lot of strides in St. Paul on transportation, infrastructure like stadiums, more housing in downtown, a lot of amenities in the neighborhoods," Coleman said in an interview after the event.
"But I think it's a great time to pause and ask the question, 'What do we need to do to continue to attract the next generation of talent that's going to come and live in our city?'"
On Monday, Coleman gave his annual State of the City address. During that speech Coleman described the need for the city to not just retain current young professionals but also attract newcomers from elsewhere.
"We have to work hard to make sure Saint Paul is not only the city where kids born in Saint Paul wish to live, work and raise a family in the city, but also where people across the county and across the globe want to live, work and raise a family," Coleman said during the address.
The students who attended the event, 22 in all, came from all over the country and the world. They included Ezequiel Jimenez, a senior from Argentina who noted just how much less crowded Saint Paul felt than cities in Latin America and even elsewhere in the United States. Or Harry Kent '13, from Columbus, Ohio, who advocated for bringing a professional soccer team to Saint Paul during the conversation. Or Charlie Stanton '15, a Chicagoan who like other students (except for the one attendee from Portland, another bike-friendly city) approved of the ongoing effort to expand bike paths in Saint Paul.
Bikes, Light Rail and Street Cars
"I personally think the biking is amazing," he said. "I mean, just having lanes. . . With maybe the exception of University Avenue, I found it exceptionally easy to get around."
Others, like Alex Paczek '14 from Raleigh, North Carolina, found the light rail to be an appealing means of transportation.
"Light rail for me has been huge. I take it every time [to] get to the Mall of America," he said. "You can always get there really quick."
Yet some students who have vehicles on campus noted that, in many cases, it remains faster to commute rather than use public transportation or bicycle to travel within both Saint Paul and the Twin Cities.
While the mayor specifically mentioned the incoming Green Line along University Avenue as one means of decreasing transit time and increasing the number of transit options for young professionals, Coleman also called for faster solutions than long-term light rail projects.
"We've got to move quicker," Coleman said. "So it could be bus rapid transit on Snelling Avenue. It could be streetcars down Grand. It could be any number of things, but the quicker we can build that out, the better off we're going to be as a city and deal with some of these attraction and retention of talent issues."
Diversity in Saint Paul
Another major discussion area included the diversity of Saint Paul, home to a number of different immigrant groups.
"One of the number one reasons I want to move back to Irvine [California] is that even if Saint Paul is diverse, those groups were not necessarily interacting," said Hossein Alidaee '13. "Not only attracting a diverse population to the city, but making sure the groups are interacting from elementary school."
"I wouldn't say Saint Paul is segregated," Kent said. "One of the things that attracted me here is the openness."
Mayor Coleman suggested students visit the local public pools, particularly in Como and Highland Park, citing them as locations where residents of different ethnicities gather.
"We have those public spaces that bring those people [together]," Coleman said during the event.
Nevertheless, Coleman noted the achievement gap between white and minority students in Saint Paul during his State of The City address, and during the Macalester conversation he recounted the city's past difficulties with magnet schools and racial diversity.
Where to go after graduation?
Alidaee was not alone in planning to move away from Saint Paul after graduation. Cities mentioned by other students included Nashville, Washington D.C., and their hometowns in general.
"You might not want to hear this [but] my take on the momentum for where Mac grads want to move is Minneapolis, not Saint Paul," noted Jonas Buck, a senior from Seattle, during the event. In a later email, he clarified he plans to stay in Saint Paul after he graduates "for at least a year."
"Investments in education and teacher training would encourage me to stay," he said.
Yet Coleman is not bothered by talk of students heading to Uptown or Minneapolis in general.
"We, [Minneapolis] Mayor Rybak and I, have really been focusing on the whole concept of regionalism, that we've got to stop competing with each other," he said after the event. "Why would I not sell Saint Paul by saying that, as of next year, you'll be able to take a light rail line down to the Twins' stadium in Minneapolis?"
Buck is not the only student planning to stay in Saint Paul.
"I plan on sticking around here because of the connections I've made in the city and the fact that geographically, the 'west' side of St. Paul is generally close to everything," Kent said in an email after the event.
Nevertheless, several students particularly noted the lack of an equivalent to Uptown in Saint Paul. Uptown is a Minneapolis neighborhood where a number of young professionals reside. Coleman wants to create something similar to Uptown here in Saint Paul.
"I think that. . . we can make not only downtown but Raymond and University and other neighborhoods in Saint Paul really attract young professionals coming out of college and designate [those] as a great area to be," Coleman said after the event. "I think that will help us retain a lot of the talent that we have come into our colleges in Saint Paul."
Some students cited a certain "momentum" to live in a given neighborhood when they perceive other students moving to that area after graduation.
"Jobs are really important, obviously," said Alex Schieferdecker, a senior from New York. "[But] I think the momentum builds on itself. The more people choose to do this, the more people you have. The word of mouth is really powerful."