Students weigh in on updated COVID-19 protocols
In an email sent to students, faculty and staff on July 12, the Infectious Disease Task Force (IDTF) provided several updates to the college's COVID-19 protocols for the fall 2022 semester, including a new on-campus COVID-19 isolation model. Last Monday, Sept. 12, the IDTF also announced that the college would no longer be requiring face masks in some indoor spaces across campus beginning Sept. 15, and in response to these policy changes, many students have raised both questions and concerns.
During the past two academic years, the college has provided housing for students who test positive for COVID-19. However, while some temporary spaces will continue to remain available for students should they test positive, on-campus residents will now isolate in their residence hall rooms unless they need to quarantine elsewhere for health-related reasons. 
The IDTF, comprised of faculty and staff and headed by Co-Chairs Jen Jacobsen and Steph Walters, meets with senior leadership to strengthen both current and suggested COVID-19 policies through recommendations. They are currently seeking student input and are waiting for Macalester College Student Government to appoint student members to serve on the task force.
According to Jacobsen, several factors were taken into consideration in the college's choice to switch to an isolation in place model.
"We closely followed other colleges who have successfully implemented an isolation-in-place model in Spring 2022 and were in conversation with peer colleges, nearly all of whom have moved to a similar model for this fall," Jacobsen wrote in an email to The Mac Weekly.
She also cited high COVID-19 vaccination and booster rates among students and the need for additional housing for the classes of 2025 and 2026 as reasons for this transition.
Previously, the college also offered COVID-19 testing and food delivery services to students in isolation housing. Within this new structure, those systems have been discontinued. Now, isolating students will need to provide their own COVID-19 testing resources by either using or buying their own COVID-19 test kits or scheduling COVID-19 testing appointments
"Most students were able to access free tests from the U.S. and state governments, can get them through their health insurance plans, and Macalester launched the year by giving every student two antigen tests," Jacobsen wrote. "With all of these resources, students can test at their own convenience."
Additionally, meals will no longer be delivered to students in isolation. Instead, they are asked to pre-order meals through an online form to be picked up either by themselves or a friend.
Jacobsen specified neither the locations nor how many temporary isolation spaces have been set aside for students, explaining that there is "some variance in the number of rooms." 
Executive Director of Residential Life Kyle Flowers told The Mac Weekly that these spaces come from properties managed by the High Winds Fund.
Despite the fact that the IDTF continues to monitor case numbers on-campus and in Ramsey County and remains open-minded towards potential COVID-19 prevention and response efforts, several students expressed disappointment and worry about this new model.
Among those students, Elizabeth Ekstrand '25 described her initial reaction when she received the email about this change from the IDTF earlier in the summer, detailing her confusion.
"I was extremely unhappy when [the news] came out," Ekstrand said. "Later, I was thinking about how they still use the existing housing that was used for quarantining last year. I'm not sure if [the reason for this change] is just the expenses, and … we didn't really get a substantive answer."
Chloë Moore '24 shared this opinion, further questioning the deviation from the previous model of isolation housing and why the college did not prioritize setting aside more temporary spaces to give all students the option to isolate in a separate space.
"I just don't see the point of taking away infrastructure when the problem has not gone away," Moore said. "We've been doing this for two years, so it's not like [the college doesn't] know how to run isolation housing."
Students also pointed out that the current procedure of isolation in place largely neglects students with certain health conditions and disabilities and places them in a position in which they may experience heightened COVID-19 related stress.
"There's a significant proportion of students on campus who have disabilities, and not all of those are going to translate to being at higher risk for COVID or being in the more vulnerable population, but it does feel like it's often a group that gets left behind," Leah Wasson '25 said.
In general, students detailed their frustration, believing that the policy contradicts several of the values for which the college advocates and lacks a sense of compassion.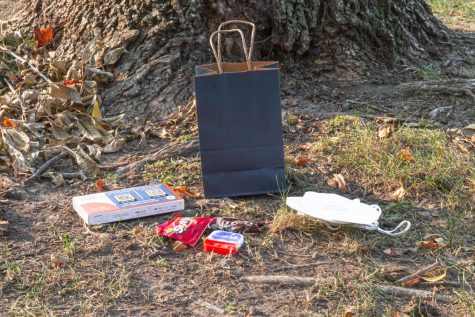 "The thing that makes me the most upset is that I feel like I expected better of a place like Mac," Moore said. "I feel like we're so small, and we're in theory so oriented around community and caring about each other and supporting each other and accepting communal responsibility. It's really disappointing."
Even though she had heard about some students' negative experiences in on-campus isolation housing last year, Moore said that they support returning to a similar model.
"I was never in isolation housing last year, and I understand that it probably wasn't perfect, but from my understanding, it was working," Moore said. 
"I think that people who live in singles can stay where they are, or when both roommates test positive at the same time, they can stay where they are. But there needs to be meal delivery options, and there needs to be access to routine testing without a financial burden. Go all out in terms of supporting students," they continued.
One student, who wished to remain anonymous, and who did live in the college's on-campus isolation housing last year, mirrored this call for a return to last year's model with strengthened services and support for students. 
"Some of the COVID houses were not good at all, but even given that, I still would like that option just with better standards," they said.
According to Jacobsen, so far case numbers within the Macalester community have been relatively low.
"We have been encouraged thus far by the way our students continue to look out for each other and reduce risks, and we have only had a limited number of students reporting positive COVID tests so far," Jacobsen wrote. 
Along with an adjusted on-campus COVID-19 isolation procedure, the IDTF also introduced an updated face masking policy where masks are not expected of community members or guests in most indoor spaces unless otherwise stated by department and event coordinators, faculty or staff. 
Clinical spaces, including the Laurie Hamre Center for Health and Wellness and the athletic training room, will continue to uphold a mask requirement, and on-campus residents may ask that guests wear masks in their residence hall rooms. Jacobsen also emphasized the importance of indoor mask-wearing for community members feeling ill, with known COVID-19 exposure or who have tested positive for COVID-19.
But in spite of the current low infection rates, some students feel as though the removal of the mask requirement is counterproductive in protecting the community and urge the IDTF to reconsider. 
"It's really not that much to ask because [face masks] are so simple and so effective," Moore said. "I feel like it's just common decency … I think that we can have class in person, and we can have clubs and sports, but there has to be some public health scaffolding in order for that to happen."
Wasson echoed this sentiment, adding that the decision — like the isolation in place model — puts some students with underlying health conditions at a higher risk of contracting COVID-19.
"I am an immunocompromised student who has a higher chance of getting infected or sick with anything, and when I do, it normally hits me pretty hard," Wasson said. "It just feels like we're just trying to get back to 'normal' without thinking about the repercussions."
Overall, students call for greater transparency and consideration from the administration and IDTF in regards to their decision-making and planning surrounding COVID-19 policies, as well as more frequent updates on infection rates.
"Try to have better communication, instead of just saying that we'll cross that bridge when we get there," Ekstrand said.
The anonymous student, quoted previously, also suggested reviving the COVID-19 Dashboard page on the Macalester website — which shared data on positive COVID-19 cases within the Macalester community, both on- and off-campus — and emphasized its usefulness.
"The COVID dashboard provided students with a resource to be able to assess risk in different environments, such as going to class and attending events," they said. "I personally used that to see where the levels were at and how comfortable I felt with going to different things, so I'd definitely bring that back." 
The Hamre Center plans to host a COVID booster clinic, as well as a flu shot clinic, before fall break, which begins on Oct. 20. Details will follow in The Mac Daily and on the Hamre Center's Instagram page.
Students are encouraged to reach out to [email protected] with any further questions surrounding the college's COVID-19 guidelines.