Saint Paul nurses go on strike
On Monday, Sept. 12, nurses across Minnesota went on strike. Strikes occurred at several hospitals across the Twin Cities, including United Hospital and Children's Minnesota Hospital- St. Paul, just over three miles from campus. Macalester students were among those who joined nurses on the picket line in St. Paul.
15,000 nurses represented by Minnesota Nurses Association (MNA) picketed from Monday to Wednesday. Yesterday morning, they returned to work. Many have labeled this as the biggest strike in Minnesota history, and it is confirmed to be the largest private sector nurses' strike in U.S. history. 
"I think most of us aren't focusing on that so much, right?" Emily Sippola, a nurse at United, said. "It's awesome that we're all standing together. And we have so much power when we stand together. But that's the rumor on the street, yes."
Aaron Woida '22, who graduated from Macalester last spring, is a political organizer for the MNA. He believes the massive number of striking workers is a sign of their strength. 
"Every hospital is negotiating a [separate] contract," Woida said. "So we're coordinating 15 different contract negotiations and trying to sync them up all at the same time and all walk out at the same time. So it's really just been a monumental effort." 
Current Macalester students spread the word by putting up posters around campus and organizing collective busing to the hospitals. Among these students was Scout Holding-Eagle '26, who believes that interacting with the greater community is a core part of being a Macalester student.
"We live in the city now; it's our responsibility to be part of it," Holding-Eagle said. "And I think that includes being part of fighting for the other people in the city, like being in solidarity with the nurses and, as other things come up, in solidarity with them too."
The road to this week's strike began months ago. 
"The negotiating process started way back in March with the exchange of proposals," Sippola said. "I'm not on the negotiating team. But I know that they have met many times, upwards … of 15 times. And most of those times, the employer has not been interested in any of our proposals."
Those proposals have included giving nurses more control of staffing decisions in their units, paid family leave and increasing wages. Many nurses spoke of how abysmal working conditions drove them to this point.
"Not staffed enough to do more with less, the moral distress of not being able to provide the care that you think people need to feel good about," Melissa Koll, a nurse at Children's, told The Mac Weekly. "And you can only do that for so long before you have to make a change."
Koll and Jayme Wizklund, another nurse from Children's, said that they were out striking due to their employer refusing to listen to their needs. 
"They had 22 opportunities to do the right thing, and they did not," Koll said.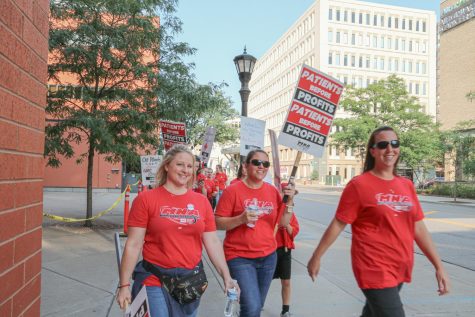 "I think the main thing is really around the safety of the patients. We've been short staffed in the hospitals for a long time," Wizklund said. "We've asked to have a voice and actually have some input so we can figure out, how do you get more staff when you need staff? And they're just not really willing to have a conversation with us around that."
Among the participants of the strike outside United was Minnesota State Representative John Thompson (DFL), who represents District 67A on St. Paul's East Side. Thompson explained the importance of nurses striking at this time, given the ongoing pandemic and workers not being compensated for their labor.
"Every Minnesota state legislator in the House of Representatives should be out here," Thompson said. "These employees weren't given a choice to work during COVID. They were forced to work during COVID. We have to use our voices to actually achieve some of the things we want to see."
Other prominent elected officials who visited the picket line to support nurses included State Senators Erin Murphy (DFL) and Jim Abler (R), Attorney General Keith Ellison (DFL), State Auditor Julie Blaha (DFL) and Governor Tim Walz (DFL).
"The hospitals are really trying to focus this on money, that our strike is all about money, and it has absolutely nothing to do with money," Koll said. "It's about safe staffing. The ability for nurses to have a voice in how staffing is done in Children's so that they have very safe patient assignments. And they can provide high quality care that we're used to providing but as of late, we have not been able to do that because of this staffing crisis," 
Rene Reynolds, who has been a nurse for 28 years, shared that patient safety is a primary concern for her as well.
"They wanted to do a wage only contract, and we said 'no way' because it's about our patient safety. If the people, the public, really knew what happened inside of these hospitals, they wouldn't even bring their kids. They wouldn't," Reynolds said.
Another pressing issue that has driven nurses, particularly those employed at the Children's Minnesota Hospital system, to strike is a proposed closure of Children's St. Paul's Pediatric Intensive Care Unit (PICU) and redirection of those resources toward Children's Minneapolis' PICU. Nurses believe this would put many critically ill children at risk, as well as put more strain on the already beleaguered workforce in Minneapolis.
"It's not uncommon for Minneapolis to transfer patients from their emergency rooms to here," Koll said, elaborating on both the overworked nature of Minneapolis nurses as well as highlighting the critical importance of Children's St. Paul.
"It … is a huge disservice to eastern Minnesota," Koll said of the PICU closure plan. She also noted that Children's St. Paul also serves a wide swath of the midwest including Wisconsin, the Dakotas and the upper peninsula of Michigan.
Hospital management has tried to frame their closure of the PICU as being based entirely on efficiency, but nurses and organizers see the issue in a very different light.
"Talk to anybody here and they'll tell you," Woida said. "They're overworked, understaffed, exploited by CEOs that are making millions off their pain and suffering, and patients are suffering because of it."
"They just believe that the consolidation of services is better for patients. Personally, we think it's financial," Koll said.
This is not the first time Minnesota nurses have gone on strike. The last time was recent, in 2016, and nurses at that time marched on Macalester's campus to urge then-Macalester President Brian Rosenberg, who was on the board of United Hospital's owner, Allina Health, to come back to the negotiating table. 
"We showed up at Macalester, right?" Sippola said. "'Hey, Brian!' He wasn't there."
Sippola explained that during this time, Macalester students showed up for the striking nurses, on campus and beyond. She hopes for the same sort of solidarity this time around. 
"They are not afraid of activism." Sippola said. "I'm 43 years old, [and] I see people coming out of school who are not afraid of being activists and it is the best thing we can do for … unions. It is awesome. So I don't know if that matters, but I really, really, really love that. I've seen that amongst the group of like 20 year olds that are now coming into the workforce." 
Nurses like Sippola and organizers like Woida agreed that public support, from the dozens of cars that honked their horns and hollered as they passed the picket to college students joining the picket, was critical to the success of their effort.
"Come to the picket line!" Woida said. "Every day, today, Tuesday and Wednesday, from 7:00 [a.m.] to 6:30 [p.m.], we're out here. It's a great place to learn more about the local political process and to stand in solidarity with the hardworking people that care for us."
The strike ended as nurses returned to work on Thursday, meaning that negotiations will resume next week. The union's demands include a 30% wage increase.
Despite the uncertain future Minnesota nurses face in the coming weeks, Kristie Sander, a nurse at United, is staying optimistic. 
"Well, obviously [the strike leading to a successful renegotiation] would be a huge success for the nurses here," Sander explained. "But at the same time, it would be a success for nurses … around this whole country. Because when we use our voices like this, we can say, 'hey, this is the standard here and look what we're doing' and then other people will ask for that and realize, 'Hey, we can do this too.' "