Loch & Roll Brings Community Together Through Music and Performances
Over a sea of glow sticks and dancing concert-goers, three student bands played an impressive set of music in the basement of the Ruth Stricker Dayton Campus Center last Saturday night. Loch & Roll was a Macalester Program Board organized event for music-loving students to come watch an array of bands perform covers and originals alike. 
With excitement, the crowd welcomed the first band Lazyhead, only three weeks old and composed of C.C. Servon '24 and Nick Suchomel '25. Servon introduced herself and Suchomel, letting the crowd know that they are on the hunt for a bassist. Servon is a first-year at Macalester but is already a big player in the music scene on campus, starting Lazyhead with Suchomel while drumming for Chocolate Milk, the second band that played for Loch & Roll. 
"I always kinda knew I wanted to write songs, but it took years to get to the point where I was producing stuff that sounded the way shit sounded in my head," Servon said. "So when I got [to Macalester], I had all these songs written and I wanted to play them. The process [of forming Lazyhead] was pretty simple. I knew Nick from African Music and we started playing around three weeks ago."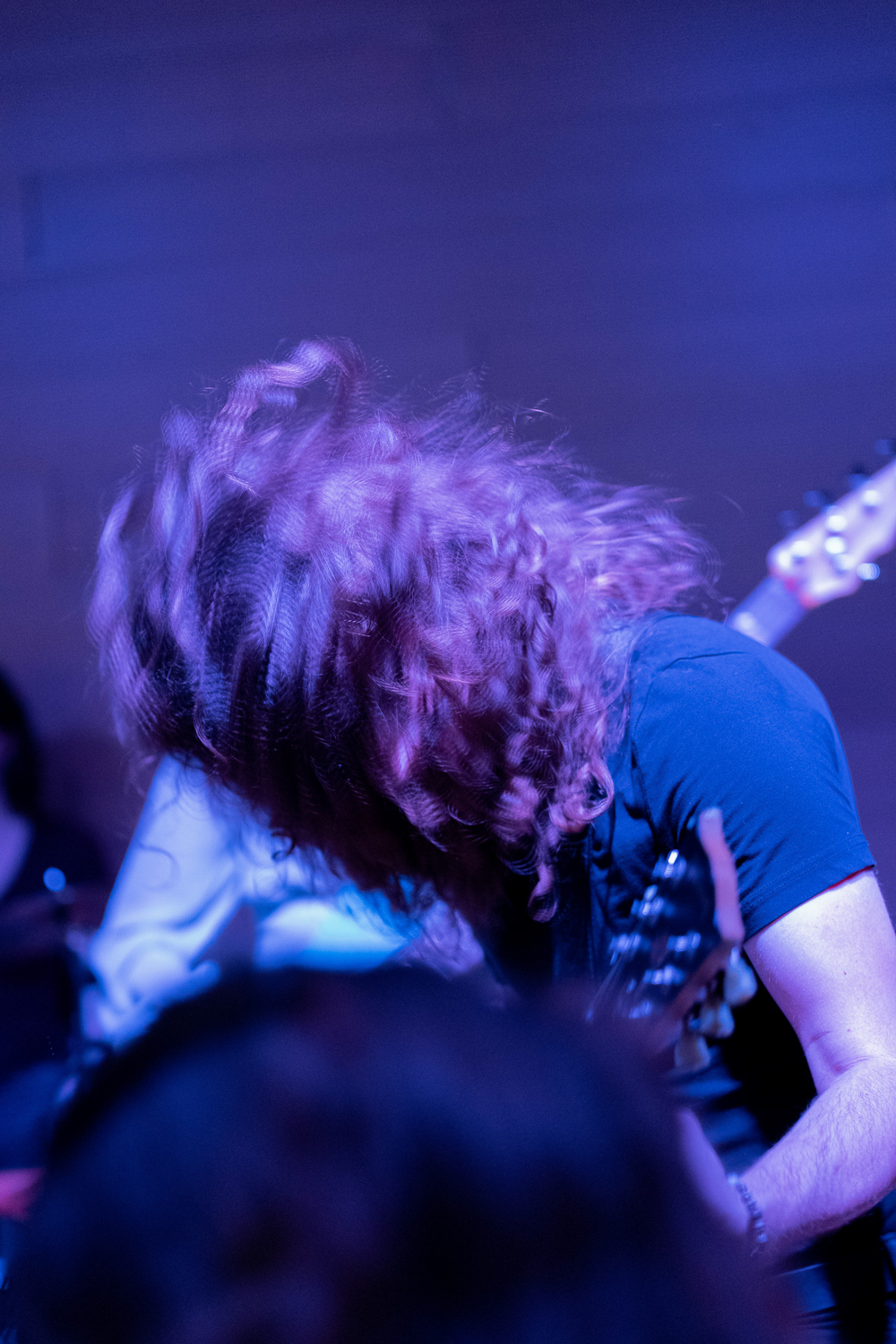 After playing a few originals, the duo closed out their set with their version of "Devil Town" by Daniel Johnson and gave way to the next band of the night, Chocolate Milk. 
The eight-person band has an array of gifted members with three lead singers, multiple guitarists, a pianist, a drummer and a saxophonist. The group played a series of covers with each song showing the musical talents of each member. Their rendition of "Electric Love" by BØRNS had the audience cheering for Nicholai Jostepp '24 and his saxophone solo, just as their version of "Runaway" by AURORA displayed the trio of lead singers' three-part harmony. The band was well received by the growing audience as they all waited in anticipation for the night's headliners, Bakermiller Pink. 
One of the more prolific student bands on campus, Bakermiller Pink, formerly known as Fishbowl, is a punk rock-esque band of six juniors. They arrived on stage to an expanse of cheering fans, many proclaiming to be the band's number one fan which is no small feat for a band that has been formally rehearsing since August 2021. Bakermiller Pink played many of their original songs, including "Heavy Bones," the title track off their EP which is scheduled to release in late March. I got to speak with Max Stewart '23, one of the band's guitarists, the next day about being in Bakermiller Pink and performing more this year. 
"[We've been together for] about a year now, [and] we started rehearsing [at the] end of February last year," Stewart said. "It's been crazy honestly, the first show we ever did was the virtual Spring Fest and we'd only been playing for two months. We thought 'Oh my god! We suck and we're so nervous and this is horrible!'"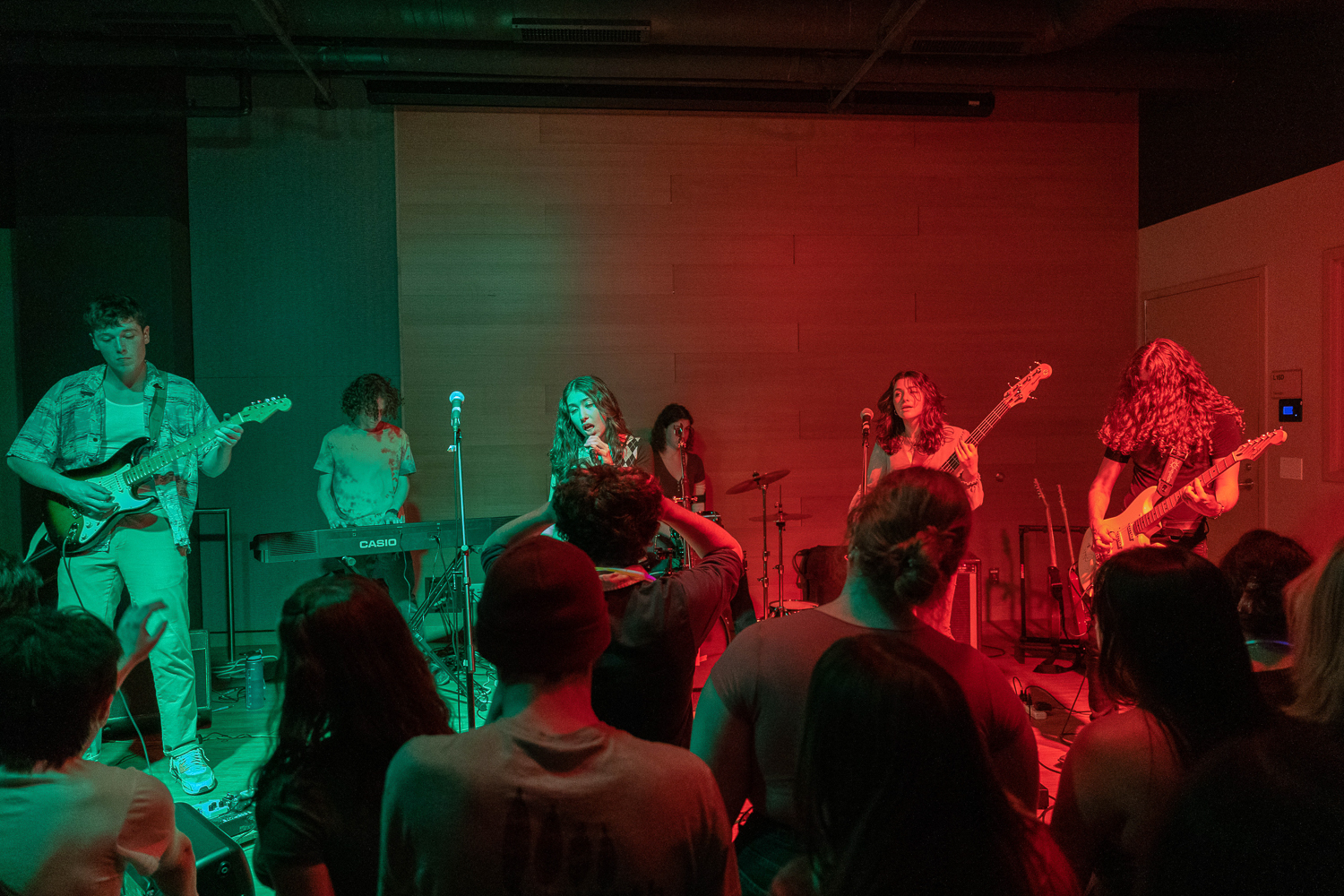 I was shocked to learn that Spring Fest 2021 was their first performance as it was barely a year ago and the band opened for Phoebe Bridgers. 
Stewart laughed at my surprise. 
"Trial by fire," he said. "When we got back last semester, we had a show [in] two weeks and we were scrambling again. It always feels like we're scrambling for something at this point. It has not felt like a year, it's felt way shorter."
I asked him how he deals with this anxiousness. 
"We have a bunch of great musicians in our band," Stewart said. "It's a lot easier when your bassist and you have a classically trained pianist, and your drummer can still play really well with one arm. On one hand I'm astounded, but on the other hand, it makes sense because we all know what we're doing. [It doesn't really feel like] being in a band, it's like I have a friend group that I play music with and it makes it really easy to keep going when things get really stressful." 
We chatted about the energy in the crowd Saturday night and how everyone seemed thrilled to be there. If multiple mosh pits weren't enough, the audience-wide sing-along to the finale song about the Permian Triassic dinosaur extinction was the icing on the cake. The announcement of their name change did nothing to dull the excitement in the air as the crowd's desire to support local music by their fellow students was palpable. 
"I felt like a real person again," Stewart said. "I have to give a lot of credit to Maxwell [Davis '25] for actually making the effort to put [Loch & Roll] on. The arts department here is very traditional performance centered, [and] there's not a lot of opportunities for stuff like this, so it feels really great to have someone at Mac who wants to do a lot on the production side."
As we said our goodbyes, I asked Stewart how it feels to be back performing for crowds of people that are so clearly excited to see them play. 
"It feels nice to be valued as performers," he said. 
The Macalester community should keep an eye out for Bakermiller Pink's new EP coming out soon, and remember, if you're a bassist and want to be in a band, contact C.C. Servon!