Mac women's basketball shuts down St. Scholastica, 69-48
On Wednesday, Dec. 8, the Macalester women's basketball team beat the College of St. Scholastica, 69-48. Their record grew to 2-3 in the Minnesota Intercollegiate Athletic Conference (MIAC) and 4-4 overall. Their fifth MIAC game of the season came against St. Scholastica, who is ranked last in the conference and has not won a game this year.
Macalester came into the clash with a 3-4 record, after a recent win against Crown College. Even with their losing record, Macalester's team has been shining after recent rebuilding. In 2019, Macalester went 1-24 and in 2018, 6-19. 
Their four-game series this spring, after a cancelled season due to Covid, gave fans a hint of what was to come. They went 3-1 versus St. Catherine's University and St. Olaf College, losing by just four points in their only loss.
The spring also saw guard Celine Sabbagh '22 demonstrate her scoring skills tallying the top points in two games. This season, Sabbagh has continued to lead the team with help from forward Emma LaFrenz '23 and newcomers Katherine Norquist '25 and Peyton Starks '25. 
LaFrenz was named MIAC Athlete of the Week for women's basketball on Dec. 6 after a stellar game against Crown where she scored 23 points and grabbed 24 rebounds. Her 24 rebounds in a game is tied for the third-most in any Division III contest this season, and pushed her to the front of the MIAC for rebounds per game with 12.4. Sabbagh and Starks also land in the statistical leaders page. Sabbagh is second in the MIAC for points per game and Starks is fifth for field goal percentage (otherwise known as shots made) with 51.1% of shots made over the first seven games of the season.
With solid upperclassmen and exciting rookies, the Scots took the court against St. Scholastica.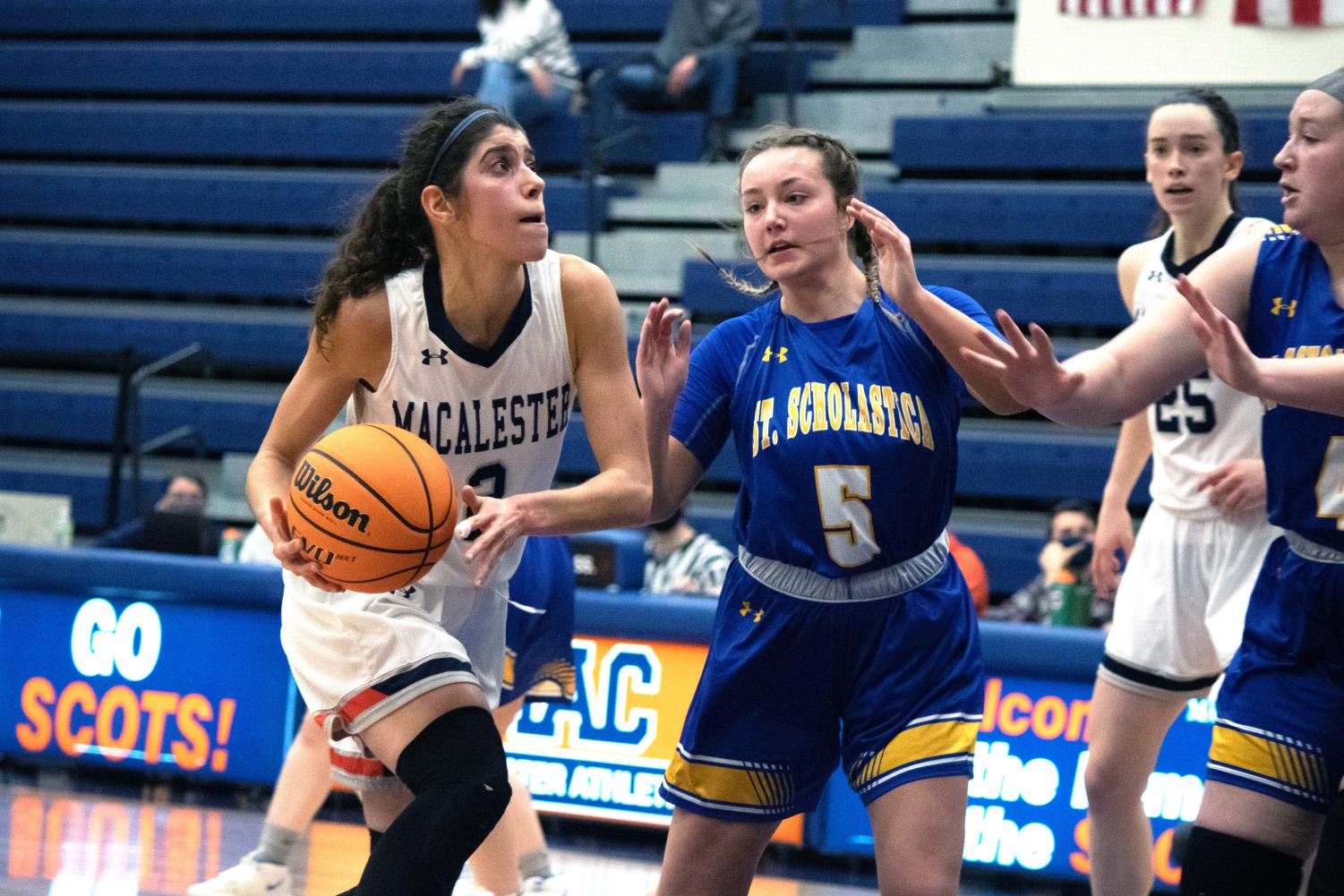 An all-around strong game from guard Solana Cushing '23 headlined a commanding performance by the team. A relentless full-court press forced the Saints into giving the ball up 26 times, leading to an insurmountable 21 points off turnovers for Macalester. Cushing filled the stat columns with 14 points, seven rebounds, four assists and four steals. Starks and Sabbagh joined in with 12 and 11 points respectively. LaFrenz continued to dominate the paint, as she has all year, with two blocks, 11 rebounds, 18 contested shots and eight points. First-years Catherine Driver '25, Camille Samuel '25 and Jessica Sabbagh '25 earned valuable minutes off the bench and combined to shoot 5-6 from the field. A key to the Scots' success was only sending their opponents to the line 10 times while taking 25 free throws themselves. 
Macalester's season began with a loss to Martin Luther College on Nov. 5. The Scots roared back to steamroll Northland College 74-45 in their first home game of the season. Since then the Scots have tilted back-and-forth, never losing or winning two games in a row. Their win against St. Scholastica followed this pattern, coming after a MIAC loss to Gustavus Adolphus College on Dec. 4. Gustavus is ranked second in the MIAC, only behind Augsburg, who the Scots will not face until Jan. 8.
The team is young, with five sophomores and first years and only three upperclassmen. Sabbagh, LaFrenz and Cushing have started for and led the team throughout the first half of the season. All three have started every game and often lead the team in statistics whether it be points, steals or, in LaFrenz's case, rebounds.
The youth of the team bodes well for the future. Starks and Norquist are standout rookies, and guard Andrea Palmen '24 has started all seven games, while tying for second on the team in steals with nine.
The Scots will play one more game before the holiday break, facing the College of St. Benedict on Dec. 11 in the Leonard Center. The Bennies are third in the MIAC with a 6-0 overall record, so Macalester will be looking to hand them their first loss of the season.
After the new year, women's basketball returns on Jan. 5 against Carleton College at home. Carleton holds a 2-3 overall record, and sits just above the Scots in the MIAC. This early rivalry game will be exciting for anyone spending winter break in the Twin Cities.