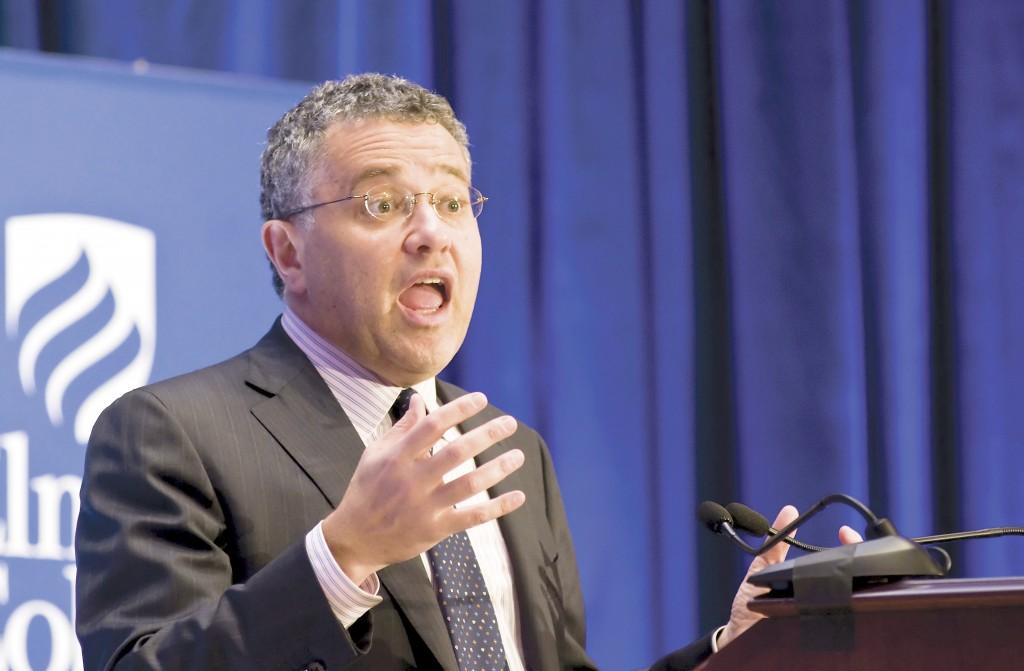 Jeffrey Toobin will deliver this year's commencement speech, Communications announced. Toobin, a senior legal analyst for CNN and staff writer for The New Yorker, is regarded as an expert on contemporary legal issues. He was formerly an assistant U.S. Attorney and legal analyst for ABC. During his time as a television legal analyst, he has reported on high-profile cases such as the O.J. Simpson trial, the Elián González custody case and the Supreme Court challenge to the Affordable Care Act.
Toobin is also an accomplished author on legal issues. His published work focuses on the inner workings of the Supreme Court. His most recent book is titled "The Oath: The Obama White House and the Supreme Court."
Toobin spoke at Macalester last September to promote his most recent book. His daughter is currently enrolled as a student here.
"We like to select speakers who are accomplished, interesting, focused on areas relevant to Macalester students and skilled in public speaking," said President Brian Rosenberg. "We have found as well that we tend to get the best speeches from people who know and have a connection to Mac, as does Jeffrey Toobin."
Toobin was recommended by a committee led by Vice President of Student Affairs Laurie Hamre last year. The committee passed on its choice to Rosenberg, who then extended an invitation to Toobin to speak.
"We use several criteria as we identify potential commencement speakers—a connection to the college, record of outstanding achievement in a field [and embodiment of] Mac's core values through life or work," said Hamre.
The title of Toobin's talk will be released closer to Commencement itself.
Abas Noor '13 was selected as the student speaker for commencement.
Noor was one of 14 candidates nominated by faculty, staff and other seniors who submitted a speech to a decision committee made up of faculty and students. Five finalists performed their speeches for the committee, and Noor was ultimately selected.
"The other candidates are true inspirations, as are all my peers," Noor said. "I was lucky to be considered among them and I am grateful for this opportunity."
Political science professor Adrienne Christiansen was on the committee that selected Noor and will work with him to finalize and prepare his speech.
"The selection committee looks for a different qualit[y] from the finalists: an important message, which can be done in a serious, moving, or humorous manner, a unique perspective, excellent stage presence [and] a recognition that the audience is comprised of 4,500 people and not only the 500 who are graduating," said Christiansen. "We're looking for a student who speaks in a confident, assured manner and seems comfortable in the role."
"Abas is thoughtful, curious, insightful and kind—but he is also a real person, a good, funny and supportive person," said Kate Hamilton '13. "I think that his willingness to ask questions of others and really listen and take to heart others' answers has informed his time at Macalester and who he is, and that is evident in his words for commencement."
This year's commencement will be held on Saturday, May 18, at 1:30 p.m.