Prof Talk: Peter Bognanni on the zombie lifestyle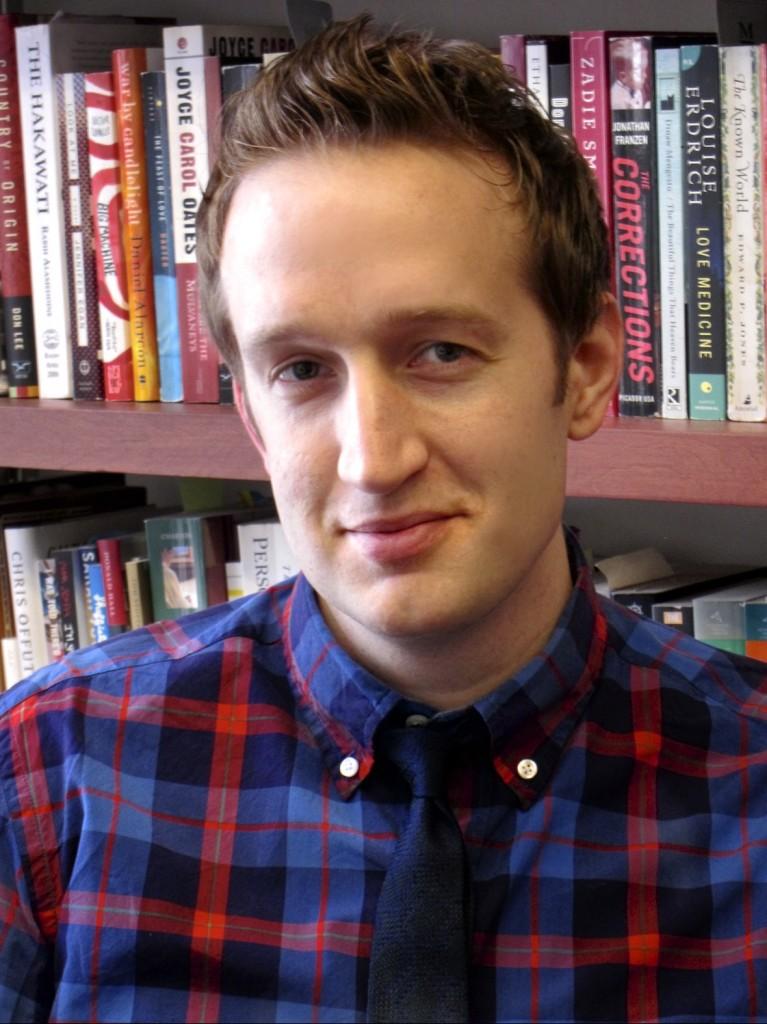 You went to Macalester for undergraduate school. What brought you here the first time around, as a student?
I feel like what brought me here the first time was that Macalester was the school that was willing to take a chance on students that were really interested in the arts and had really uneven test scores. I felt like at the time I was interested in everything that had to do with the arts. I did some theater and acting in high school. I was doing stuff in the visual arts and a little bit of writing, pretty much at the expense of everything else in my life in high school. I remember there were a few different schools that I applied to that might be a good fit for that kind of background. Macalester was kind enough to take a chance on me. I felt like I ended up becoming a much better student here and becoming much more driven in terms of how I wanted to pursue the arts I was interested in.
What brought you back to Macalester for your second round, but in a new role?
That was seven years ago now, which is kind of amazing to think about. I started teaching here as a visitor and as an adjunct [professor]. I had just finished grad school in Iowa and I was living in Chicago briefly, teaching at a bunch of different schools. I was kind of miserable because I was teaching at all these really long commutes and at a bunch of crazy community colleges where it would take like four months to get your first paycheck. I happened to still be communicating with Wang Ping at the time and she said [Macalester] might have an opening for a semester or year, if I was interested. I was like, 'Yes. One-hundred percent yes. Anything to get out of what I'm doing now.' Then I came back and never thought it was going to last more than just a year or two, but I found a little niche and seemed to gel really well with the students. [Macalester] kept gradually renewing my contract until I was fortunate enough to get the job in this more permanent position, which has been fantastic.
You have a unique perspective because you were a student and are now a professor. Can you speak to what that's like?
At first it was a little strange and intimidating. I would run into old professors that I had on campus. Fortunately I was a much better student here than I was in high school, so I didn't have all kinds of shameful moments. I felt like mostly when I ran into people it was really nice. I think one advantage that I had was that there was a lot of turnover in the English Department and a lot of retirements [since] the time I was a student here. Only a handful of people were still around, and they were people I had had really good relationships with. At the same time, it was a little funny walking through campus and remembering things I had done as a student. It was also really good. I think this was a really great place for me, in all respects—academically and emotionally. It turned me into the person that I am now, so being back here to teach in some ways felt really natural.
What do you teach here at Mac?
Marlon [James] and I share the load teaching fiction-related classes. We both usually teach a section of fiction. I've kind of fallen into the role of teaching screen writing, which is something I kind of do for fun and have a little experience with. That's become a class I've really enjoyed. I've taught some more upper level versions of fiction writing classes. I taught a class on writing novellas last year, which was really fun. I had the students writing one long, really ambitious project over the course of the semester. I've yet to teach the final Crafts [capstone] class, but I look forward to doing that in the future and working with students working on their last big project.
What is most challenging about teaching creative writing?
I think the biggest challenge in making sure creative writing classes go well is trying to help the group build a rapport to get to the point where they feel comfortable writing about whatever they want, and that they respect each other's work. It's not because people are mean or anything, but just because when you're in a room full of people you might not know that well, I think it can be a little hard to be as vulnerable and as honest as you need to be to be a good writer. I've always noticed that as classes begin to click and the semester goes on, the writing gets better because [students] feel much more willing to put themselves out there. It's a relatively difficult thing to create. As a professor, you have to sort of facilitate it and try to guide things in the right direction, but a lot of it is up to the class, whether or not they're really going to like each other and like what they're doing artistically. I feel like I can teach a lot of the other more basic things—elements of craft, and things like that, but I can never control the atmosphere in the room.
What inspired you to be a writer and to teach, as opposed to being a writer and finding some other form of employment?
That's a good question. I thought about it a lot while I was in grad school. There are people who are like, 'I'm devoted to writing and I don't care about the academic side of things and I'm just going to write on my own time. And any other job I have is fine with me.' Then there are the very few, I'll say the top one percent, that make a living writing literary fiction. They are a very small number. Then there's the other camp of people that, when they started doing some TA-ing, actually really liked the work. I found myself as one of those people, which surprised me a little bit. I wasn't sure if I was going to like it or not. The first couple semesters in grad school, I did a little bit of teaching and really liked it. I found myself working really hard at it and trying to improve, which is not always the case if you're just a grad student, just trying to get your stipend and get out. It felt like it was a job I actually think a lot about and take some gratification from, beyond just my pay. I knew that it was going to be a tough market, but I wanted to try and pursue it because I enjoyed it so much, ultimately. It's a nice balance with writing, I've found, because writing is such a solitary thing where you're off and alone in your own head for hours at a time, staring at a computer screen, which is the zombie I become during the summer months. But then really engaging with ideas behind writing and having lively conversations about it in a classroom is the complete opposite, but it's really affirming to feel people are actively making art and talking about it in a really dynamic way.
A lot of your hard work has paid off. Most recently, you won the artist residency in Rome.
It's an interesting award. It's kind of given out by two different places. There's an American Academy in Rome, and they choose thirty different Rome fellows each year. For some reason, with the literature award, they farm that out to the American Academy of Arts and Letters, which is in New York and they just choose people. I found out I was nominated a couple months ago. I had sort of known what the award was, but I never thought really thought in a million years that I would win. So I sent back in a short essay and kind of totally forgot about it. Then a letter arrived, and I assumed it was a rejection letter because it was a really thin envelope. My wife brought it up to me and she was like, 'Well, you know, it was nice to kind of dream about it. We'll go to Rome some other time on our own.' Then I opened it and found out that I was chosen and it was really amazing. It's going to be 11 months in Rome and they give you room and board and just encourage you to write free of all other distractions and advance yourself creatively as much as possible.
What do you expect to get done when you are there? Are there expectations for you?
Not really. I think the expectations are that you use the time best as you possible can. No one checks at the end if you finished your book or anything like that. I feel like a year's time is not enough to finish a novel. My first book took me about three years to write, but I was very much writing in between things when I was writing that book. Just having the gift of continuous time is really good for working on novels because you have to whole this huge, vast story in your head. When I'm in the middle of teaching, it's pretty tough to do that because I'm focusing on my classes. If I get to write, say, every Wednesday morning, I have to remind myself of all those things I was thinking about again. And that's not to say that teaching ruins novelists, it's just that summers are the time when you have continuous time to work and get a lot of work done. That's what I'm really excited about in Rome, just having that time to carry that thread of everything I was thinking about before. I think the work will, ideally, go much faster.
Do you have a preview of what you are currently working on or will be working on?
I'm in the early stages of what I think is going to be my second book. It's based on a news story I read where there was an episode of modern mass hysteria in a high school in New York. It was basically that a teenage girl started coming down with these strange symptoms and a lot of nervous ticks and seizures. Then, other girls started getting it and the community basically started freaking out that there was some sort of ecological reason or something like that. It's kind of an episode of what they called conversion disorder, where one person gets an illness and other people are getting it out of sympathy. The book that I'm working on right now is kind of a fake oral history of a similar phenomenon. I've fictionalized it in a number of ways, but [it's about] this idea of hysteria and what that does to a community and what that does to a high school from a bunch of different point of views of this episode. I'm working on that right now and still doing a lot of research and working on how it will all fit together. It feels like it's going well. I've got about 50 pages, and I'm hoping to make a big dent when I'm in [Rome].
Do you have any connection to Rome other than winning this award? Is there anything you hope to make of trip, other than just time to write?
I've only been to Italy one time, and it's actually a bit part of my family history. My grandparents were immigrants and my dad was the first person in his family to grow up speaking English. It's a part of my ancestry that I haven't had much time to make sense of. I am also really looking forward to traveling to where that side of my family came from in Sicily and sort of engage with that part of my life in a way that I haven't been able to before. Hopefully, that will be really productive in a creative way to be thinking about all of that while I'm writing. I think those two things will dovetail nicely.
What is the English Department going to do when you're gone in 2013-2014?
Someone will come in to replace me for the year. Fortunately we have some awesome people. Marlon's going to take over some fiction duties. But I promise I'm coming back. I'm really excited about the new job that I have and I can imagine myself staying here for a very long time. Just consider it a tiny break. I'll be back. Macalester will still have my heart and soul.