Columbus comes toppling down at the Capitol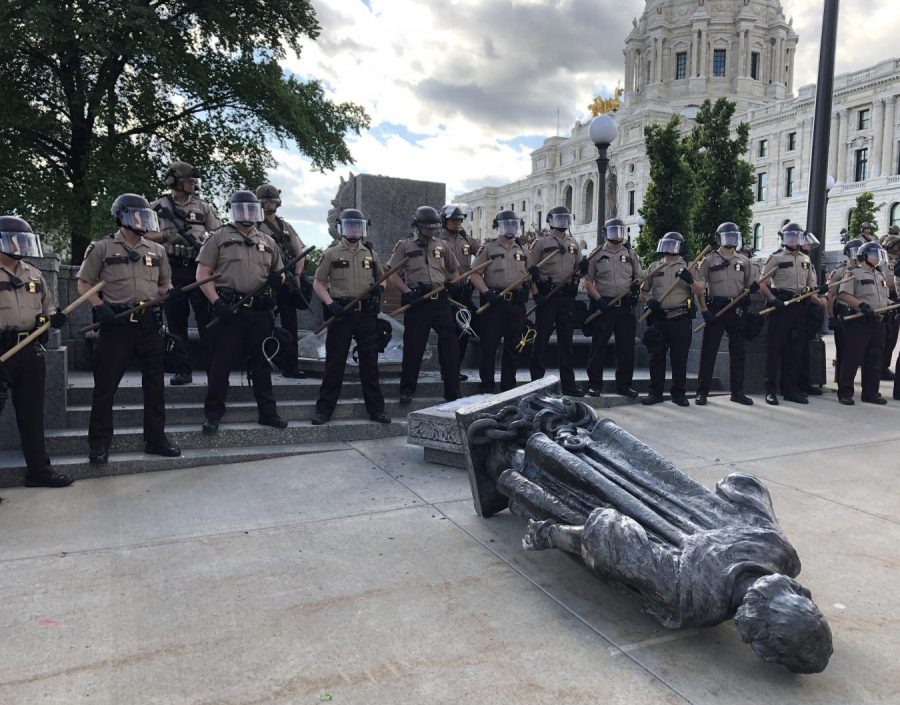 For years, Mike Forcia, American Indian Movement (AIM) activist and member of the Red Cliff Band of Lake Superior Chippewa, had been trying to get the statue of Christopher Columbus that stood for nearly nine decades on the grounds of the state capitol removed.
The legal process had gotten activists nowhere. But, around 2 a.m. on Wednesday morning, Forcia had another idea: forget the paperwork, head downtown the next day and topple it. 
"I spoke with some elders, and they said, 'Nah. You don't wait for the process no more. It's been done. You go down and you take it down,'" Forcia said.
Just after 5 p.m., that is exactly what they did. With a squad of state patrol troopers standing off to one side and Forcia leading the way, a group of Indigenous activists tied several ropes around the statue and pulled it to the ground. 
Samuel Wounded Knee was one of those activists. He brought his nine-year-old son to the capitol to take part in history — and to celebrate it. 
"I've been living in the city here for about nine years now, ever since my son was born, and every year we come over here to wish that we could take it down, to have it removed," Wounded Knee said. "I didn't think we were going to be able to take it down. But it fucking came down." 
It sure did. Columbus' nose was smashed on the way. Demonstrators danced around his body. And while the state troopers eventually advanced and encircled the remains of the statue, guns and batons and badges glinting in the early evening sun, the occasion had a buoyant feel.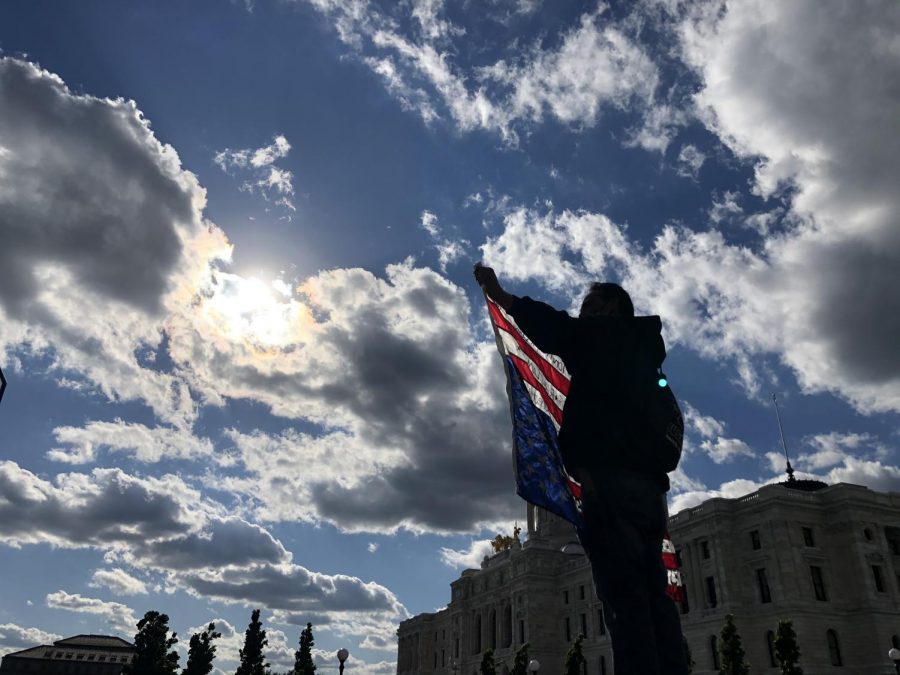 "I thought there would be rebar in there, I thought it was bolted down — I thought we were going to need a car to pull it down," Wounded Knee said. "But it took 20 or 40 people to pull that thing down. Now it's over."
Columbus, the genocidaire, was hauled away in a Twin Cities Transport & Recovery truck along with several pieces of the foundation that had held him up.
It happened so suddenly, after such a long time, that it was almost impossible to believe that the statue, erected in 1931, was gone. But Forcia wasn't surprised by how the day's events unfolded.
"I saw it," he said. "I dreamt it. I envisioned it. And it was beautiful." 
This kind of beauty is becoming a reliable sight: the men who created and financed the white supremacist, imperialist world finally getting their comeuppance at the hands of young activists unafraid and unwilling to wait.
On Tuesday night, protesters in Richmond felled a Columbus statue, set it on fire, and dragged it into a river. In Boston, protesters beheaded a Columbus statue. And in Minnesota, thanks to that 2 a.m. spark, another statue fell ignominiously. 
The symbolism, and what it means for future generations, wasn't lost on Wounded Knee. 
"I take my son almost everywhere I can where we have to fight for our indigenous rights," Wounded Knee said. "He went up there with me to Standing Rock and saw what they were doing, and now he's here and he can see that it can actually happen.
"Change can happen," he continued. "It doesn't have to be endless hopelessness. Things can change."
Things are indeed changing. Compared to burning down a police precinct, toppling a statue can seem like a small achievement. But that is only a testament to how hard and how far protesters have pushed against systemic racism and white supremacy over the last two-and-a-half weeks.
Columbus, the man our schools so often teach us discovered the land we live on, is a pillar of white American exceptionalism — a fact not lost on Forcia or the many other demonstrators gathered at the Capitol. 
Forcia and others still might face criminal consequences for their actions. One state representative appeared to voice his disapproval. 
"What [Columbus] represents is a sick foundation that this country is built on: genocide, looting, slavery," Forcia said. "The richest country in the world, the United States, and they got their wealth and riches from stealing.
"But yet they're so upset about people looting that Target," he continued. "Like they don't know that this foundation is built on the same thing."
Now, people are striking at that foundation. Indigenous people have been targeted by police and the state in the Twin Cities in much the same way that Black people have been, and so, for many, recent events have struck a chord. AIM, for instance, was founded here, in 1968, as a reaction to police brutality.
"I relate to George Floyd, the cops abusing people and stuff like that," Wounded Knee said. "In St. Paul, I got pulled over for having a light out. The cop threw me against the car and handcuffed me and threw me in the backseat for a light."
Forcia said that he wants the Dakota peoples to be able to select a new figure to replace the statue of Columbus at the Capitol, but said that "just about anybody" would be an improvement. After that, he said, there should be a pow wow on the Capitol lawn to "make the land sacred again."
It would be a remarkable sight. But these are remarkable times. 
"To me, this is healing," Forcia said, watching workers haul the statue into the truck. "This is part of the healing process that we must go through. And today was very healing. There were so many people healed today."