Volleyball team in turmoil over coach
Two Macalester volleyball captains have left the team and are calling for head coach Sarah Graves '04 to be fired.
Abby Dillon '21 and Sofia Parmelee '21 were multi-year starters and key players for Graves' team, but they both decided to walk away earlier this semester — leaving Kendall Ford '21 as the only remaining captain and just 11 players on the active roster.
Dillon and Parmelee's decision to leave the team was years in the making.
Both players, the former from Brown Deer, Wisconsin, the latter from Tenfley, New Jersey, clashed repeatedly with the fourth-year head coach and did not feel like their concerns were taken seriously by athletic director Donnie Brooks or other college administrators.
Graves acknowledged that her team is going through a difficult period, saying that the team is "having challenges right now," but declined to say specifically what the challenges were and downplayed the seriousness of the situation.
"We're working through those [challenges] as most teams do," Graves said. "I don't think there's anything we're going through right now that is odd or different. They're very similar things that athletic teams experience."
In a written statement to The Mac Weekly, Brooks echoed that position — writing that "the challenges this team faces are not unique to teams and team cultures across the country."
Whether or not that is true, Dillon, Parmelee and other current and former members of the team have accused Graves of creating a toxic environment in the program — commenting excessively on players' bodies, pitting players against each other, and treating injured players more remotely than she treats healthy players.
Dillon described the experience of playing for Graves as being "constantly degraded and diminished, invalidated, compared to your teammates in both your skill and your body and your mental health and your emotional health."
While players have had differing experiences during their time with the program, and all reflected positively on their relationships with their teammates, multiple players told The Mac Weekly that a majority of the team has concerns about Graves.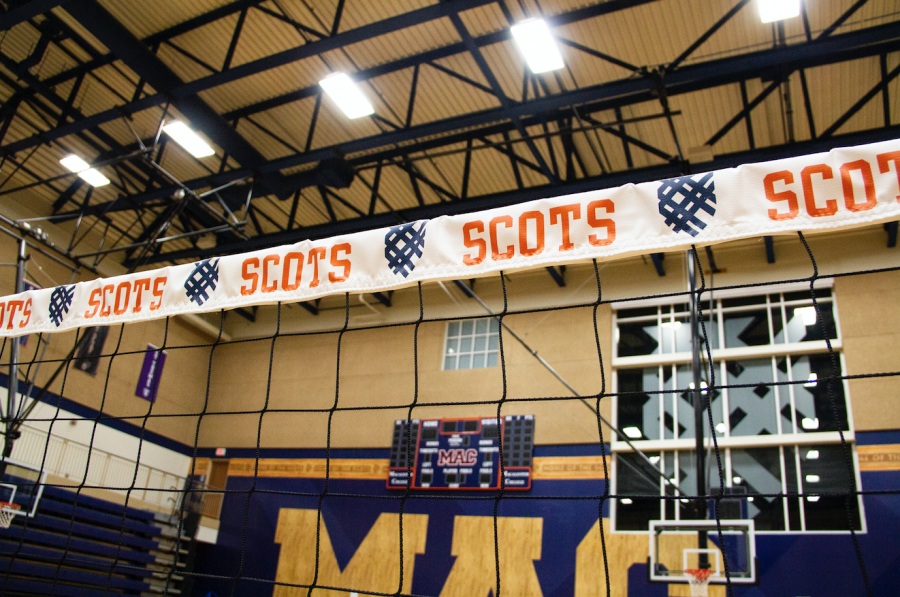 Those concerns are not new.
"Some people on the team have had various problems with our coach over the three years that she has been here," Ashley Helfinstein '20 said. "It came to a head in a lot of ways this season."
Dillon and Parmelee's accounts confirm that. Both said that, over the last several years, they met with Graves, Associate Athletic Director Steve Murray, Brooks and Vice President of Student Affairs Donna Lee to voice their frustrations, only for nothing to change.
On the court, 2019 was a difficult year for Macalester volleyball. Graves' team went 4-21 and 0-11 in the MIAC, finishing last in the conference for the third straight year.
Graves, who was an all-MIAC volleyball player at Macalester and worked as an assistant coach at the college between 2009 and 2015, has had little success since returning to lead the program in 2017.
The Scots have gone 21-60 overall and 0-33 in the MIAC over the last three years. The next worst-performing team in the conference, Hamline University, has won six MIAC games in that timeframe.
The Macalester volleyball program has long been mired at or near the bottom of the conference, including in the years before Graves took the reins. But players still blame her for the team's struggles over the last three years and say that they underperformed this season.
"I fundamentally believe — and the stats confirm — that I was a better athlete before I came to Macalester," Dillon said. "My performance was at a higher level, I was in better shape. When I came to Macalester, my skills decreased and I did not improve."
After the end of the 2019 season, Brooks met individually with a number of players to gather their thoughts about Graves and the state of the program. On Jan. 2, he wrote to Dillon and Parmelee that he planned "to meet with the team to discuss the future of the program upon everyone's return" from winter break.
Players were under the impression that they would be meeting with Brooks alone and given an opportunity to air their grievances. But when they arrived for the meeting, Graves was also present.
Players did still have the opportunity to speak about Graves' leadership, but felt that they were lectured by Brooks about generational differences in communication styles and their responsibility to get along with their coach.
Several players found the tone of the conversation alienating.
"I don't know how well Donnie is handling the situation, because part of this is that people are not feeling heard," Helfinstein said. "People… are not feeling like they have a voice on the team or what happens going forward. He's not necessarily handling it perfectly right now."
Dillon echoed that criticism — especially regarding what she sees as Brooks' dismissal of her complaints about Graves and those of her teammates.
"He has never once said anything remotely similar to 'you're soft' [to the football team]," Dillon said. "He's always telling them how tough they are, how cool they are, how much drip they have — and the conversations he has with us are around our emotions and feelings. So I think that the gender difference… is important."
According to Dillon and Parmelee, administrators like Brooks and Lee have consistently designated concerns with Graves as a communication issue — a stylistic difference between the coach and her players. Parmelee, however, does not see it that way.
"I don't know how much more blatantly we can tell them that has nothing to do with the way she is delivering things, it's the things she is delivering," Parmelee said. "It's emotional abuse, and it's being treated like a communication issue."
Along those lines, Brooks announced around the time of the meeting that he was bringing in Dr. Tamara Mattison, Executive Director at The Dispute Resolution Center in St. Paul, to work with players and coaches.
The players were asked to participate in the sessions with Mattison. Dillon and Parmelee walked away instead. It is a measure that neither player ever thought they would have resorted to when they first joined the program three years ago.
"Before coming to Macalester, before the experiences that I have had here, I never could have imagined my life without volleyball in any way," Dillon said. "But now it's to the point where I have an aversion to the sport as a whole."
Dillon's relationship with Graves began well before they both arrived at Macalester. Graves recruited Dillon to Denison University in Granville, Ohio, where she served as head coach from 2015 to 2017.
"I… went and did my overnight visit there, and it was an overwhelmingly negative response from the athletes," Dillon said. "They stated how much they didn't like [Graves] and how the senior class had actually quit in response to her coaching."
Dillon decided to commit to Macalester. Then, shortly after her commitment, Graves was hired as head coach.
Graves declined to comment on the end-of-season team meeting with Brooks, any individual conversations she has had with players or any specific allegations made against her.
In late February, shortly after that meeting, Parmelee's mother emailed President Brian Rosenberg with a lengthy account of Parmelee's trials with the volleyball team and asked him to intervene.
"Thank you for bringing this to my attention," Rosenberg wrote in response. "I will look into the situation immediately. I am deeply sorry that your daughter has had such a disturbing experience with volleyball."
The team has not yet selected new captains to replace Parmelee and Dillon. Ford, the only remaining captain, is currently studying abroad in the Republic of Ireland — leaving the team without a captain present for spring practices.
In a statement to The Mac Weekly, Ford wrote that the current situation "has caused much frustration and distress within the team."
"I am disappointed that it has come to this, but right now we are just focusing on uniting the program, and as a team leader I am trying to focus on the healing process," she wrote. "This is a really complicated situation and there is no fix-all solution."
Different players have had different frustrations with Graves. One of those frustrations, a 2019 personnel decision, is widely shared by upperclassmen.
After the completion of the 2018 season, the athletic department decided to grant the volleyball team a full-time assistant coach. Then-assistant coach Tim Walen, who had been serving in the position in a part-time capacity, interviewed for the job. He didn't get it.
"Tim had been with us and been really great for us," Helfinstein said. "The way that process went, and the way that [Graves] treated him, a lot of people felt was not fair," Helfinstein said.
Another veteran player, who asked that their name not be used in this story, reported feeling isolated by Graves after they suffered a season-ending injury in 2019.
"It felt as if I was disposable to her once I had experienced my injury and I was frustrated in how our communication and relationship changed," the player said.
"I struggled a lot emotionally and didn't feel safe or heard enough to speak with her about my concerns and when I did bring them up they weren't addressed in a way that was effective," they continued.
This player also said that Graves should be dismissed.
"Many of my teammates are frustrated and do not know how to heal and move forward with her," they said. "I do not think [Graves] is the right person to coach the volleyball team, and I think that reflection, apology and honesty need to be implemented swiftly in order for some semblance of… healing to occur."
Brooks does not see it that way. He wrote that the team has a "promising future," and that Graves is "certainly" capable of performing the job of head coach.
"The program (coaches and players) are currently going through a process and my role is to help provide the space and conditions for them to have successful dialogue that moves the program forward," Brooks wrote. "I believe the process will reveal forthcoming changes."
"I believe in our coach and in our players and their ability to make progress as a program this spring and have a successful fall '20 season," he continued.
Graves, who called her position at Macalester one of the best jobs in the country, is not planning on going anywhere.
"I'm expecting to be here for a very long time," she said. "There are a lot of things to do on this campus and to be involved in. It's a wonderful job."