Professor Alexander Salt discusses move to Mac and foreign policy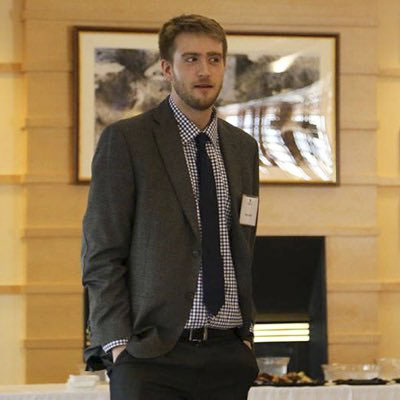 Justin Wu, Contributing Writer
February 20, 2020
Professor Alexander Salt is a recent addition to the Macalester faculty, with his first courses having been offered in the fall 2019 semester. He started his teaching career in 2013 and oversaw courses at the University of Manitoba and the University of Calgary, both Canadian institutions. He is a member of the political science department with a particular interest and focus on foreign policy and international affairs.
Salt cites three particular reasons that brought him to Macalester. The first is Macalester's reputation for its work and emphasis on internationalism, which connects well with Salt's own interests in foreign and international politics. Secondly, Salt finds the emphasis on teaching small classes an enjoyable change of pace to the large lecture halls of his earlier career. Finally, Salt attributes his presence here to his wife, who is from Minnesota.
From an early age, the field of international history entranced Salt. He would "read the history of the United Kingdom, France, Japan, China — whatever he could get his hands on."
His love of history transformed into a fascination of political science and international politics during his undergraduate experience. This passion of his  pushed him into his first encounter with Macalester, via one of its professors:
"Professor [Andrew] Latham wrote an article on technology and military affairs, published in 2002, which I was a big fan of," Salt said. "It actually pushed me towards going to graduate school in a way as I was reading this article and thinking about its subjects."
Today, professor Latham is Salt's colleague and fellow Canadian in the political science department.
Professor Salt's classes closely mirror his interests and work in internationalism. This semester, he is teaching Foundations of International Politics,  Comparative Foreign Policy, and Technology and International Relations as part of the political science curriculum. For Salt, a newcomer to a liberal-arts setting like Macalester's, the environment of close student-teacher interactions and discussion-oriented classes is both a challenge and an exciting experience.
"There is a much bigger expectation on this campus for professors, which I enjoyed as a challenge," Salt said, reflecting on his first impressions at Macalester. "Students are just very active in their learning, and they will come to my office hours frequently, outside of assignments, just to talk about subject material."
He is fond of talking with students regarding current events that are beyond the immediate scope of course material during office hours, but he is still getting himself oriented with the close teacher-student culture he finds at Macalester. Outside of classes, Salt still engages in research on international affairs and politics. He is currently working on two projects, one regarding U.S. military experiences and lessons learned during WWII and another examining the impact of urban environments on modern conflict.
Salt characterizes himself as a "lowly academic." He maintains a relatively quiet life outside of Macalester and his research, although he likes to pace himself around his classes.
"I like to work out the mornings before class," Salt said. "I tend to schedule my classes to start mid-morning so I have a cup of coffee and a run."
He is happy to note that he was able to see familiar, comfortable themes from Canada while settling in Minnesota, including a love for hockey and a wintry climate. At his home, he brews his own craft beer. Professor Salt lives near the campus with his wife and their cat.