Liberman recycles ideas, clocks and trinkets for new art show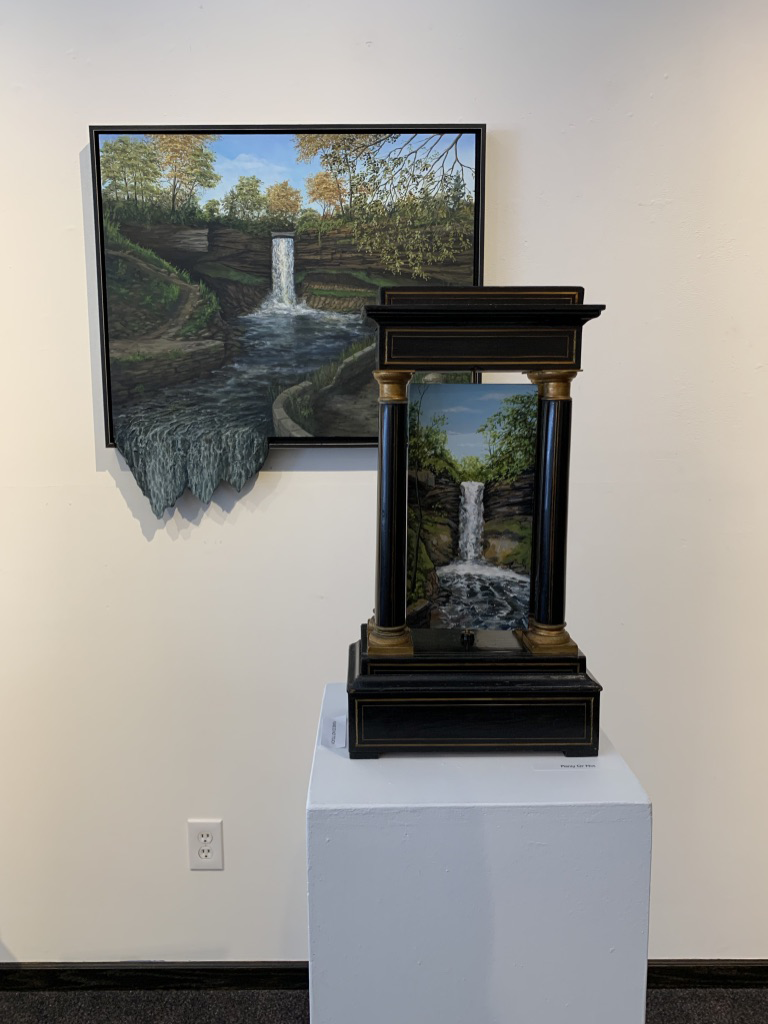 St. Paul painter Joy Liberman started painting inside old clock frames about 15 years ago. Inspired by shapes found in Gothic churches but unable to find affordable frames that mimicked the structure, Liberman started collecting old clocks.
"[I found them in] antique shops, auctions, I got a couple on eBay. It's a fun way to play around with sculpture and painting," Liberman said.
Liberman's clocks no longer house gears or clock faces. Rather, they have painted scenes of birds, Italian landscapes or hourglasses. 
She has sold many of her "clock pieces," but a few have been sitting in her studio for the past few years.
When the opportunity arose to show her work at the Grand Hand Gallery in St. Paul, Liberman started her creative process with the familiar.
"I have inspiration right in my studio," Liberman said, referring to how her transformed clock frames influenced her new two-dimensional pieces, also being shown at the Grand Hand.
"Each two-dimensional piece is in conversation with one of the clock-frame pieces," Liberman said. "I wanted to see how I could continue or respond to [my past] ideas."  
In addition to recycling her ideas, Liberman recycles an assortment of objects in her show "VIGNETTES: constructed, deconstructed." 
An old mannequin hand, a yo-yo bought on eBay, a seashell from an Italian beach, antique toy figurines and frames made from old park benches all make an appearance in the installation. These objects add a playful, three-dimensional element to her paintings. 
"A painting can draw you in, but why can't a painting come out to you?" Liberman said.
Repurposing odd trinkets is second nature to Liberman, whose father owned Ax-man Surplus, a store that sells everything from electronics to art supplies to failed consumer products. 
"Nothing has a purpose there." Liberman said. "You have to find it. I grew up in that atmosphere, [looking at an object as] not what it is, but what it can be. It formed a sensibility in me."
The longer someone looks at a painting in "VIGNETTES: constructed, deconstructed," the more details delight their eye. 
Liberman rewards the gallery-gazer with little artistic Easter eggs: blue jays hidden in seemingly quiet treetops, painted rivers that spill out of frames and subtle homage paid to Italian artists Botticelli and Canaletto. 
These delightful surprises speak to the accessibility of Liberman's art. Her artwork is rich whether or not the gallery-goer understands her intended meaning or notices her hidden message. 
"I don't want people to have to read a book to understand it," Liberman said. "To me, it's about the visceral feeling — you are drawn to it, you want to look at it, you want to remain there for a little while." 
"VIGNETTES: constructed, deconstructed" will be at the Grand Hand Gallery until March 6.