Athletic Department hopes to increase spirit, attendance at games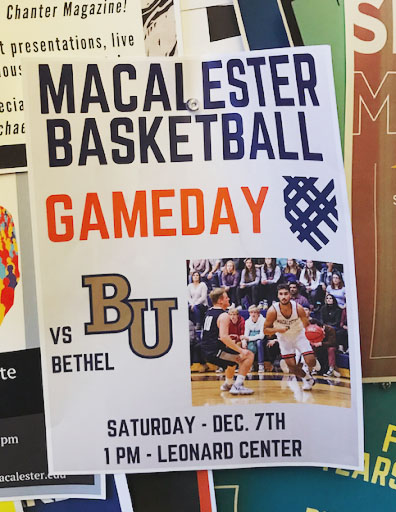 In October, an estimated 200 students participated in a sit-in in Weyerhaeuser Hall to encourage the Macalester Board of Trustees to divest from fossil fuel investments. In contrast, there's regularly less than half that number — sometimes much less — in attendance at most Macalester sports games. Most games are not advertised, and while there may be a few people wearing Macalester gear in the stands, there is no coordinated effort to draw fans.
The college offers nine varsity sports teams for men and 10 teams for women, with about a fifth of the 2,100 person student body participating. However, the lack of spirit and engagement around athletics is stark. The homecoming football game during Family Fest 2019 barely filled one section of the bleachers.
Head women's soccer coach, Krystle Seidel arrived at Macalester for the 2018-2019 fall season after 10 years as a coach at the University of Minnesota. She'd never had to think about game attendance before Macalester.
"I was so excited for the first game of my first season that I bought promotional soccer balls and we went to throw them out into the crowd before the game," Seidel said. "I didn't realize that no one comes to the games. There were probably six people in the stands."
Last year, some student musicians who had played in a pep band during their high school years noticed that there were no student organizations devoted to encouraging school spirit at athletic events.
Those students, Jamie Thompson '21, Julia Ricks '22 and McKinley Thompson '21 started Mac Pep Band, an organization that provides student-musicians with a creative outlet, and facilitates engagement for student-athletes and spectators at games. Teams including men's basketball and football enjoyed an increase in attendance at several of their games due to Mac Pep Band.
"We all get together and have a good time and play fun music. We try to 'pep up' the sports games," Ricks said. "Sports [teams] have contacted us and asked us to play for them; a lot of sports people see us around and want us to say 'hi' and like us being there [at games]."
So far this year, Mac Pep has played at several football and volleyball games and is starting to get involved in basketball games as well.
"People I know have been like 'Hey I'm coming to the game because I want to see you guys' and it seems like people are really excited about having more spirit," Ricks said. "It's a good way to keep people 'cheery' during games."
Women's basketball player, Luci Swift '21 notices differences in attendance while on the court.
"Having a fan base really helps bring energy," Swift said. "Last year we had a big crowd for senior day… We did feel that energy and we fed off of that and we beat a really good team in the conference that we were not expected to beat."
Swift knows there is one sure-fire way to get more people to show up to the games. She's an alum of Hopkins High School in Minnetonka — a school known for its women's and men's basketball programs —where she helped lead the Hopkins Lions to a state championship in 2015.
"Start winning big games, I think that would incentivize people to come more because no one wants to come to a blowout," Swift said.
Hannah Goldfarb '22, who also attended Hopkins High, noticed a shift from Hopkins in the way athletics is approached at Macalester.
"There was a much bigger culture surrounding athletics [compared to Macalester]," Goldfarb said. "The school would provide buses to basketball games and everyone would go. We went to all the football games whereas at Macalester, I don't think I've been to a single sports game."
Attendance at games can sometimes change the outcome. Seidel often finds her players enjoy the game more and play better when the stands are filled.
"When you know someone is out there cheering you on, it gives a little more empowerment," Seidel said.
This question is widely debated on campus, and community members cite a range of reasons for the relatively low turnout at sports events.
"Everyone at Macalester is really passionate about what it is that they're doing here, whatever that is," Abe Woldeslassie '08, the head men's basketball coach, said. 
Woldeslassie imagines that with better outreach between athletics and the broader community, students will want to be more engaged in supporting the passions of their fellow student-athletes.
Athletic Director Donnie Brooks wants the passion to extend beyond campus with students supporting teams at away games.
"The hope is that we get to a point to where we're traveling and that we got a couple folks who are passionate enough to drive in a car to say, 'I want to support our squads even when they go away,' and it can happen at a place like this," Brooks said.
This year, Woldeslassie, in partnership with Brandon Antl, the new assistant coach for men's basketball, has been putting up posters about basketball games. In the beginning of the academic year, he also had his team go around first-year residence halls to give out pizza and spread the word about upcoming games. Turnout at games has increased through this effort, and Woldeslassie looks forward to seeing how school spirit can be further galvanized.
"If you want people to come to games, you've got to reach out. That's part of what we're doing and I think if you ask, more often than not it's amazing who will show up," Woldeslassie said.
Brooks believes that winning is the best way to increase attendance — and has made the competitiveness of Macalester teams a priority. But he doesn't want success to be limited to the field, court or pool. 
"I don't just want to win at tennis," Brooks said. "I want to win at social justice, I want to win at community service.
"They have all of these awards that you could win in athletics for the highest GPA… why not be a part of one of the schools that wins it all? And I think that there are schools like us out there that are doing it. So for us to be excellent in so many areas of college and not be excellent in athletics kinda makes me think that we may be missing the mark here and what can we do to improve that?"
Woldeslassie echoed this desire to be a community leader. He feels that athletics should be at the forefront of campus, not confined to the Leonard Center.
"My hope is whether you like basketball or not, I want you to see a team who is really passionate. That builds community across the entire campus," Woldeslassie said. "It is our responsibility."
Seidel is optimistic that once spectators are drawn in and grow connected to the team, they'll start coming back for more.
"Once people experience it, there's going to be a group of people that fall in love with it and come back again," Seidel said.
Hannah Goldfarb '22 is a reporter for The Mac Weekly.