Gender-neutral locker rooms fill need in Leonard Center
Beginning this past fall's pre-season, the Leonard Center (LC) designated one of its locker rooms as an all-gender locker room available to all users of the facilities. This change came as a result of concerns voiced by the LC's users about its ability to properly serve the needs of the whole student body.
The former gender-neutral locker room was housed in a single-stall, single-shower room accessible by a door to the right of the first-floor entrance to Riley pool. Often in-use and therefore inaccessible during times when community members needed it, it was clear the LC required more accommodating facilities.
One advocate for change was Kieran Cuddy '21, a diver on the Macalester Swim and Dive team, who expressed frustration with the old space. This was seen largely in issues of getting locked out, with two locks in the room able to keep users out of certain areas when another user is inside.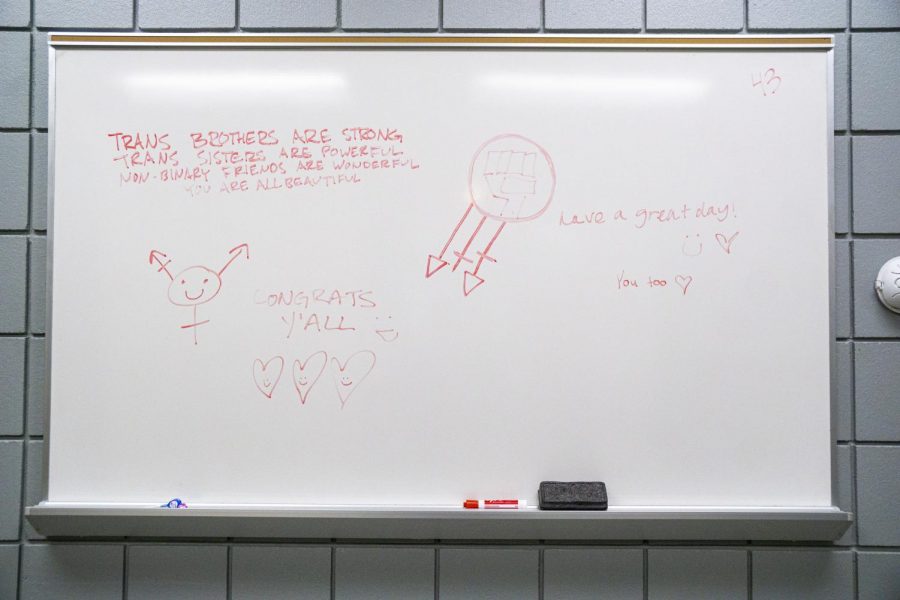 "The old locker room was used kind of constantly by other people just as a single-stall restroom," they said. "I came to [AD] Donnie [Brooks] and said this is not working, I'm late to practice all the time because that's the only way to get into the pool."
Individuals like Tegra Myanna, the Assistant Director of the Lealtad-Suzuki Center and user of the athletic facilities on campus, shared similar observations.
"In my first semester here, I myself used the all-gender locker room, just for my own use of the Leonard Center," Myanna said. "Anyone who was using the fitness center, that was kind of the go-to bathroom."
As an Assistant Director for the Lealtad-Suzuki Center, which is part of the broader Department of Multicultural Life, Myanna also heard from students and other members of the campus community about shortcomings of the LC's all-gender facilities.
"I had heard some critiques from students during th[e] semester, maybe last fall, about the double-locking nature of [the former locker room] and just people forgetting to lock or unlock [doors] when they came in and out, and folks having to wait a while just because it was in the front of the [Leonard Center] bathrooms," they said.
For Cuddy, these issues led to a realization.
"I know there were a lot of people who use the LC who really needed that space, and having it only be a one-person space just didn't work," they said.
This shared frustration led Cuddy to bring the subject up to Brooks, with hopes of changing the locker room. The Athletic Director quickly made it clear to Cuddy that there was more to be done than just a small remodel.
"What can we do [in the locker room]? Can we put a cubicle around it and put the curtains up or something? And [Donnie] was like, what if we actually gave you a real locker room?" Cuddy said. "He's been really great about this whole thing."
Brooks quickly identified a visiting locker room in the LC that would displace the fewest athletes and require very few adjustments to the space itself to convert it into a gender-neutral locker room. Already equipped with lockers, a bathroom stall and shower stalls, the space was ready for use.
"It was a really easy process, no remodeling needed with the new space we found," Brooks said.
Still, there were teams that needed to be moved in order for the locker room to be repurposed, as well as certain dates when visiting teams with no other room options needed to use it.
For Brooks and Myanna, who was consulted throughout the repurposing project as a representative for non-binary and transgender interests on campus, these trade-offs were worth it.
"What we thought was, for the ten times a year we use it for visiting teams, the community could handle not being able to use it five to six  times a year but have access to a better space," Brooks said.
Myanna echoed this sentiment.
"That was insignificant," they said. "For the amount of time you had to wait for the other space, not being able to use it ten times is something that is easily workable."
By preseason this fall, the locker room was ready to be used. Right away, Brooks noticed it was in demand. Within one week of opening, the Leonard Center already had a dozen reservations for lockers in the new space.
For Brooks, the need for better gender-neutral locker accommodations also represents a part of a broader challenge within the athletic department.
"I do think that we are often challenged with this thought or this notion that athletics are not an open and inclusive space, and so when I hear that, I always look for both solution-oriented folks and opportunities to make changes," he said.
In thinking even further ahead, Myanna made it clear that this is just another part of the process.
"I don't think it means that we've arrived. I think that there's still a ton of work that needs to be done with club sports or intramural sports and the ways in which trans and non-binary folks can play on those teams," Myanna said. "I think stuff like [the locker room] helps to do that."