Mayor Carter holds community meetings on St Paul gun violence
Thirty homicides. One hundred and forty six people shot. St. Paul is reeling from what is now its highest murder tally in 20 years, and that number is rapidly approaching the most murders in the city's history — 34 in 1992.
In light of these startling numbers, which St. Paul Mayor Melvin Carter has said amount to a "public health crisis," the city is holding three community meetings to address the violence and work towards preventing it. At the second of these meetings on Nov. 12, roughly 200 people packed into the Rice Recreation Center to share pain, stories and solutions.
"I am just sick and tired of seeing people in our community, families in our community, whole blocks, whole neighborhoods impacted by gunfire over and over and over and over and over," Carter said to thunderous applause in his opening address.
Carter hopes to incorporate community input from these meetings into a supplementary budget proposal that he aims to have in front of the city council by the end of November.
Twelve of this year's homicides have occurred along the University Avenue corridor. A shootout late last month happened outside of Allianz Field — a mile and a half north of Macalester's campus.
Macalester Public Safety Director Jim Kurtz called the Macalester-Groveland neighborhood a "safe community." He believes that most of the recent homicides are related to gang activity, which he said tends to stay contained in specific areas of the city.
Still, the college has implemented new security measures designed to keep Macalester's campus safe. The Public Safety office has recently put in new, exterior-facing surveillance cameras around campus and introduced new trainings to equip security officers to handle violent situations.
"Violence is everywhere," Kurtz said. "We're not immune to it in our area."
Benjamin Roberts, who attended the Nov. 12 community meeting, lives about two blocks from Macalester's campus. His brother-in-law, Jeriko Boykin Sr., was shot and killed in early October. He was 23.
"[Boykin] did his time," Roberts said. "He improved in prison. He was ready to be a contributing member of society."
Roberts grew up on the corner of Portland Ave. and Snelling Ave. He believes that a lack of programs and activities for young people in St. Paul has resulted in a number of them turning towards drugs and violence.
His generation of late millennials growing up near the Midway area of Saint Paul enjoyed more opportunities and resources than are available today, he said.
"Those programs aren't available now," Roberts said. "It breaks down opportunities. It perpetuates the cycle of division."
At the Nov. 12 meeting, community members divided into small groups to discuss how the community could stop the violence, and write ideas down on a large sheet of poster paper. Carter also invited attendees to fill out a form detailing how they have been affected by violence and how they hope to see the city respond.
Attendees' suggestions ranged from increasing community programming and events to intervention programs for repeat criminal offenders and increasing funding for public schools.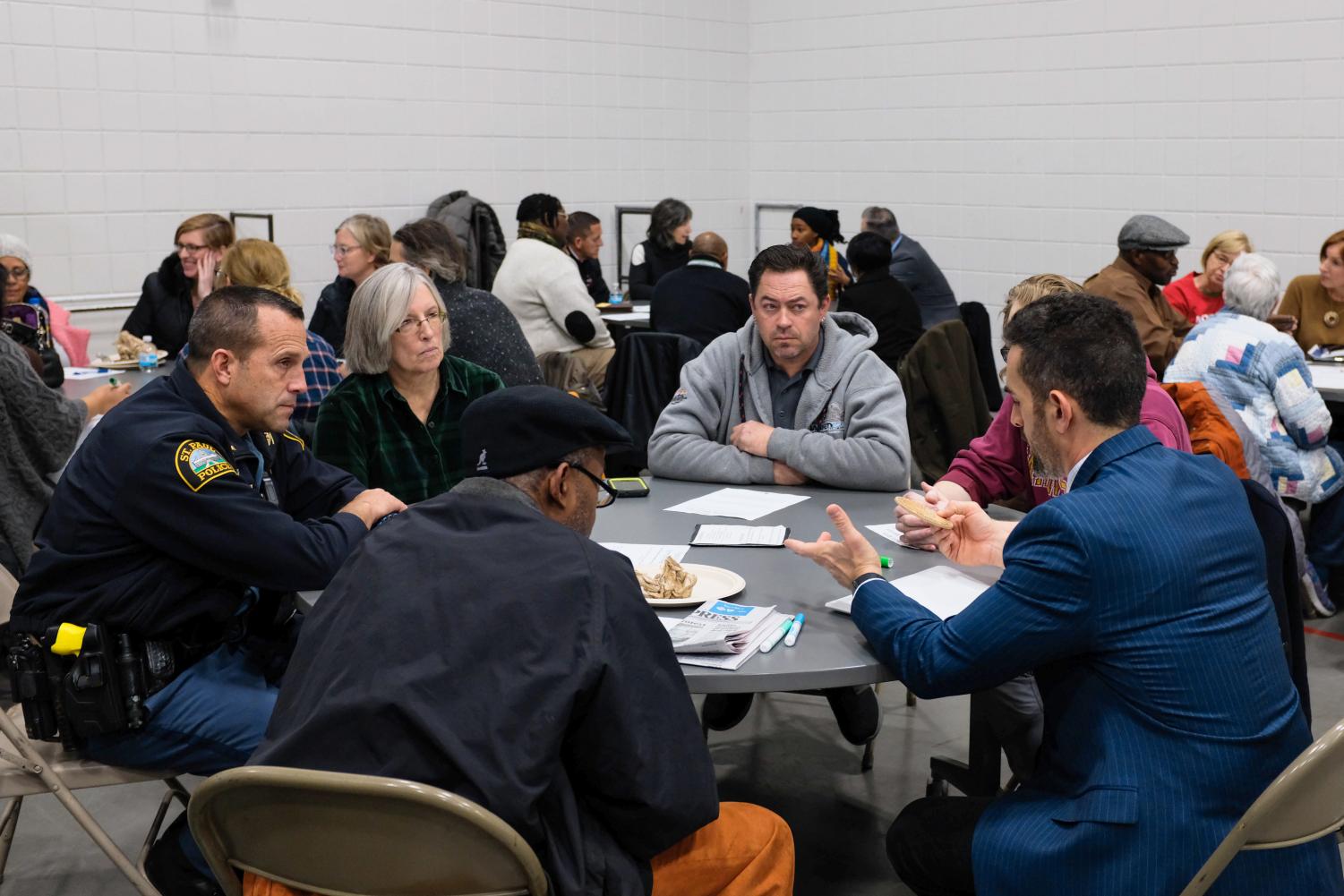 Many attendees, including Carter, stressed that solutions must come from the community itself — not just elected officials and police officers.
"Keeping our community safe… isn't just the mayor's job, isn't just the police department's job, but it's all of our jobs," Carter said.
St. Paul Police Department Program Coordinator for the Community Outreach and Stabilization Unit, Jamie Sipes, was one of the police officers who attended the meeting. His unit focuses on programs that address what they see as the root causes of gun violence: homelessness, chemical dependency and mental health.
"When we look at the history of law enforcement, we often see times where traditional enforcement has been ineffective," Sipes said. "I think the challenge for today is for law enforcement leaders to find new ways to provide policing to respond to the community's needs and expectations."
Sipes realizes that the anti-police sentiment in communities touched by gun violence could hinder outreach efforts. To address the stigma, Sipes said the department needs mentors who have backgrounds in communities similar to ones they are working in.
Daryl Morrison echoed Sipes' thoughts. Morrison was in and out of prison for 23 years in Los Angeles, and now works with St. Paul's Dispute Resolution Center (DRC). He said that direct police action is not an effective solution to the violence, citing his own alienation from society after being released from prison.
"I… recognize that there's an inability to assimilate," he said. "You feel like 'I'm different, and they don't understand. I don't know how to… pay taxes, get a job. I'm underskilled — under-everything — and trying to figure out my way at a late stage in life.'"
Morrison tries to combat that through his work at the DRC as a part of the ETHOS program, which refers perpetrators of minor misdemeanors – mostly young people – to counseling instead of prosecution.
"It's an effort, instead of criminalizing [people] — locking [them] up — looking at humanizing [them], and finding out they have a story," Morrison said. "There's a reason why they're doing what they do. There's accountability for their behavior and there's healing."
By the end of the event, each table of attendees had filled a large paper poster with thoughts, ideas and solutions to St. Paul's gun violence issues.
Carter's staff stressed to participants that the mayor would read every single one of each attendee's suggestions — and that as he puts together his supplementary budget proposal later this month, the "community wisdom" gleaned from these meetings will be at the forefront of his mind.
"I'm committed to not just bringing a bunch of solutions that I've just thought up in my head in my office by myself," Carter said. "We want to hear what community wisdom brings to the table."