Cross Country teams reflect on meaningful MIAC Championships
On the brisk morning of Saturday, Nov. 2, the Men's and Women's Cross Country teams arrived at Carleton College in Northfield, MN for the MIAC Cross Country Conference Championships with grand ambitions.
Leading up to the race, Women's Cross Country Coach Dan Schofer had several expectations for the team. First, he hoped to see a top-half finish for Macalester in the MIAC.
"On paper, our goal was to finish in the top six," he said.
More than that, Schofer also hoped to continue a solid streak of strong performances for the women's team.
"Really, I just wanted to have another good race. I feel like every race the women have had all fall has been a little better than the previous one," he said. "I wanted to keep that trend going. I think we did that."
However, these goals were not limited just to team placement in the MIAC. According to Lena Stern '22, who finished first for the Scots, there were more specific techniques that the team wanted to employ both as runners and as teammates.
"[We] want[ed] to support everyone and lift people up who haven't run a lot and create a very fun, supportive atmosphere," Stern said.
For goals related to times and places, the Scots also used racing techniques that Schofer has introduced.
"During training, we run with groups, so during the race, [you] stay with your group," Stern said.
Despite being divided up into racing groups, there was still a common thread of wanting to finish the season on a high note for all of the runners.
"This is it, this is the end, [we] just wanted to go out there and give it [our] all," Stern said.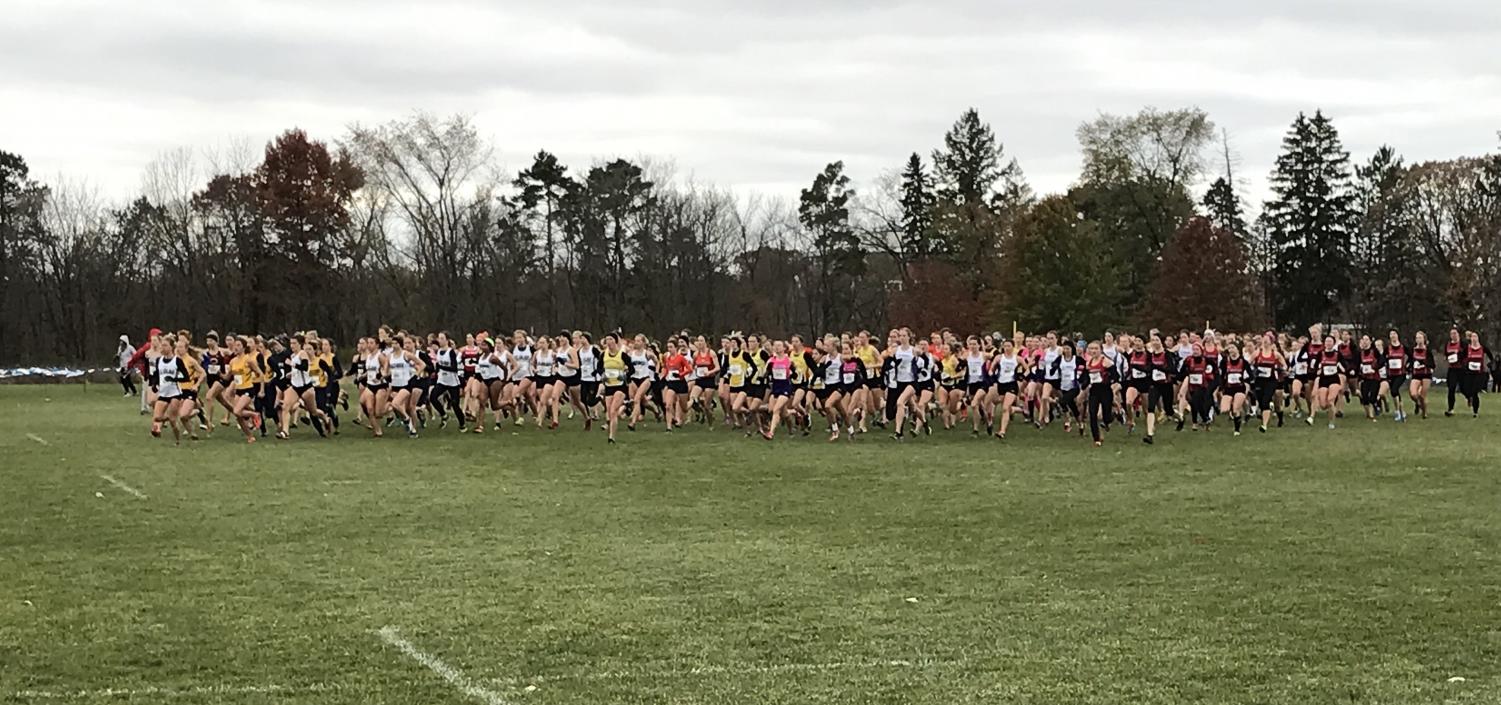 Peter Jarka-Sellers '20, who was on the cusp of qualifying to run with the Men's Cross Country team at the NCAA Central Region Championships, knew this could possibly be his last meet ever and wanted to run well.
"There's no way in hell I'm gonna let myself have my last race be a bad race,"  Jarka-Sellers said.
Jarka-Sellers ran well and secured the seventh and final spot to run in the Central Region Championships.
The runners noted that the meet was well-attended, partly due to a shuttle that brought supporters from Macalester down to the meet. The supporters brought energy to a cold and windy conference meet, which some runners like Emma Verges '21 found it helpful.
"I just felt supported on all ends because there were Mac people on either side of the course," Verges said. "And then I have Lucy [Knudsen '23] behind and Mary [Liebers '22] ahead and the whole team on the course and … despite feeling honestly, really, not great, it felt exciting and fun."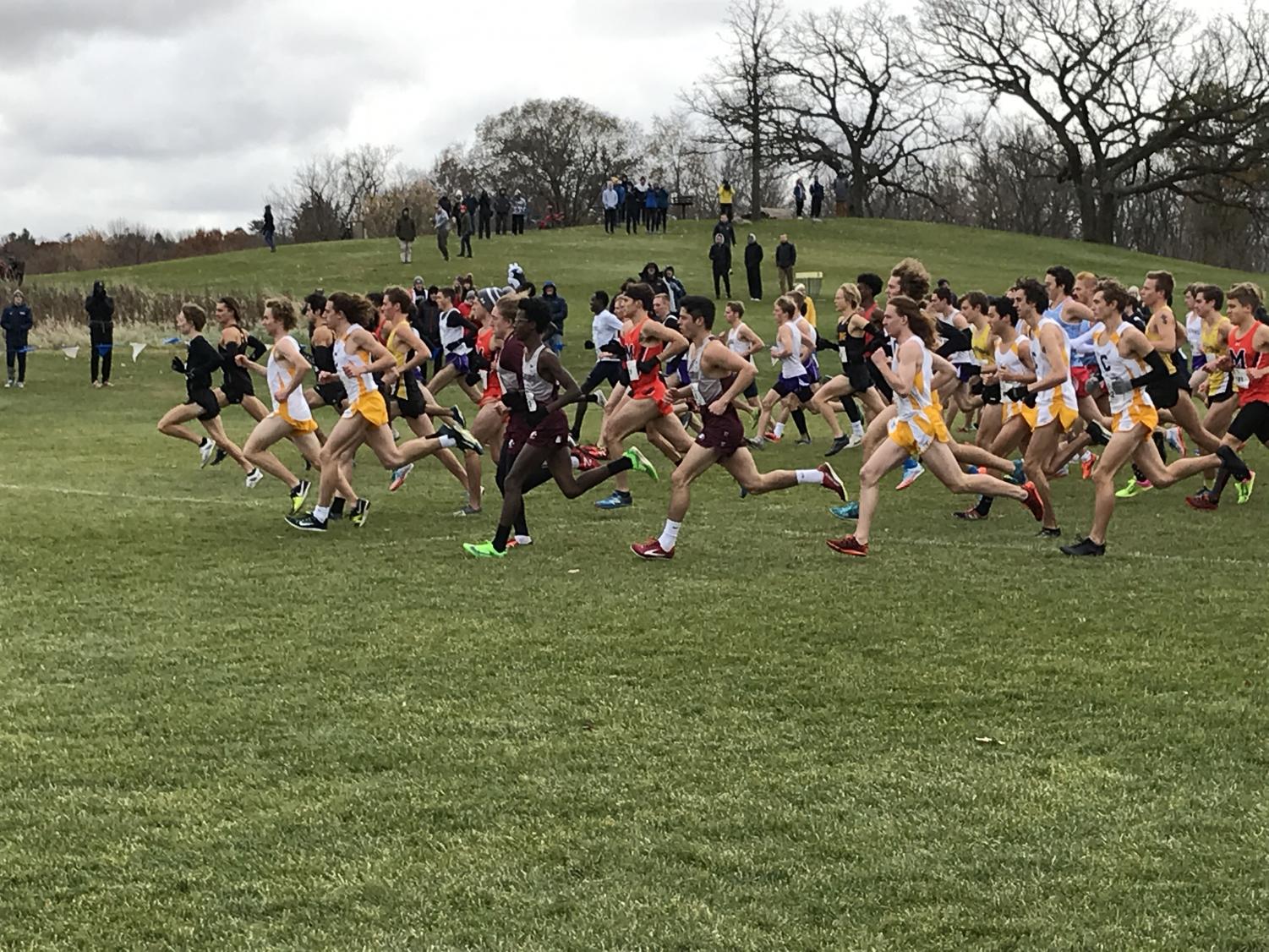 That energy didn't always translate to results at the meet. Some of the men's runners started out too strong and faltered at the end of the race.
"Everyone's been there, where in the last part of the race you just don't have it or you know some people just went out too fast and I know that feeling of [when] people are passing you and its tough to watch," said Colin Morefield '23, a previously injured member of the Mac Pack, the unofficial name of the Men's Cross Country team.
Despite a disappointing finish in ninth place, the Mac Pack are not dwelling on them and are instead focused on the Central Region Championships.
"[We're going to] go out at regionals when we're in Iowa and show everyone what we can do and… have the collective performance we wanted to have at MIAC two weeks later," Jarka-Sellers said.
The women's team echoed this anticipation.
"I have this dream, this idea that we could sneak into the top ten in the region," Schofer said. "On paper, we'd probably be about thirteenth, but I feel like if we have a good day we could move up a few spots. That's one of my goals."
According to Stern, who went to regionals last year as an alternate, the race can be both exciting and a little daunting.
"I'm kinda nervous because it's probably gonna be really cold, and I've never run this course before," Stern said. "But it's very exciting to travel somewhere, we don't get to do that a lot."
Still, there is plenty to keep those racing at regionals focused and goal-oriented.
"Just going out there, and treating it like your final chance. For some seniors, it'll be their last cross country meet, so just working together and just pushing each other to do their best," Stern said.
There were still many personal-best times run at the MIAC Conference meet giving the team some positive aspects to focus on as they reflect on the season as a whole.
"Sasha [Lewis-Norelle '21] had a 33-second lifetime best, Mark [Baumeister '21] had a 21-second lifetime best, Michael [Milner '20]  had a 14-second lifetime best," Jarka-Sellers said. "You see these people who are having the best races of their entire lives."
Although the women's team did not quite reach Schofer's goal of sixth place or above, its runners looked back on the race with overwhelming positivity.
"I think people were excited overall," Stern said. "There were a lot of PRs, maybe 12. People were lifting each other up and celebrating those who had PRs, which was exciting."
Men's Coach Matt Haugen also noted that cross country is unique because it has only one race to determine conference standing, so he doesn't put too much stake in conference standing, even if it is permanent.
"What's tough about [cross country] is that it is that one 30-minute period that determines what your conference place is gonna be," Haugen said. "So if we're a basketball team we're playing all 20 conference games at once, so you can't have anyone sick or injured or have a bad day."
In looking forward to regionals, Schofer found some of his biggest positive takeaways for the season.
"We have a lot of momentum. A lot of women have had the best cross country season they've ever had. We want to keep that going," he said.
For Haugen, the continued improvement of the runners, the "upside" of the seniors and the closeness of the team made it "the best season we've had in years."