Activists Auerbacher and Nazario headline LCB's keynote event
73 years and 339 days ago, Dr. Inge Auerbacher wore her yellow star for the last time. She still carries around the tattered piece of fabric — her official Nazi identification tag — to show others the harrowing dangers of anti-Semitism.
After defying death in a concentration camp for three years, Auerbacher moved on to a life as a chemist but remained committed to social activism.
Meanwhile, Sonia Nazario is not allowed to go back to Honduras — at least that's what her husband tells her. He doesn't know how many more close calls he can take. Nazario has traveled extensively throughout Honduras, Guatemala and El Salvador in search of the truth about the migration crisis at the U.S.-Mexico border.
Evading gangs and riding with migrants on the top of trains, she reports extensively on the issue to give her U.S. readers a clear picture of the unforgiving realities of the lives migrants are fleeing.
Despite paralleling careers as activists and speakers, Nazario and Auerbacher had never collaborated or met in person.
That changed on Thursday, April 4, at Kagin Commons. Nazario and Auerbacher headlined a conversation on migration, human rights and advocacy for the Lectures Coordination Board (LCB) keynote event.
On Jan. 27, 2019 — International Holocaust Remembrance Day — Auerbacher spoke on the floor of the United Nations (UN) to address the world about her experiences in the Holocaust and the dangers of anti-Semitism. Thursday's event opened with a video of her speech at the UN.
"Who am I?" she asked in her speech. "I am one and a half million silent girls and boys. I am here today to be their voice. My hope, wish, and prayer is for every child to live in peace without hunger and prejudice. The antidote to hatred is education. No more genocides. No more anti-Semitism."
In 1942, the German army brought Auerbacher and her family to the Theresienstadt Concentration Camp near Terezin, Czechoslovakia — which served as a holding area for Jewish people who would later be sent to death camps like Auschwitz.
The Russian Army liberated Auerbacher's family on May 8, 1945. Shortly after arriving in New York in 1946, she became severely ill with tuberculosis in both lungs and found solace in writing during her bedrest. Auerbacher has since written six books, three of which detail her experiences in the Holocaust.
Following the video of Auerbacher's speech, the focus shifted to Nazario, who stepped up to the microphone and immediately struck a powerful chord with the audience.
"I'm honored to be here with Inge and horrified by some of the things that are going on today that parallel World War II," Nazario said. "My mom fled the Holocaust in Poland as a young girl. The Nazis called Jews 'the enemy of the people.' I now write for The New York Times. I am called 'the enemy of the people.'"
Like Auerbacher, Nazario's desire to become a journalist and an advocate stemmed from early exposure to violence. A child of immigrants, she grew up in Kansas but moved to Buenos Aires around the beginning of Argentina's "Dirty War" — the period during which a U.S.-backed military dictatorship controlled the country's government and systematically disappeared political dissidents and their families.
Nazario identified a disturbing experience as a teenager as driving her to take up her line of work.
"I decided to become a journalist when I was 14, when I saw a pool of blood on the sidewalk near my home in Buenos Aires," Nazario said. "Two journalists had been murdered by the military down the street from where I lived. I understood that you cannot have any hope of having a democracy without journalists who are willing to hold people in power accountable."
Thursday's event aimed to connect the two speakers through live dialogue and put their work on advocacy, migration and human rights in conversation with each other. Director of the Lealtad-Suzuki Center Jason Jackson moderated the discussion.
According to LCB Chair Amy Pascoe '19, the committee created this event to address prominent conversations happening on Macalester's campus. Over the past two years — especially during the fall semesters — numerous swastikas, instances of anti-black speech and anti-Arab graffiti were found in public and private buildings across campus.
"This semester, we started by thinking about and responding to conversations of anti-Semitism that had been happening on campus recently," Pascoe said. "The Holocaust, in some ways, can seem very dusty and historical, but it's not something that goes away. The evidence on our campus shows that this is a living issue."
During the conversation, Jackson pressed the two women, particularly Dr. Auerbacher, on the best ways for students at Macalester to fight instances of hate speech and anti-Semitism at Macalester.
"I want more people to become helpers, be educated and get involved," Auerbacher said. "The onlookers [of the Holocaust], who were equally guilty, looked the other way. Education for me is the most important way to cure ignorance. A lot of these problems come from a misunderstanding of others' religions, stereotyping and jealousies."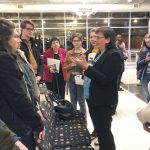 Though both speakers discuss migration and refugees regularly, differences emerged in their perspectives on these issues. Generational understandings and personal experiences proved the most prominent sources of disagreement.
Nazario works closely with migration issues on a regular basis, twice following migrants traveling from Central America to the United States. These experiences gave her a clear picture of the perils migrants face and a deep understanding and empathy for situations that drive them to our southern border.
"Most migrants who arrive at our southern border are no longer coming for a better life or to find their family members," Nazario said. "They are running for their lives.
"What I emphasize, is that [some Americans] feel a need to reduce the number of people here unlawfully," she continued. "We keep trying the same three failed approaches to reducing migration: border enforcement on steroids, guest worker programs and mass legalization."
Nazario believes more border security doesn't work because a large percentage of undocumented immigrants enter on planes and overstay their visas. The same, she argues, can be said about guest worker programs where workers frequently stay in the country after their contracts expire. Mass legalization brought undocumented immigrants out of the shadows. Per Nazario, this process also permitted the influx of more migrants than the United States could handle.
To adequately deal with the surge of migrants arriving at the U.S.-Mexico border, Nazario stressed the need to address the root causes of migration like corruption, violence and poverty in the countries migrants are fleeing. She noted the need to invest more money into outreach programs and infrastructure in conflicted areas.
Auerbacher had a far more positive view of current U.S. border control policies and a strong desire to see migrants assimilate into American culture.
"I hate it when somebody says 'In my country, we do it that way,'" Auerbacher said. "If you liked it so much in your country, go back. I wanted to become an American, but unfortunately, many of these people just want to use this country and never become Americans. The first thing I wanted to do was speak English without an accent.
"We don't know enough about who these people are," she continued. "They want to come here to make more money and get welfare and reap all the benefits we have and take it for nothing."
Though Auerbacher is far more conservative regarding assimilation, integration and welfare programs, she found common ground with Nazario on dealing with child migrants. Nazario is an advocate for improving and expanding criteria for accepting migrant children, particularly those that come to the United States alone.
The current process requires that anyone applying for asylum or seeking refuge in the United States must appear in immigration court for a hearing with a judge that will deliberate over the validity of their case. Deportation in the United States is classified, per the American Immigration Council, as a civil rather than a criminal proceeding, thus denying asylum seekers their right to a lawyer under the Sixth Amendment of the Constitution. As a result, many migrants, even children, represent themselves in court without a lawyer.
"I've watched toddlers clutch teddy bears and pee in their pants [in immigration court]," Nazario said. "Sometimes toddlers sit in the chair and their feet don't touch the floor.
"They are afraid that anything that they say to that judge will send them hurtling towards the danger that they just fled," she continued. "We don't turn people back to their deaths. It is the lowest bar of upholding human rights."
Nazario also showed strong support for easing the path to citizenship, particularly among groups like DACA [Deferred Action for Childhood Arrivals] recipients.
"If you came here as a DACA recipient, it's fundamentally un-American to penalize you for that decision," Nazario said. "The fact that we can't get legal citizenship for DACA recipients through Congress shows you the level of dysfunction."
After realizing that many migrants entering through the Southern border are children like she was when she arrived in New York in 1946, Auerbacher changed her tone.
"You opened my eyes to the fact that many [migrants] are children," she said to Nazario. "We need to educate people about this, because until people understand what is going on, they have no feelings for them. Go to the people tonight and tell them the real story. I didn't know it, and many others don't either."
Despite the differing opinions shared at the event, Pascoe was satisfied with the end result.
"We didn't bring them to this campus to adhere to a pre-packaged message," Pascoe said. "In this way, it was a very real event. It was interesting for Macalester students to engage with opinions that don't always appear on campus."
At the conclusion of the event, Jackson shared a few parting words with the two speakers.
"One thing that I wanted to note about the two of you, as well as the fact that you are sharing your stories, is that it could potentially cause harm to you," Jackson said. "You're taking a big risk, and that's what I'm taking from brave people like yourselves."